SVB Financial reported a strong set of numbers for 3Q 16 and provided encouraging preliminary guidance for 2017.
There are two reason to own SVB: its growth and its improving income quality. The growth comes from its being geared to geared to what it terms "the innovation economy", serving tech, life science and premium wine. The improving income quality is all about what the bank terms "core fees" - a series of non interest revenue streams that should be stable over time, and which tend to attract a higher multiples than more volatile securities transactions revenue.
Annual loan growth remains high at 23%, driven by private equity, capital call lines and the private bank. Observers will note loan growth slowed in the quarter(to 1.5% from 6.5% in 2Q). SVB has had slow loan growth quarters before and investors should not worry about the growth clip coming off episodically. Valuation is not so aggressive that the stock needs permanent volume expansion at rapid rates; nor should we look for that - this is a risk business, after all. Management maintains its outlook for 2016 loan growth at mid-twenties rates and sees mid-teens growth for 2017. Given prevailing sector loan growth (9%), with many names south of that level given regional opportunities, SVB remains very much a growth play with that kind of outlook.
Deposit growth has slowed over the last two quarters, reflecting slower financing activity in both fund raising by SVB's focus sectors and PEVC exit markets, which have been more cautious around valuations all year. SVB's loans/assets ratio is only 43% so it can fund loan growth by switching out of its large treasury securities book on the asset side, which supports net interest margin across the entire asset base. This effect was evident in 3Q when NIM/average total assets improved 7bps to 2.68%. Net interest income was up 13% annually. I would expect this to slow a little further to around 10% but for this to be maintained through 2017 given the loan/growth assumption.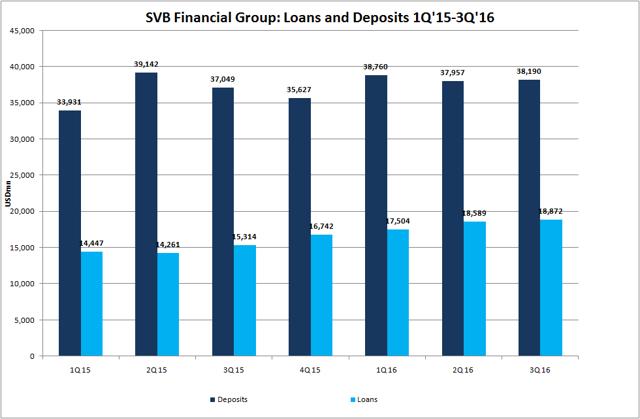 Source: Company data
Core fees, which gathers six highly repeatable income commission streams, grew 17% YOY and 8% QoQ. This is a stronger annual growth rate than we saw at 2Q. SVB is focusing on developing global payments infrastructure for its innovation economy clients, which supports optimism for these fee lines longer term. With securities and derivatives gains also in good shape, total revenue grew 19%. This is the best grow rate among U.S. banks so far this results season and it's notable that the growth is organic.
Although operating costs were up strongly in the quarter due to higher compensation expenses, this was offset by lower loan loss provisions (LLP). Underpinning the lower LLP charge was an improvement in nonperforming assets, which fell from $124m to $106m in 3Q.
As a rapidly growing bank, SVB tends to report a relatively high variance in contribution to the bottom line in term of the role of different components of income and the interaction of operating expenses and risk related provisioning. A shorthand way of checking progress is to look at the pre-tax margin (pre tax profit/total revenue). This was 44% for 3Q, vs. an average of 41% over the last six quarters, reflecting strong non-core income.
The 2017 outlook feels like a low double digit growth year at the bottom line in terms of core drivers, while securities gains may lift this further and it's important that EVB assumes zero rate hikes from here until end 2017. This is conservative and the bank is very geared to any hikes that occur (my own guess is 1-2 hikes by end 2017). The current year PE is 15x, and I would expect the evolution of core EPS for 2017-18 to put the bank on ~12x for 2018E. If you believe in the further growth of financing markets for tech and life sciences then this is an attractive valuation.
Disclosure: I/we have no positions in any stocks mentioned, and no plans to initiate any positions within the next 72 hours.
I wrote this article myself, and it expresses my own opinions. I am not receiving compensation for it (other than from Seeking Alpha). I have no business relationship with any company whose stock is mentioned in this article.