This article on Pepsi (NYSE:PEP) completes the beverage triangle that I'd like to analyze. My recent articles on Coca-Cola (NYSE:KO) and Dr Pepper Snapple (NYSE:DPS) can be found here and here, along with corresponding models and charts. Pepsi is unique - its food business is a major component of its diversification and has unique implications for the company, especially when compared to the more "pure-play" beverage companies.
Return on invested capital: A lens to filter management's capital allocation skills through
I'd like to start with my most basic ROIC model, which I built in Excel using data from Pepsi's financial statements.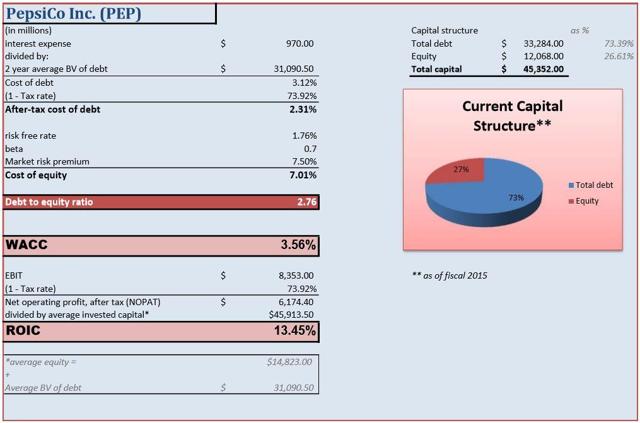 The company's low cost of capital (according to my estimates) is largely due to its dependence on a large amount of "cheap" debt in the capital structure. It appears Pepsi earns wide economic profits, however, with its ROIC exceeding its weighted average cost of capital, or WACC. This 'headline' economic spread is wider than Coke's, but not as wide as Dr Pepper Snapple's. I think the reliance on debt is more commonplace in the cash flow-stable packaged food industry, so this comes as no surprise to me, personally.
But wait! There's a catch (or two)
There are two issues I have with Pepsi's headline ROIC. The first is the fact that 2015 saw a large $1.36 billion charge related to Venezuelan impairments. The second issue is related to Pepsi's utilization of off-balance sheet financing in the form of operating leases. I'll address the latter issue first.
To accomplish this task, we first need to determine the present value of the firm's operating leases, which I'll discount at its pretax cost of debt.
Now we can insert the leases into Pepsi's capital structure, by theoretically capitalizing them.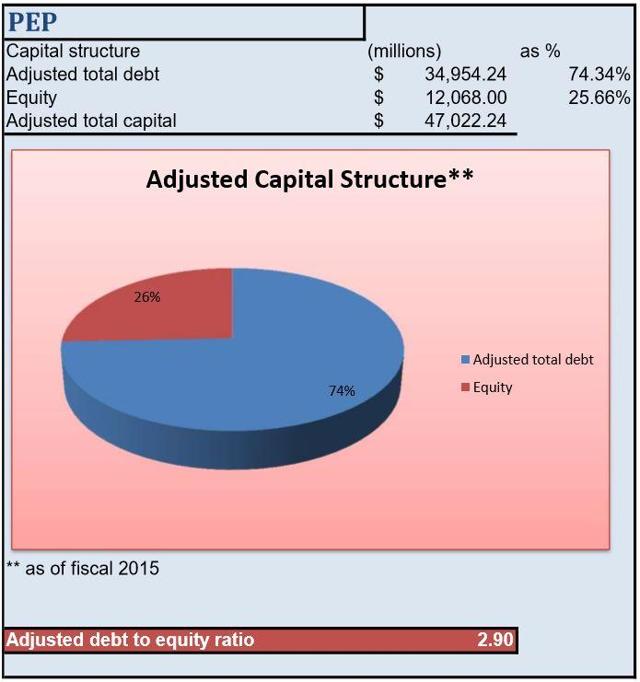 Now that we've accomplished this task, we can compare debt-to-equity ratios. Coke's ratio sits at 1.73x (and doesn't have a material amount of off-balance sheet leases), while Dr Pepper's debt-to-equity ratio (adjusted for operating leases) sits at 1.63x. That puts Pepsi's ratio at the most debt-heavy end of the spectrum, with Dr Pepper seen as the most conservatively financed.
Back to ROIC...
Now we need to estimate an adjusted numerator for Pepsi's 'adjusted' return on invested capital. We'll start by estimating depreciation and interest expenses, and then account for them when adjusting the firm's operating profit. I also added back the one-time charge related to its Venezuelan operations, as I think this better reflects economic reality.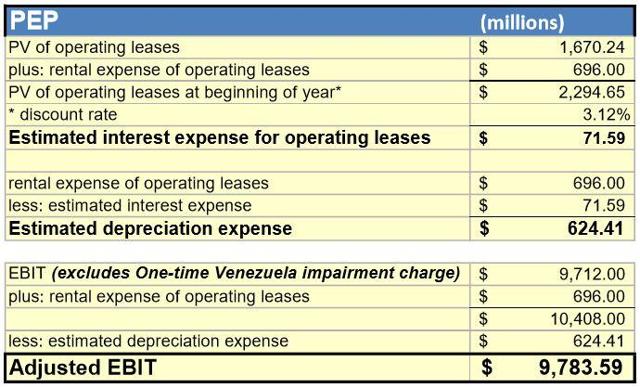 Next, we can take taxes into account. To adjust for the one-time charge, I decided to use the average of the previous two year's tax rates.

After dividing the adjusted net operating profit after tax, or NOPAT, figure by the adjusted capital base, I estimate Pepsi's underlying ROIC at roughly 15.73%. That compares to roughly 9.44% for Coca-Cola and 14.83% for Dr Pepper Snapple* (*also adjusted for off-balance sheet leases). I'd say Pepsi's management appears to be doing a fine job when just looking at these rough estimates, therefore.
Singling out the equity slice
Now that I've established Pepsi's "moat in numbers" so to speak, I'd like to further focus on the equity section of its capital structure. I built the below DuPont to examine its return on equity in more detail. I also adjusted for the Venezuelan charge as well.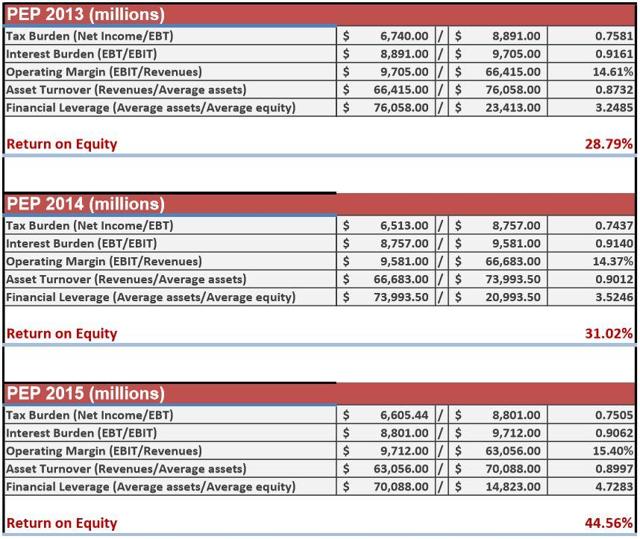 Pepsi's ROE popped in fiscal 2015, but this was largely due to a big pop in leverage, which highly magnifies the overall equation. The firm's asset turnover deteriorated a little year-over-year, but if we strip out the impairment charge, it appears that underlying operating margins actually improved slightly.
Next, I'd like to compare Pepsi's ROE with that of its peers in the below chart (which I built in Excel, using data from this article and the previous two articles on KO and DPS that I linked to in the beginning of the article).

Pepsi once again shines, but by digging deeper into what's driving each firm's ROE, we can see that it's mostly due to leverage. Pepsi maintains the weakest margins, but it also makes up for this with superior efficiency - at least when judging it by its asset turnover ratio. If we pulled Pepsi's leverage ratio back down to the previous year's ratio of 3.52x and held everything else constant, its ROE would only be slightly higher year-over-year, coming in at a little over 33% by my estimates. This adjustment would put it slightly below Dr Pepper, with less top-line growth as well.
Conclusion
While last year I focused on free cash flow, this might have been a mistake. Pepsi has handily outperformed Coca-Cola since I last compared the two, and Pepsi's economic spread still appears to be wider. I think its higher use of leverage is largely due to its packaged food business, where this seems to be a more "normal" practice.
I think Pepsi is superior to Coca-Cola at this point, therefore - largely due to better management and better capital allocation. I'm considering replacing my Coke holdings with either Pepsi or Dr Pepper shares, but I'm in no rush either, especially when looking at the arguably stretched valuations of all three companies.
If I absolutely had to buy one of the three right here, right now (and with new money) - it would probably be Pepsi. I think it's the cream of the crop, maintaining a track record of dividend increases that rivals Coke's. Dr Pepper is definitely an attractive business as well, especially as an "up-and-comer" that could one day develop its own impressive dividend track record, in my opinion. I'm more impressed with the brand portfolios of Pepsi and Coca-Cola, however.
If you enjoyed this article and would like to receive further updates and articles in the future, please feel free to hit the "Follow" button at the top of the page next to the author's name.
Disclosure: I am/we are long KO.
I wrote this article myself, and it expresses my own opinions. I am not receiving compensation for it (other than from Seeking Alpha). I have no business relationship with any company whose stock is mentioned in this article.
Additional disclosure: Articles I write for Seeking Alpha represent my own personal opinion and should not be taken as professional investment advice. I am not a registered financial adviser. Due diligence and/or consultation with your investment adviser should be undertaken before making any financial decisions, as these decisions are an individual's personal responsibility.