Recent economic data show that Canadian businesses are more optimistic, as managers believe that sales will increase slightly in the months ahead. The Bank of Canada's latest survey suggests that resource-related companies have hit a hard bottom and may slightly improve in the following months:
Many resource-related firms, such as those in oil and gas or mining, sense that activity has hit bottom. Given the relatively stable commodity prices in recent months, businesses now cautiously believe that sales will no longer fall or increase modestly.
- Business Outlook Survey - Autumn 2016.
Over the past few survey periods, Canadian employment moved up from relatively low levels as business confidence rose and companies confirm intentions to increase hirings over the next 12 months. Canada is a significant commodities producer and if we start to see changes in precious metals production, this will almost have a positively impact on assets like the SPDR Gold Trust ETF (NYSEARCA:GLD) and the iShares Silver Trust ETF (NYSEARCA:SLV). Canada is also the world's second largest oil producer, so we could easily see similar activity in the United States Oil Fund (NYSEARCA:USO).
For many business sectors, "strengthening demand warranted an increase in staff to accommodate expansion plans," according to the survey. However, firms in Eastern Canada are planning to reduce workforces with "cost cutting and efficiency gains through software and technology."
While sales growth over the past 12 months is close to zero or flat, businesses' opinion on future sales growth trended positively from the previously weak levels. This previous weakness was due mainly to weakening indicators of future sales (such as sales inquiries and advance orders).
Currency Impact
Most directly, however, any easing in the stance at the Bank of Canada will put pressure on the Canadian Dollar and the Guggenheim CurrencyShares Canadian Dollar Trust (NYSEARCA:FXC). In the inflation portion of the equation, 76% of businesses expect sluggish economic growth that will keep a lid the overall CPI inflation rate, and keep levels within the 1 to 2 percent range over the next two years. This is slightly lower than the Bank's control range of 1 to 3 percent, so there is clearly no real concerns over potential interest rate increases. This is favorable for stock markets, and favorable for the iShares MSCI Canada ETF (NYSEARCA:EWC) over the medium-term. Effects on the CAD, however, will be less favorable -- and this equates to a rise in the USD/CAD.
Chart View: USD/CAD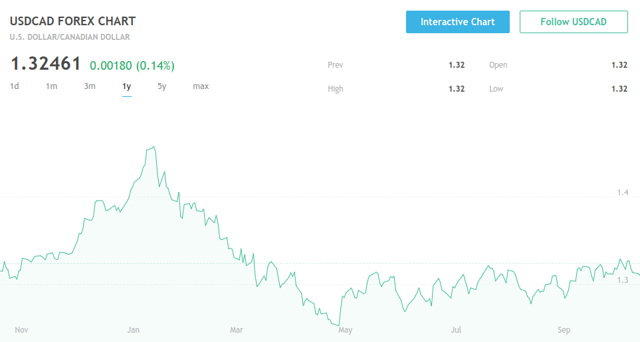 Chart Source: Modern Forex Trading
One of the most positive points seen in the economy has been in corporate investment M&A over the next 12 months. This should be viewed as another positively for EWC, as the increased positioning will likely result in better earnings results in Canadian stocks. According to the autumn survey, the service industry is a more prevalent force in the corporate investment increases, whereas we have seen much slower investing in areas like manufacturing firms:
Firms approaching capacity limits due to firming demand for their products are more likely than others to plan expansions. Intentions to increase investment are also more prevalent among firms in service industries, which often referred to projects related to information technology, whereas intentions among manufacturers are weak.
- Business Outlook Survey - Autumn 2016.
At its next meeting, it is unlikely that the Bank of Canada will be impressed with the result of these surveys and that leaves little reason for the central bank to start having serious discussions about raising interest rates. The Bank will most likely maintain its monetary policy rate of 0.5% until we see a wider band of potential inflationary pressure over the next 6-12 months. On balance, this suggests good potential for long positions either in EWC or in USD/CAD.
Disclosure: I/we have no positions in any stocks mentioned, and no plans to initiate any positions within the next 72 hours.
I wrote this article myself, and it expresses my own opinions. I am not receiving compensation for it (other than from Seeking Alpha). I have no business relationship with any company whose stock is mentioned in this article.