This is the first installment of the weekly series "Biotech Snapshot," in which I will take a brief look at an early-stage biotechnology company with little to no coverage in Seeking Alpha. Suggestions and feedback are appreciated.
Introduction
AveXis (NASDAQ:AVXS) is a clinical-stage gene-therapy company focused on developing treatments for patients suffering from Spinal Muscular Atrophy, or SMA. The company had its IPO in February at $20 per share. In the following months, the share price increased more than twofold, and is now sitting at around $45, with a market cap slightly above $1B. Investors who got in early have certainly been rewarded.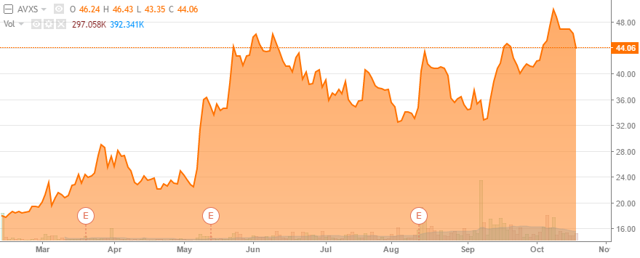 Chart source: Seeking Alpha.
It's only clinical product candidate, the breakthrough-therapy tagged AVXS-101, is currently in a Phase 1 trial in patients with SMA Type 1. The Company's pipeline is being developed using technology licensed from REGENXBIO (NASDAQ:RGNX), NationWide Children's Hospital, and Asklepios Biopharmaceuticals.
Top institutional holders include Deerfield Management (9.72% of the float), RA Capital Management (5.82%) and Price (T. Rowe) Associates (5.42%). In total, institutional holdings comprise 41.51% of the float.
Science and Pipeline
SMA is a genetic disease affecting the part of the nervous system that controls voluntary muscle movement. This disease varies widely in age of onset, symptoms and rate of progression - and is consequentially divided into types 1 through 4, with Type 1 being most severe and common.
SMA Type 1 patients experience disease onset before they reach 6 months of life. These patients will never be able to sit without support, crawl, or walk, and have difficulty breathing and swallowing. The average lifespan of a child with SMA Type 1 (not put on permanent ventilation) is only 8 months of age (according to the NeuroNEXT study).
Currently, there is no FDA-approved treatment for SMA. The current standard of care is limited to palliative care. Hopefully, this will not be the case for much longer.
There are several investigational therapies for SMA going through the various stages of development, the most advanced of which (Phase 3) being Ionis Pharmaceutical's (NASDAQ:IONS) and Biogen's (NASDAQ:BIIB) Nusinersen. Therefore, I find it fitting to have a look at the data reported by both AVXS-101 and Nusinersen, and within the limitations imposed by the study design differences, try to ascertain who comes out ahead.
AVXS-101 vs. Nusinersen
AVXS-101 is an AAV9 vector encapsulating a fully functioning human SMA gene that will replace the lost or dysfunctional SMN1 gene, becoming the primary source of SMN protein production.
Nusinersen's approach (alternative splicing) seeks to achieve increased production of the SMN protein through the splicing of the "backup" SMN2 gene.

Source: Avexis corporate presentation.
AveXi's trial is a Phase 1, open-label, dose-escalation study. AVXS-101's route of administration is a one-time intravenous infusion through a peripheral limb vein.
Biogen's study is a Phase 2, open-label study. Nusinersen is administered to patients through an intrathecal injection (injection into the spinal canal).
Before proceeding, it's important to point out that Nusinersen is currently in two Phase 3 studies (detailed data not yet reported), and Biogen has completed a rolling submission of a New Drug Application to the FDA for Nusinersen as a treatment for SMA (Type 1-3).
Both studies enrolled infants with SMA Type 1 - 20 patients (initially) for Nusinersen and 12 for AVXS-101. For the sake of this analysis, I will only consider the data from the 2nd cohort of the Phase 1 study (with the exception of the safety data), as only these patients were given the proposed therapeutic dose.
Going through the results, one will find that both drugs seemed to be well tolerated and have a favorable safety profile. In the Nusinersen trial, there were no treatment-related serious adverse events (SAEs). In the AVXS-101 trial, there were two Grade 4 SAEs related to elevated liver function enzymes (LFEs), although these were clinically asymptomatic and promptly resolved with prednisolone treatment.
Looking at efficacy, things get a bit murky. For example, the Phase 2 trial has been going on for a longer period of time, leading to a higher median time in study for patients in this trial. This is important because these differences make it significantly harder to objectively compare the results of both studies.
With that in mind, in order to assess the efficacy of each of these two candidates, I will refer to two endpoints: Time without an event (defined by progression to permanent ventilation or death), which is currently being used as a primary endpoint in the Phase 3 studies of Nusinersen; and CHOP INTEND (measure of motor skills) scores.
For the Nusinersen trial, 3 events occurred (1 death, 2 permanent ventilation) and CHOP INTEND scores demonstrated a mean increase of 22.2 points from baseline. In the Phase 1 trial, there were no events and CHOP INTEND scores demonstrated a mean increase of 24.8 points from baseline.
These improvements in the CHOP INTEND score are reflected in the achievement of a series of motor development milestones. Out of 15 patients dosed with Nusinersen, 8 can sit unassisted (53.3%); 5 can stand with support (33.3%); and 2 can walk (13.3%). Of the 12 patients dosed with AVXS-101, 8 can sit unassisted (66.6%); 4 can stand with support (33.3%); and 2 can walk (16.6%).
In conclusion, both candidates seem promising. Determining which one has a better product profile is, however, almost impossible with the data that has been reported until now.
I will say that the increase in the CHOP INTEND scores in the AVXS-101 trial looks very good, and over time, the tendency in both trials was for these scores to improve - so it will probably get better; and the method of administration for AVXS-101 is superior.
However, Nusinersen is farther along in the development process (hence it has been tested in more patients) and is being touted as a "universal" treatment for SMA (Type 1-3). In addition to this, it's being developed and will eventually be commercialized by the behemoth Biogen, whose market expertise and financial resources will be almost impossible to match by AveXis, unless, of course, it finds a partner.
Financials and Risks
As of June 30, 2016, AveXis had $131.4 million in cash and cash equivalents. More recently, the Company announced a public offering of about 4,250,000 shares of common stock, which netted around $127.7 million for AveXis. With a burn rate of $15.7 million, this cash pile should last the Company at least 2 years.
The risks that an investment in AveXis entails are numerous. This is an extremely early stage company, with a market cap of $1B, and little data to support it. If AVXS-101 flunks out, the Company will most likely shed 90% of its market cap, if not more. A true one-trick pony. This will most definitely be a wild ride, and is not suited for the untested investor. The risks themselves are better described in the Company's 10-K, under Part I, Item 1A "Risk Factors" - and I encourage every prospective investor to give the whole document a thorough read.
Final Remarks
AveXis is planning to start pivotal trials of AVXS-101 in the first half of 2017, and still in 2016, initiate a Phase 1 safety and dosing study in SMA Type 2 via intrathecal delivery (similar to Nusinersen).
This means costs will ramp up (hence the conservative estimates). I'm now left wondering if the possible gains in efficacy resulting from the individual approach to each SMA Type are significant enough to justify the costs that such a venture entails.
Should AveXis have gone with a "universal" treatment strategy, in a similar fashion to Biogen? Or will this focused approach to each SMA Type lead to a significantly better product profile, that in the end, will justify the increased costs?
I honestly don't know. And with a billion dollar market cap, I'm not in a rush to find out. I'm neutral on AveXis.
Disclosure: I/we have no positions in any stocks mentioned, and no plans to initiate any positions within the next 72 hours.
I wrote this article myself, and it expresses my own opinions. I am not receiving compensation for it (other than from Seeking Alpha). I have no business relationship with any company whose stock is mentioned in this article.