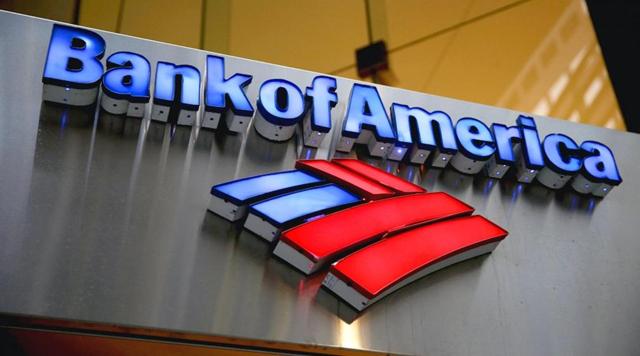 Bank of America (NYSE:BAC) was nearly destroyed by the financial crisis, which makes the turnaround since then all the more remarkable.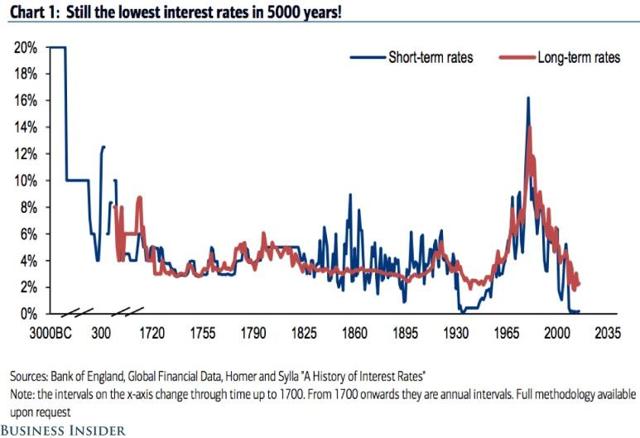 Even more impressive is that the bank, under CEO Brian Moynihan, continues to put up strong, consistent growth where it matters most; despite world interest rates being at their lowest point in human history.
So let's take a look at Bank of America's latest blow out results, to see how the turnaround story is going. But more importantly, find out which five metrics matter the most for long-term investors, especially when it comes to maximizing the chances of generating market crushing total returns in the coming years.
The results themselves
| | | | | | | |
| --- | --- | --- | --- | --- | --- | --- |
| Metric | Q3 2016 | Q3 2015 | YoY Change | YTD 2016 | YTD 2015 | YoY Change |
| Revenues | $21.6 billion | $21.0 billion | 3.1% | $63.7 billion | $63.4 billion | 0.5% |
| Net Income | $5.0 billion | $4.6 billion | 7.3% | $13.2 billion | $12.6 billion | 5.2% |
| Shares Outstanding | 11.0 billion | 11.2 billion | -1.8% | 11.1 billion | 11.2 billion | -1.7% |
| EPS | $0.41 | $0.38 | 7.9% | $1.10 | $1.03 | 6.8% |
| Dividend | $0.075 | $0.05 | 50% | $0.175 | $0.15 | 16.7% |
| Payout Ratio | 18.3% | 13.2% | 39% | 15.9% | 14.6% | 9.2% |
| Book Value Per Share | $24.19 | $22.40 | 8.0% | $24.19 | $22.40 | 8.0% |
| Efficiency Ratio | 61.66% | 65.70% | -6.1% | 64.91% | 68.27% | -4.9% |
| Tier 1 Capital Ratio | 13.7% | 12.9% | 6.2% | 13.7% | 12.9% | 6.2% |
| Net Interest Margin | 2.23% | 2.19% | 1.8% | 2.26% | 2.2% | 2.7% |
This quarter's results were nothing less than fantastic. Despite concerns about a slowing US economy, and US interest rates so low that banks are having a tough time lending profitably, Bank of America was able to not just grow its overall deposits, and loans, but more importantly do so while maintaining strict quality credit lending standards.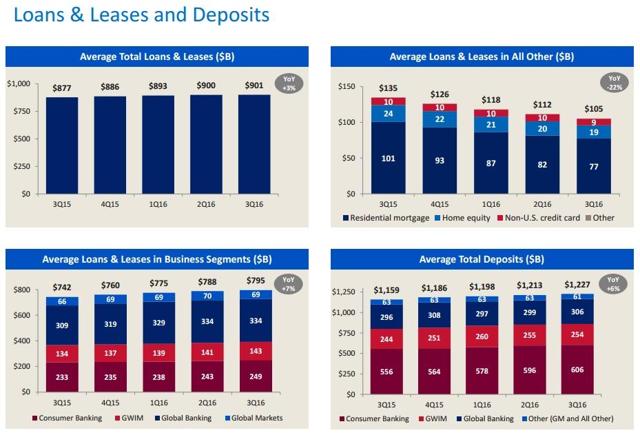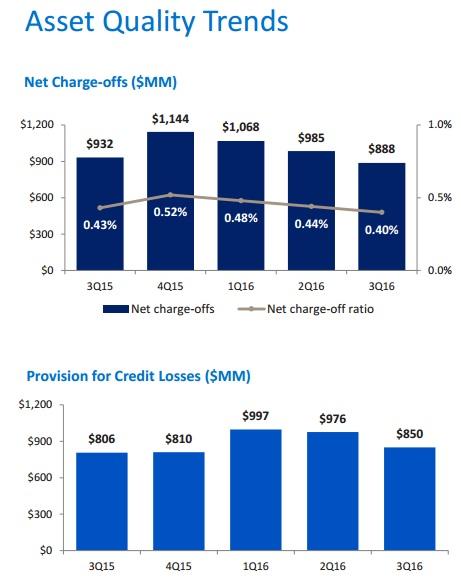 Source: Bank of America earnings presentation.
This goes a long way in validating my thesis that CEO Brian Moynihan is not just trying to recreate the legendarily conservative banking culture of Wells Fargo (NYSE:WFC), and JPMorgan Chase (NYSE:JPM), but succeeding brilliantly.
In fact, UBS (NYSE:UBS) analyst Brennan Hawken is even worried that Bank of America is on its way to becoming "the most conservative large bank". Specifically Mr. Hawken is concerned that "while tighter underwriting standards leaves Bank of America well positioned for the next downturn, it also likely holds back growth in the interim."
Of course, this is a classic case of short-term focused, first order thinking. By which I mean that, were Bank of America willing to compete for market share at the expense of lower loan quality, then any short-term gains in profits could more than be offset by losses that could occur when the credit cycle finally turns around. Which is what we saw in dramatic fashion in 2008 and 2009.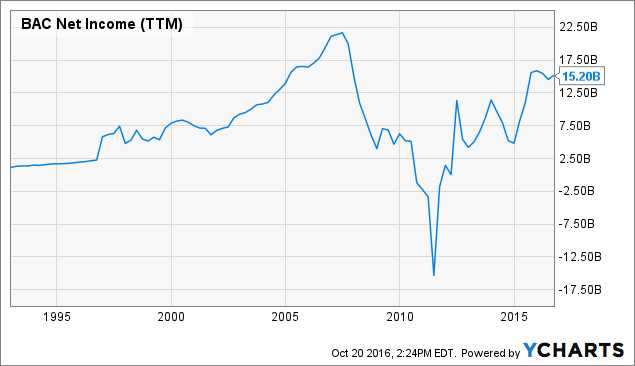 BAC Net Income (TTM) data by YCharts
Besides, the fact is that Bank of America doesn't need to go after higher-margin subprime borrowers. The real key to how this bank can become a true earnings machine lies with how well management has set it up to benefit from even the smallest increase in interest rates.
Bank of America delivers where it counts the most
But let's get down to brass tacks shall we? Here are the five most important takeaways from Bank of America's phenomenal quarter. Reasons that should give long-term investors confidence that management will deliver, and one day the market will FINALLY be forced to recognize just how crazy undervalued our shares are.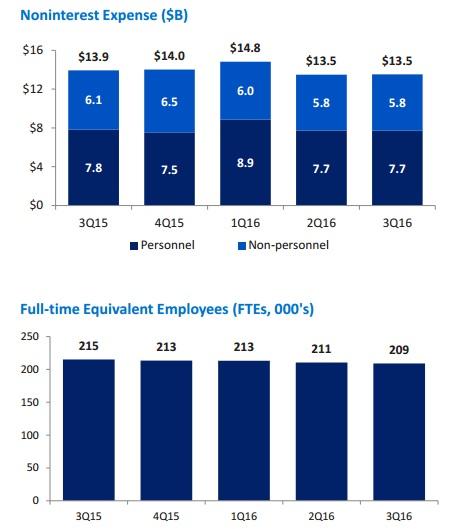 Thanks to $400 million in cost cutting, part of Moynihan's $3.3 billion planned cost reductions by the end of 2018, Bank of America was able to boost net income 7.3% year-over-year.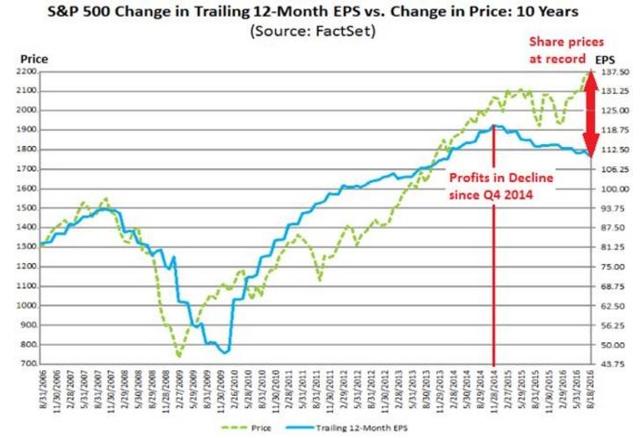 While that may not sound like a "blowout" given that we're in an earnings recession that's stretching into its 6th straight quarter, the ability to grow earnings at all, especially given the brutal interest rate environment, is a wonder to behold.
Better yet, thanks to $1.4 billion in buybacks in Q3, the share count fell 1.8%, and helped boost total EPS growth to an even more impressive 7.9%.
Now, this doesn't just matter because Wall Street has a fixation on EPS, but more importantly because the faster EPS grows the stronger, longer, and more sustainable Bank of America's dividend growth can be.
And since long-term studies show that total returns are ultimately determined by yield + dividend growth, this bodes very well indeed for dividend loving Bank of America shareholders like myself.
And speaking of the dividend, despite raising the payout by a whopping 50% compared to last year, the payout ratio for this quarter, and YTD 2016 came in at a still very low 18.3%, and 15.9%, respectively.
This gives me confidence that the current analyst consensus of 9.0% dividend growth over the next decade will not just be met, but likely beaten as well.
So while the current 1.8% yield may not exactly be something to get excited about, when you combine it with the massive dividend growth potential, AND how undervalued shares are right now, well you get the potential for one of the best dividend growth stocks of the next few years.
Speaking of undervaluation, I know this is a sore point for many long-time Bank of America shareholders.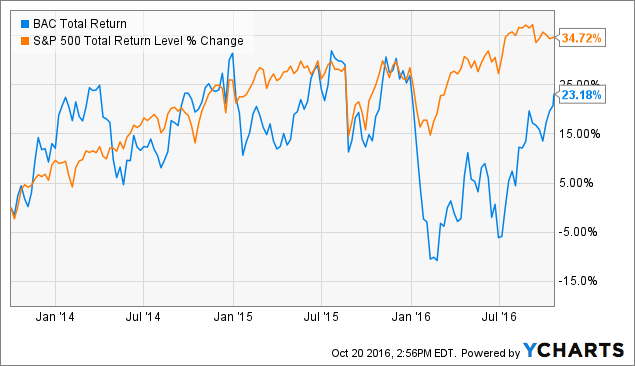 BAC Total Return Price data by YCharts
After all, over the past three years Bank of America has lagged the market, despite the impressive turnaround, and strengthening of our balance sheet.
Case in point, looking at the Tier 1 Capital Ratio, which the equity, and retained earnings vs. risk-weighted assets, ours was up another 6.2% to 13.7%.
Now this is important for two main reasons. First, it means that Bank of America's balance sheet is approaching "fortress" like levels; meaning that another financial crisis is far less likely to put the bank's survival at risk.
BUT more importantly for dividend investors is the fact that the higher our Tier 1 ratio, the better Bank of America is to do in the Fed's annual stress test, which determines how much the bank can return to shareholders in terms of buybacks and dividends.
So as long as this remains high, and rising, we have even more reason to be optimistic that the future of BAC's dividend, and ultimately its share price, remains bright.
But what about the share price? It seems to be stuck in a chronic "undervalued" status, with the share price unable to break out over $18. However, I would point out that our book value per share, one of the best metrics for determining a bank's ultimate value, grew at an impressive 8%.
In other words, as long as the book value per share continues to grow, Bank of America's intrinsic value continues to increase. And while it can sometimes seem as if there is no end to how long Wall Street can keep a stock stupid cheap, in the words of Benjamin Graham, god father of value investing; "in the short-term the market is a voting machine, but in the long-run it's a weighing machine."
So the longer Bank of America languishes at this price while growing its book value per share, the faster, and higher it's capable of soaring when the market finally figures out the bank's corporate culture has in fact chanced.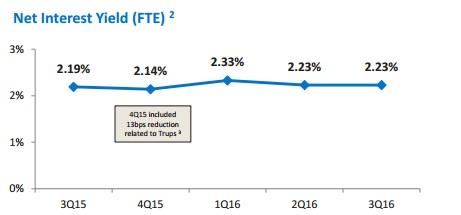 Now the final metric I want to point out is Bank of America's net interest yield, which actually rose year-over-year. When you consider what kind of flattening the yield curve has taken over the past two and a half years this is actually very impressive.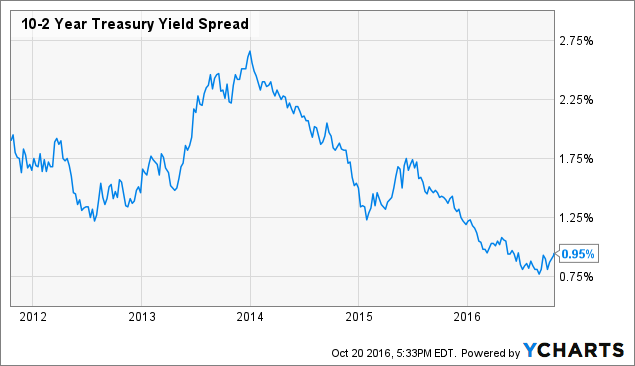 10-2 Year Treasury Yield Spread data by YCharts
Better yet, Bank of America is set to see its net interest income rise by a staggering $1.325 billion per year per 25 basis point rate hike.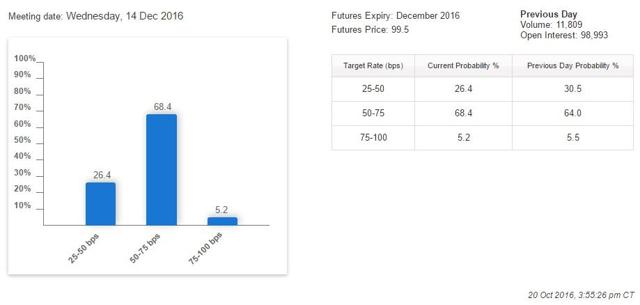 Source: CME Group
In other words, a single rate increase, such as the one that financial markets are currently assigning a 73.6% probability in December, means an additional 6% to 7% increase in net income in 2017.
Add in around 2% net buyback rate, and ongoing cost cutting measures, and 2017's outlook for Bank of America's bottom line looks very good indeed.
What to watch going forward
In the coming quarters there are three main things I think Bank of America investors need to keep an eye on.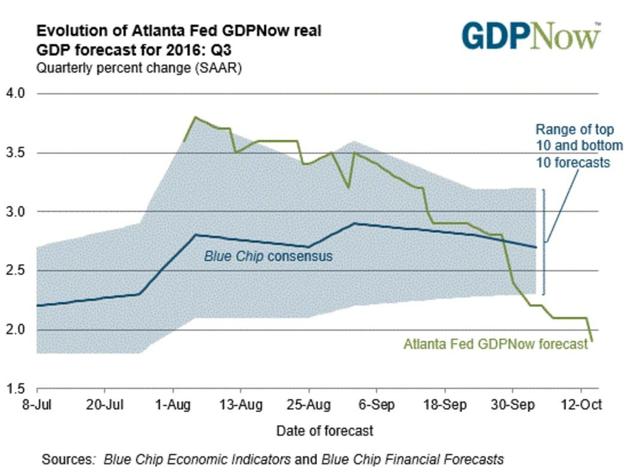 First, with US economic data showing a noticeable decline in recent months, I'll be interested to see whether or not the bank continues to grow both its deposit, and loan base. A slowdown in loan growth could signal economic trouble ahead, which would have potentially negative implications for future rate increases.
Next, I'm especially interested in whether or not management can continue delivering on its cost cutting promises. With the efficiency ratio now under 62%, Bank of America is within striking distance of Wells Fargo, which has long held the title of the most efficient US Mega-Bank.
If Bank of America can get its cost in line with Wells, AND continue strengthening its balance sheet, and proving its commitment to sound, conservative, i.e. safe, lending practices, then we might see its price/book value discount evaporate in coming years.
Finally, and as with all banks, I think investors need to keep a careful eye on a bank's net charge off rate, and provisions for loan losses. This serves as an early warning sign both of falling credit standards, as well as the potential turning of the credit cycle; which can be a prelude to recession.
Not just would a US recession potentially mean rising loan defaults, which would hurt earnings, but a recession could mean that interest rates end up going to zero, or even negative. Such a move would be unprecedented in the US, and would serve as a brave new, and deeply uncertain world for bank investors.
Bottom line: Bank of America is firing on all cylinders, heralding a likely glorious dividend growth future, and with it awesome total return potential
I'm both baffled, and thrilled that the market's response to Bank of America's fantastic earnings has been so muted. In every metric that matters: EPS growth, book value per share growth, a low payout ratio, rising Tier 1 Capital Ratio, and a higher net income yield, BAC delivered strong results that increased intrinsic shareholder value.
With at least one, and maybe two rate hikes coming over the next year or so, I'm taking the opportunity to add to my Bank of America position, which remains one of the best deep value dividend growth stocks you can own today; before the market realizes its mistake.
Disclosure: I am/we are long BAC, WFC.
I wrote this article myself, and it expresses my own opinions. I am not receiving compensation for it (other than from Seeking Alpha). I have no business relationship with any company whose stock is mentioned in this article.