Last quarter, on July 21, 2016, AltaGas (OTCPK:ATGFF) reported a strong Q2 and raised the monthly dividend 6.1%. In a couple of days, the share price surged 10%.
On Thursday, Oct. 21, during its earnings conference call, AltaGas reported another "exceptionally strong" quarter. The share price has risen very close to 52-week highs again. I was listening in on the conference call and studied the investor presentation and again am learning much about energy needs and how flexible, fast-ramping, natural gas-based energy can meet the needs of consumers, particularly in high-density areas such as California. AltaGas is uniquely poised to meet those needs.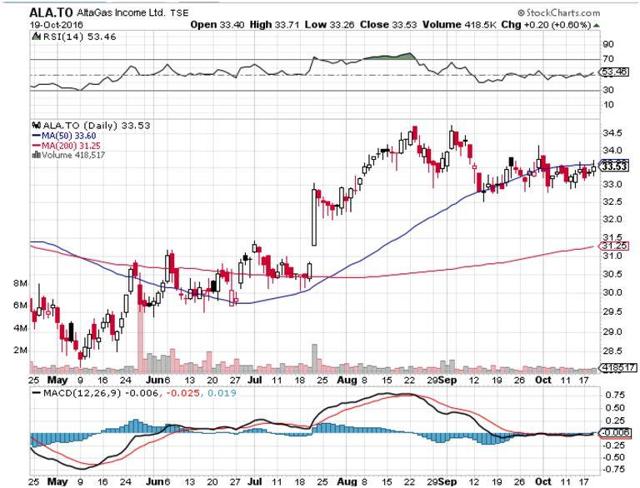 A number of news announcements have been released during the quarter. A relationship agreement with the Halfway River First Nation was signed July 14 ahead of the official opening of the Townsend Facility on their land on Sept. 14. On Aug. 16, ATGFF announced a 10- year contract with Southern California Edison for energy storage at its Pomona Facility, one of the largest battery storage projects in North America. On Sept. 29, AltaGas announced that it received a permit from the BC Oil & Gas Commission for a new project close to the Townsend Facility. Sadly, it was also announced that Hugh Fergusson, a board member for eight years, had passed away. It has been another active quarter for AltaGas.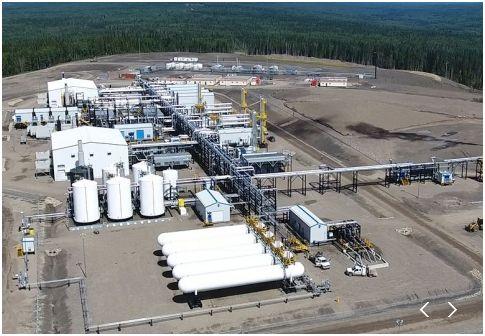 Pictured above is the Townsend Facility (source: ATGFF website), which came online under budget and ahead of schedule.
In addition to the quarterly report, it was announced that a positive final decision has been made regarding the proposed North Pine Facility. President and CEO David Harris said:
North Pine is a key component of our energy value chain and brings forward a significant new and competitive option for producers in the Montney. Together with our proposed Ridley Island Propane Export Terminal, we can offer producers superb service to existing and new markets. As we move into the last couple months of the year we expect to hit our financial targets and bring our Ridley Island Propane Export Terminal investment decision to fruition.
Financial highlights from Q3 include the following:
EBITDA of $176 million, up 41% from Q3 2015
Normalized FFO of $137 million, or $0.84 per share, up 34% from Q3 2015
EPS of $0.28 ($46 million) up 87% from Q3 2015
These increases are attributed to:
The San Joaquin Facilities acquired in late 2015
McLymont entering commercial service in Q4 2015
Strong performance at Forrest Kerr
The Townsend Facility coming online
No equity losses from the Sundance B Power Purchase Arrangements, which terminated in Q1 2016
These positives were offset by:
Lower gains from frac hedges
Lower earnings from Petrogas
The expiration of the Pomona PPA at the end of 2015
Lower fee-for-service revenues at the Gordondale facility due to lower volumes in excess of take-or-pay levels
The impact of the sale of non-core assets to Tidewater Midstream in Q1 2016
Other developments include:
Plans for the expansion of newly operational Townsend Facility
Approval received for a 25-year license from the National Energy Board (NEB) to export up to 1.35 million tonnes of propane per year supporting the Ridley Island Terminal
Forrest Kerr output was up 18% compared to the third quarter of 2015, due to operational efficiencies from experience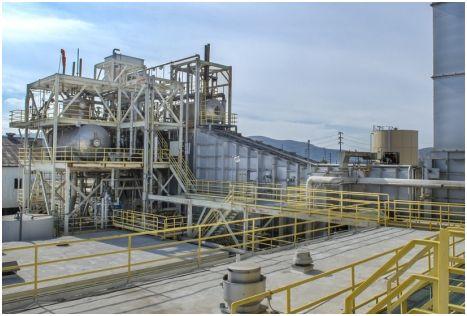 Pomona Energy Facility (source: AltaGas website)
AltaGas is a company that no longer lives up to, but has long surpassed, its implied name. Though the company first started in Alberta, its EBITDA is now equally split between Canada and the U.S. More than half of its Canadian locations are outside of Alberta in BC, Ontario, and the Maritimes. The gas part of its name also does not reflect its hydroelectric and other non-gas-energy-related assets. It also does not reflect the decreasing commodity exposure of the company.

Source: Investor Presentation
With the decreasing commodity exposure, it's not surprising that it is not named as a key sensitivity for AltaGas. Key sensitivities are foreign exchange, frac spread and natural gas Volumes. For example, looking at the chart below, we can see that a five-cent change in the exchange rate has an impact of about $14 million.

Source: Investor Presentation
Somehow, though, the market has not understood this repositioning, and the energy crash clearly affected AltaGas' stock price as if it was directly related to the commodity price. This comparison chart shows the strong correlation in the share price movement of AltaGas and the ARCA Natural Gas Index.

Source: Google Finance
Another significant factor for earnings is that utilities tend to be weather-dependent. As noted in the press release: "Earnings at all of the utilities (except PNG) are affected by weather in their franchise areas, with colder weather generally benefiting earnings. If the weather varies from normal weather, earnings at the utilities would be affected."
Despite the fact that approximately one-third of AltaGas' enterprise value comes from the utilities and regulated gas distribution segment, there is essentially no correlation to the utilities index shown here by using XUT, the iShares TSX Utilities Index Fund, and Emera (OTCPK:EMRAF) and Fortis (FRTSF). These are both Canadian utilities AltaGas used as comparison in the first chart of the article. This disconnect and the share price drop are significant reasons I have been very bullish on this stock. At current prices, the resultant high -- yet stable and growing -- dividend is very attractive, especially when compared to a possibly overpriced utility.

Source: Google Finance
Weather is another important sensitivity for AltaGas earnings. Also from the Q3 earnings press release: "Earnings at all of the utilities (except PNG) are affected by weather in their franchise areas, with colder weather generally benefiting earnings. If the weather varies from normal weather, earnings at the utilities would be affected."
AltaGas is diversified between regulated gas distribution, power and midstream. The chart below shows the diversification in comparison to other energy infrastructure companies.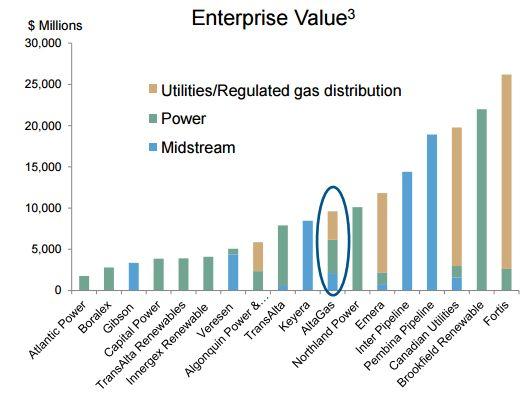 Source: Investor Presentation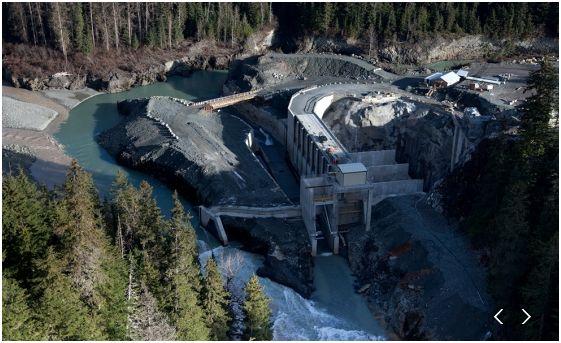 Forest Kerr Hydroelectric Facility (source:ATGFF website)
This FASTGraph shows the price in comparison to free cash flow, and seems to indicate that moving back toward all-time highs from 2013 is not unreasonable.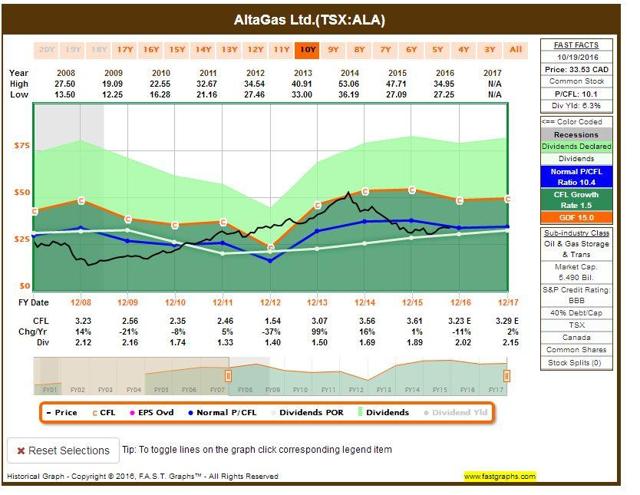 Source: FASTGraph (used with permission)
California has one of the most aggressive renewable energy plans in North America. It is an excellent environmental policy to have, and will likely be the energy of the future, but this has also set the stage for AltaGas to provide increasing services. Drawbacks of this policy are the intermittent nature of the energy production, the difficulty of storage, and the substantial variation and increasing peaks and troughs of the daily cycle. AltaGas is uniquely positioned to meet these needs in both exporting to California and providing gas-fired power during peak times. Forty percent of California's energy comes from natural gas and 28% from net imports.
Looking ahead, capex is expected in the range of $550 to $600 million for 2016. Eight project updates were given in the Q3 press release. AltaGas continues to expect EBITDA growth of approximately 20% in 2016 year over year, with the majority of this expected from the power segment.
In the power segment, the highest growth area, increased earnings are expected to be driven by the first full-year contributions from the San Joaquin Facilities and McLymont. The earnings and cash flows from the Northwest Hydro Facilities were seasonally stronger through in Q3 are expected to decline in Q4 based on seasonal water flow patterns, though this is weather-dependent. As winter sets in, Q4 is expected to be stronger with heating requirements.
Tim Watson, EVP and CFO, reported that the financial strength of AltaGas is reported to remain strong and flexible and "fully funded ... well below covenant levels." The credit facilities of AltaGas are strong with access to $1.3B. This was discussed at about the 13-minute mark during the conference call.
The dividend was discussed immediately after that as well. The payout ratio is currently around 57%. Watson said:
Cash flow from our regulated utilities combined with our Northwest hydro projects alone more than covers total cash dividend paid after factoring in the dividend reinvestment plan. This means that cash flow from all our other assets within AltaGas can be directed to other investment opportunities.
Investors do not need to worry about the safety of the dividend. If you are new to AltaGas, I highly recommend a careful read-through of the September investor presentation slides, as I found them very informative and somewhat self-explanatory, in addition to your other due diligence activities. AltaGas is currently my fourth-largest holding. I have been building this position and writing put options (five) on the shares since September 2015.
Disclosure: I am/we are long ATGFF, EMRAF.
I wrote this article myself, and it expresses my own opinions. I am not receiving compensation for it (other than from Seeking Alpha). I have no business relationship with any company whose stock is mentioned in this article.
Editor's Note: This article discusses one or more securities that do not trade on a major U.S. exchange. Please be aware of the risks associated with these stocks.