Historically, the Bank of Japan has not been ahead of the curve in experimental monetary policy decisions but the BOJ did surprise many in taking short-term interest rates to negative levels. As a result the BOJ's policy has not only been ineffective but also potentially counterproductive, and this is something that will ultimately ensure a bearish trend in assets like the CurrencyShares Japanese Yen Trust ETF (NYSEARCA:FXY), which generally translates to higher prices in the USD/JPY.
Chart View: Japanese Interest Rates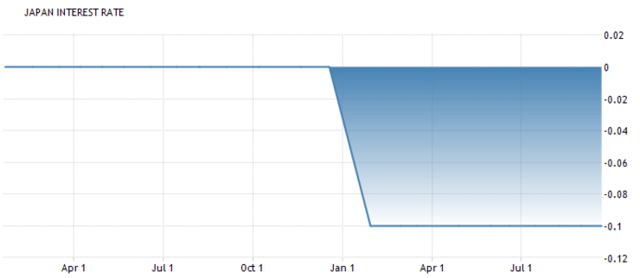 Chart Source: Modern Forex Trading
The questions that get asked by many investors is often 'Why is the BOJ introducing negative interest rates? What are the benefits of doing so?' These are the first questions that need to be asked before we can establish a firm position stance in the above assets. Next, we should know what negative interest rates really imply. They imply a central bank bias that there is likely to be benefits when commercial banks in Japan will be charged for depositing money at the central bank. The hoped-for result is that in order to avoid the charge, commercial banks will prefer to circulate their money rather depositing it and this adds to the common belief that negative interest is essential for increasing the velocity of money.
If interest rates are increased, then people won't exactly be eager to spend much and instead concentrate on saving and depositing disposable income. Historically, these types of trends have ultimately caused slowdowns in Japan's economy while limiting the circulation of money. These factors have had a material impact on the country's rate of unemployment, and these are the scenarios that the BOJ is currently trying to avoid.
| | | |
| --- | --- | --- |
| Overview | Present | Previous |
| GDP Growth Rate | .2% | .5% |
| Unemployment Rate | 3.1% | 3% |
| Inflation Rate | -0.5% | -0.4% |
| Interest Rate | -.1% | -0.1% |
| Balance of Trade | -18.71 JPY billion | 514 |
| Govt. Debt to GDP | 229% | 226% |
Source: Modern Forex Trading
The chart above may give investors some insight into why the BOJ is making these choices in adopting negative interest rates. From the chart we have a comparative overview of Japan's economic condition. Here, the rate of GDP is falling while the unemployment rate is rising (accompanied by a negative inflation rate).
It is true that a higher inflation rate is dangerous for a country like Japan but certain causes of inflation are necessary for the stabilization of the country's economy. Higher inflation devalues the the currency, however, and this is why we can expect to see declines in FXY and continued rallies in the USD/JPY.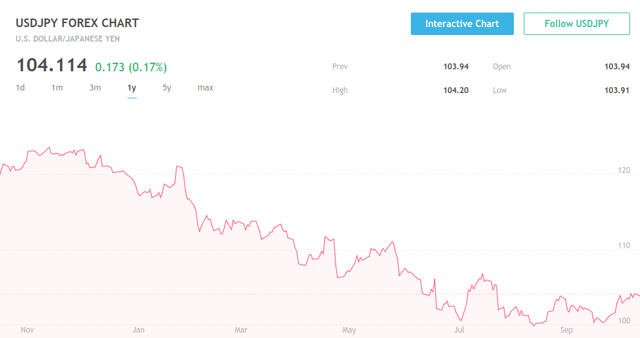 Chart Source: Modern Forex Trading
Going forward, the real question will be whether reasonable inflation will create more activity in the commercial sector and reduce the unemployment rate. Without this, there is little reason to believe that the Bank of Japan will be able to start enacting policies that are actually likely to increase the value of JPY-related assets. To increase consumer inflation levels, it is necessary to circulate money and for now the BOJ stills sees introducing negative interest rates as the best available option. This ultimately suggests that the downtrend in the USD/JPY should start to reverse, and we are now seeing excellent risk/reward favorable for long positions at current levels.
Disclosure: I/we have no positions in any stocks mentioned, and no plans to initiate any positions within the next 72 hours.
I wrote this article myself, and it expresses my own opinions. I am not receiving compensation for it (other than from Seeking Alpha). I have no business relationship with any company whose stock is mentioned in this article.