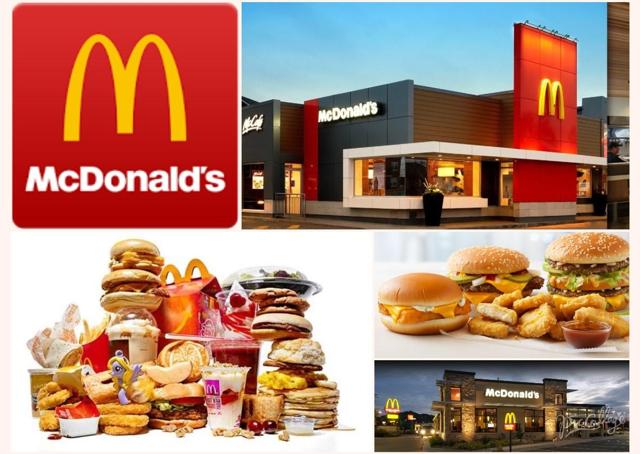 McDonald's (NYSE:MCD) is an iconic restaurant dating back to its founding in 1955. From humble beginnings, the company has grown to over 36,000 locations in more than 100 countries. MCD's golden arches have for decades represented a place where families come to enjoy a meal together. The Big Mac, first introduced in 1967, continues to be a staple and an icon for the company. MCD has weathered many challenges. Investors who purchased shares of this company back in 1965 when it was listed on NYSE have done very well for themselves.
MCD is well known to dividend growth investors. I am interested in assessing whether MCD's dividend is worth taking a bit out of.
The company is a dividend champion having paid 40 years of growing annual dividends. At the time of writing, MCD had a dividend yield of 3.30%. The current yield is above its 10-year dividend yield average of 3.11% which could suggest that MCD presents a good opportunity at the moment. MCD's dividend yield has also always been greater than the average for the consumer services industry.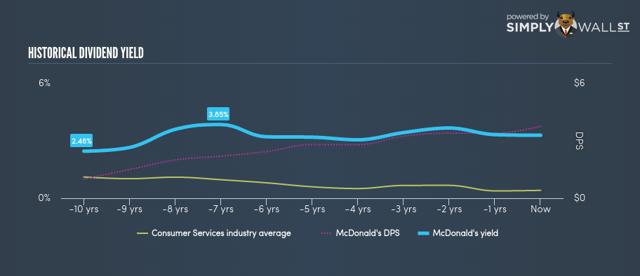 Source: Simply Wall St
The company announced on September 29, 2016 that it will raise its dividend by 5.6%. Below is a graph of the amount paid in dividends and the percentage of the dividend increases.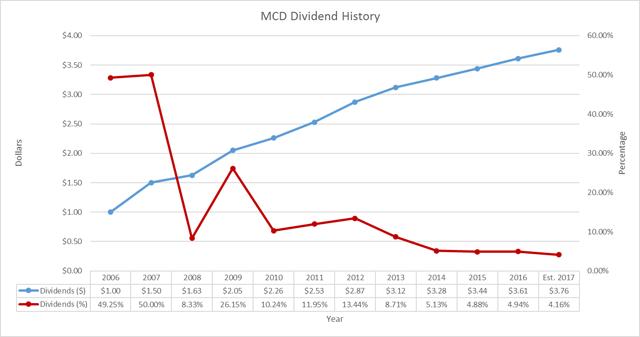 Source: McDonald's, Valueline.com, graph and percentages prepared by the author
Although the dollar amounts have been increasing steadily year over year, the percentage in which they have been growing has been declining. At the moment, the 1-year is less than the 3-year (7.57%) which is less than the 5-year (9.29%) which is less than the 10-year (10.25%) dividend growth rates. Although this past dividend increase was greater than 2015's, MCD's increases have averaged about 5% for the past 3 years.
ValueLine estimates that MCD's 2017 dividend will be $3.75 which would equate to only a 3.88% raise from this year's dividend payout.
The dividend payout ratio using EPS and FCF show that dividends have been growing more quickly than either of these two sources which is resulting in rising payout ratios over the years as seen in the graph below.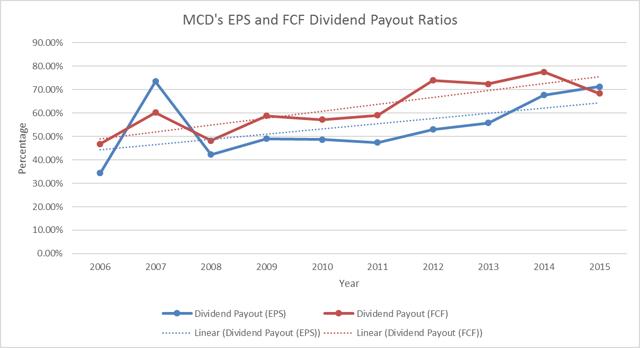 Source: Data sourced from Old School Value, graph created by the author
As of FY2015, the EPS payout ratio was 71.34% while the FCF payout ratio was 68.36%. Both have linear trend lines that are rising. This suggests that future dividend payments may be lower unless MCD continues to pay out more of its free cash flow or earnings or it decides to use other methods of financing the dividend such as debt. Neither of these scenarios is ideal as both can have a material effect on the company's flexibility in difficult times.
I look at three sources for the dividend coverage: earnings, operating cash flow and free cash flow. In all three instances, the trend is declining which suggest that the coverage of the dividend is worsening. This is a concerning as it suggests that without a reversal of these current trends, the dividend future becomes increasingly uncertain. All coverage ratios are above 1 suggesting the dividend is covered by these sources at present payments and raises will likely continue in the future.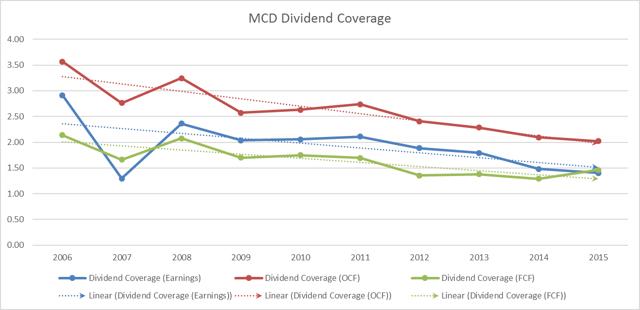 Source: Data sourced from Old School Value, graph created by the author
Taking a look at the free cash flow and operating cash flows, they are all above the amount paid in dividends by MCD. The following graph reinforces the point that MCD is capable of paying the dividend using free cash flow and generates more than enough from the operating and free cash flow to cover the dividend without the use of other sources of financing.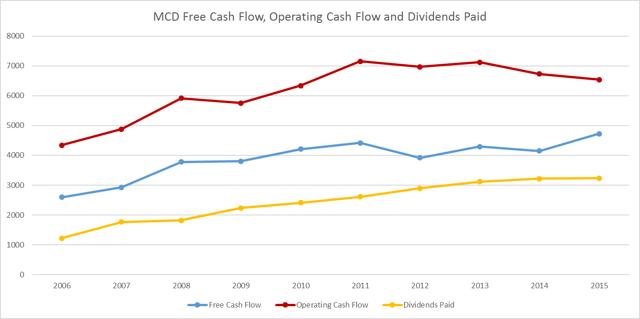 Source: Data sourced from Old School Value, graph created by the author
Should MCD decide instead to pay the dividend using its retained earnings (its unspent profits), the dividend would be covered by this source to the tune of 13.8x the current amount paid out in dividends.
One important thing to note about the above graph is how close the dividends paid and free cash flow are together. MCD FCF has not been consistent and this could be a problem because it can make the dividend increases more uncertain. Its 10-year FCF CAGR is 6.86% which is greater than its 5-year CAGR of 2.95% however the FCF has grown nicely over the last 3 (9.83%) and 1 year (13.95%). Despite the recent improvements in FCF generation, MCD still raised its dividend by only 5%. The reason for this can likely be partly explained by the percentage of FCF paid out in dividends.
| | | | | | | | | | |
| --- | --- | --- | --- | --- | --- | --- | --- | --- | --- |
| 2006 | 2007 | 2008 | 2009 | 2010 | 2011 | 2012 | 2013 | 2014 | 2015 |
| 46.80% | 60.27% | 48.22% | 58.85% | 57.25% | 59.04% | 73.95% | 72.50% | 77.55% | 68.36% |
Source: Data sourced from Old School Value, table and percentages created by the author
During that three-year period, MCD paid out over 70% and in 2014 77.55% of its FCF in dividends. MCD has paid out on average over the past 10 years about 62% of its free cash flow in dividends.
Two of my favorite authors, Eli Inkrot and Dividend Sensei, recently put out what I would call bullish articles on MCD (here and here). Both are bullish on the future growth prospects of MCD and the direction management is taking the company. Both believe that earnings will grow and that it will translate into continued dividend growth, possibly even higher than has been seen over the last few years. Although I appreciate what they have said and their arguments are well presented, I believe that they overlooked one area that could limit the growth of those earnings and the growth of the dividend. That one thing is debt.
MCD has taken on a lot of debt. This article published by Brian Gilmartin explains how MCD has put itself in a difficult position. However, I believe that a picture is worth a thousand words.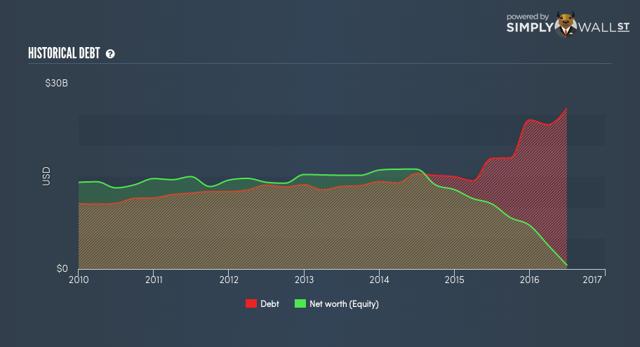 Source: Simply Wall St
MCD has taken on a lot of debt while at the same time shareholder's equity has declined at a significant rate. As of Q2 2016, total shareholder's equity was worth only $640M, down from a high of $16.01B at the end of FY2013. MCD's long term debt has increased by 187.51% in 10 years. Compare this to the company's assets which has grown only 30.94% over the same period. MCD's long term debt is currently 5x its FCF.
Why is MCD's debt a concern. For several reasons. The first is based on the following statement from the FY2015 10-K report where we find that management decided to pay the dividend using some of the $10B in long-term debt the company accumulated in 2015.
"After a thorough evaluation of financial opportunities, management announced plans to optimize the Company's capital structure and increased the cash return to shareholders' target to about $30 billion for the three-year period ending 2016 - a $10 billion increase over the previous target with incremental debt funding the vast majority of the increase."
Although management believes the company has a substantial cash flow, they yet chose to finance the dividend and the share buy-backs using this debt. This is a concern to me for future dividend increases. As previously shown, the company had other options than issuing debt to raise the dividend including the retained earnings which continues to increase.
The second reason why this is a concern is the effect that debt has on earnings. In fact, debt increases earnings without diluting shares. And in the case of MCD, the company has also been buying back shares which makes for considerable manipulation of the EPS. A high debt to equity ratio also suggests that the company has been aggressively financing its growth with debt. One of the results of this type of aggressive use of debt is volatile earnings due to the additional interest expense. MCD debt to equity was around 0.88 from 2011-2013 but rose to 1.13 in 2014, tripled to 3.40 in 2015 and jumped to 40.64 over the last TTM. This suggests that MCD has an excessive amount of leverage which could negatively impact the company. Compared to other companies in the industry, MCD has the highest debt to equity ratio. MCD interest expenses rose to 10.7% in 2015 compared to 2014 and increased again about 22.8% over the last TTM. This also means that interest expenses are increasingly eating into earnings. One must not forget the negative impact on earnings this will have if the federal reserve raises interest rates.
The degree of financial leverage [DFL] measures the percentage change in a company's EPS per unit change in its EBIT. In the case of MCD, the DFL was 1.09 in 2015 and has risen to 1.12 over the last TTM. This means that for every 1% that MCD's EBIT increases or decreases, its EPS will increase or decrease by 1.12%. In the case of MCD, its EBIT has been declining over the past several years.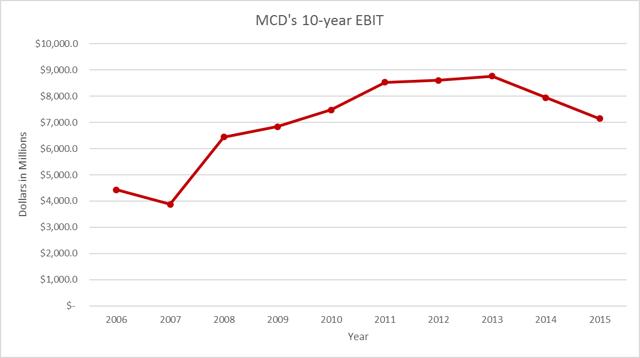 Source: Data sourced from Old School Value, graph created by the author
If this trend persists, MCD's EPS will likely be affected but how much it will be affected also depends on how many shares MCD buys back. If the company doesn't repurchase more shares, the impact on the EPS will likely be worse.
CONCLUSION
I am skeptical about the growth prospects of McDonald's over the next few years because of MCD financial leverage. I believe that MCD may have a difficult time achieving analyst's EPS estimates because the amount of debt that MCD has taken on will have a negative effect on future earnings.
I am also not comfortable with management indicating that the dividend has been paid using debt. One measure of the financial strength of a company is when it pays dividends. Using debt to pay the dividends is a weakness and not a strength and is a risky maneuver.
The dividend has also become unimpressive with an average increase of 5% over the last few years. I am personally looking for something higher. Unfortunately, I do not see MCD increasing its earnings sufficiently to grow its FCF to raise the company's dividend much higher than it has without continuing to increase the amount of FCF used to pay those dividends which is also a risky maneuver.
Overall, I do not feel that MCD is a good idea as a dividend growth investment at this time.
I hope you enjoyed this article. If you want to be notified when my future articles are published, please consider following me as a Seeking Alpha author by clicking the "Follow" button at the top of the article beside my name Accelerating Dividends. Thanks for reading.
You can also follow me on FACEBOOK and TWITTER!
Disclosure: I/we have no positions in any stocks mentioned, and no plans to initiate any positions within the next 72 hours.
I wrote this article myself, and it expresses my own opinions. I am not receiving compensation for it (other than from Seeking Alpha). I have no business relationship with any company whose stock is mentioned in this article.