Pier 1 (NYSE:PIR) directly imports home decor and furniture and sells these products in its stores and website (pier1.com). 93% of its $1.8 billion in revenues are generated in the United States where it is present at 953 out of its total of 1032 locations. The remaining 79 locations exist in Canada while the company in the past was in Mexico and El Salvador as well. The stock came to my attention when it appeared as a potential investment by my value model.

Over the past 10 years, sales have grown at a low annual rate of 0.6%. Operating income and earnings have been positive for the last 7 years after 4 years of losses. A dividend has been paid for the last 4 years; however, book value has been decreasing.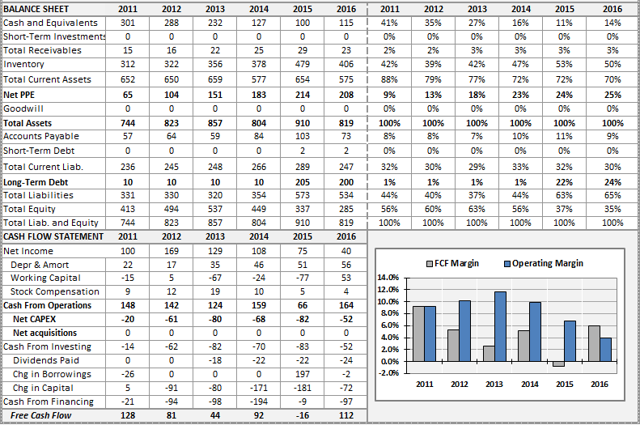 Since 2012, the company has been reducing its share count via repurchases. This almost debt-free company raised $200m via a senior secured term loan facility in 2015. The proceeds were for general corporate purposes (working capital, CAPEX), share repurchases, and dividends. Total repurchases during 2015 had a weighted average cost of $18.95 per share according to PIR. By 2015, EPS had dropped by -31% from $1.22 to $0.84. Based on this, I fail to see the logic of repurchasing shares at a P/E of 23x!!!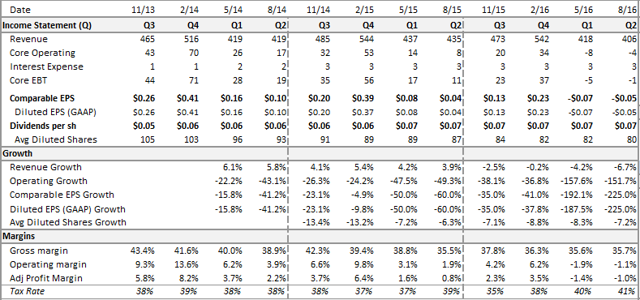 The decline in operating income and EPS has continued and we can see an acceleration in the last two quarters. During this period, revenue has declined -4.2% and -6.7% while operating profit and EPS went negative. We see that the same quarters during the previous 2 years were positive. Despite the continuous deterioration, the company continued to repurchase shares...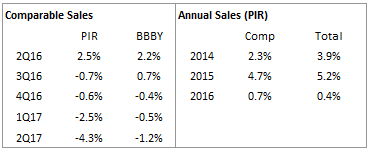 On an annual basis (table above on right) both comparable and total sales increased, so essentially margins have be sacrificed. Looking at the last 5 quarters of comparable sales (table above on left), we see a worrisome trend. While Bed Bath & Beyond (NASDAQ:BBBY) only witnessed declines of -0.5% and -1.2% in the last 2 quarters, we see PIR at -2.5% and -4.3%.
Trouble is that things are not getting better. Management expects:
Full year 2017 sales to drop between -4% and -6%,
Comparable sales between -2% and -4%
Non-GAAP EPS of 24c-32c (vs. 48c in 2016)
CAPEX of $45m for the year.
Note that BBBY has guided FY EPS at $4.50-$5.00 (2016: $5.04), so problems look specific to PIR. 3Q and 4Q guidance for comparable sales is -1% to -3% for both so it does not appear that an improvement is on the horizon. Also worth noting is that last quarter's guidance for 2Q and 2017 was -1% to +1% (actual 2Q: -4.3%). So it's difficult to put much weight on PIR guidance in my opinion.
LTM EPS of 24c matches the low-end of 2017 guidance. If they are estimating 24-32c while sales are declining (total sales -2% to -4% next quarter and -2% to -5% in the one after) then margins must improve significantly in order for them to achieve their targets.

Using the last twelve months of data, if the stock were to trade at the industry median, it would be worth $6.10. At the low end of its 5-year multiple range, it is worth $4.98. The current price of around $4.50 does not appear to be a bargain based on current knowledge. It could be if the worst was behind us, but I do not see the evidence of that. If margins improve and the sales decline stabilizes, then an opportunity could arise depending on market reaction. Personally, I would not be surprised if the company misses, does not achieve margins and tanks.
One problem is that the company needs a leader to make things happen; however, the CEO is leaving. And as Vince Martin pointed out in an article I recommend you read, the CEO is getting all his benefits and the company is taking a $10m hit. That's 25% of LTM operating profits.
Another problem is management quickly put in place a poison pill because of the involvement of an activist who is the largest shareholder (9.5% vs. 0.5% for management). Alden Capital made some excellent points (full letter) and rightfully, deserves a place on the board. Perhaps they manage to shake things up. The stock has moved off its lows.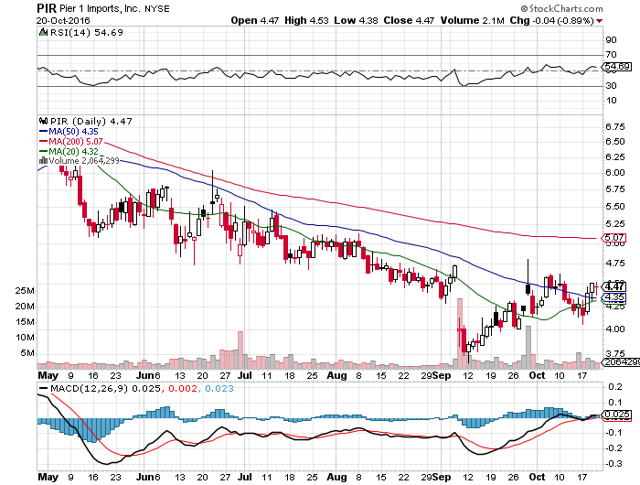 Taking into account the operational performance trend and questionable actions from management, I would not be surprised to see the stock trade lower and present a better opportunity down the road.
Disclosure: I/we have no positions in any stocks mentioned, and no plans to initiate any positions within the next 72 hours.
I wrote this article myself, and it expresses my own opinions. I am not receiving compensation for it (other than from Seeking Alpha). I have no business relationship with any company whose stock is mentioned in this article.