As everyone who followed the saga between Herbalife (NYSE:HLF) and the FTC will be fully aware, they eventually settled for a $200M fine and certain conditions to be applied to their business model. Despite these required changes to Herbalife's business, they recently released a FAQ document aimed at their distributors. This article will effectively take a look at a side by side of the FTC complaint against Herbalife, as well as the FAQ document they released post-complaint.
The misleading nature of this document is by no means a one-off. Senior management within the company have been consistently misdirecting their investors and distributors and this is just another example of the unacceptable way they blind their supporters from the harsh reality of their circumstance.
Now, returning to a look at the settlement Herbalife agreed to, we all know that the monetary fine is fairly irrelevant in the bigger picture. The important detail is the fact Herbalife now have to prove that their products are actually being sold to legitimate customers. The FTC findings clearly concluded that there is in fact next to no profitability in selling Herbalife retail, as shown below.
In direct disregard of the FTC findings, below is a section taken from Herbalife's FAQ document. It hints several times in encouragement of continuing with Herbalife for the business opportunity, but this statement shows blatant infringement of the truth.

You just couldn't make this up. Herbalife continue to encourage the idea that there is a real business opportunity available for people.
It is well known that Herbalife promoted lavish lifestyles and outrageous claims (several examples listed in the FTC complaint (pages 6-17)) on what you can expect to earn as a distributor. However, this aside, they claim they're typical earnings can be noted through their "Statement of Average Gross Compensation". This is all the information they provide with regards to expected earnings alongside the promotions suggesting a life of mansions, fast cars and complete financial security. How is this relevant? Well this statement "…does not provide clarity or realistic expectations..." with regards to expected earnings according to the FTC.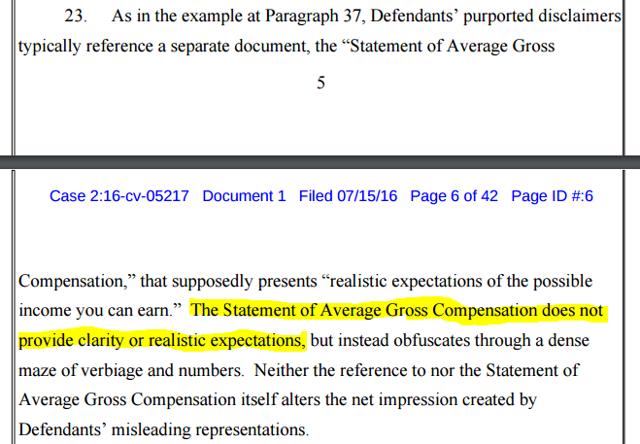 So, even with this document Herbalife love to point towards when confronted about the absurd financial claims, the over-riding impression to an interested individual is that of the unrealistic riches. You would imagine that they would make this significantly clearer with regards to the expected financial performance, or even be more forward and open about it. However, below is another snippet from the FAQ.

Herbalife continue to use this very vague and unclear document to answer any queries on realistic financial earnings. If you take a glance at this document, although re-designed post-FTC the same fundamental problems remain. The only way an interested party can find realistic financial earnings is basically this: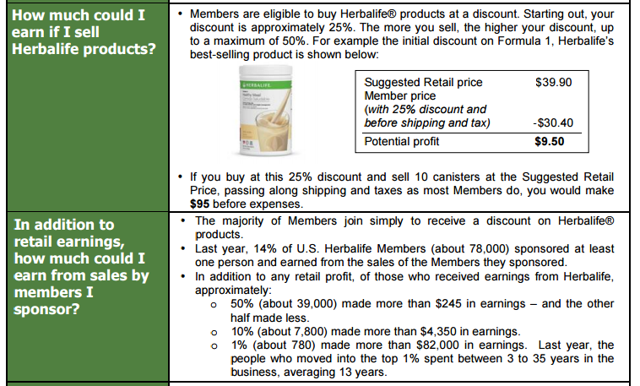 What the second section of the image above shows is how much members were paid by the company. Again, this could be significantly simpler and clearer. At first glance most people reading would assume 50% earned $245+ from the company, however it is actually only 50% of 14%. This means - astonishingly - only 7% of the U.S Herbalife members earned more than $245 outside their retail sales. They could break it down like that - but that would dissuade people from being recruited and that is the last thing Herbalife want! People only lie or misdirect or give ambiguous information when they have something to hide. In this case, they are hiding the realistic business opportunity results from their potential members. Because what happens when potential members stop being recruited? The pyramid collapses.
Furthermore, Herbalife continue to claim a higher amount of discount buyers exist than in reality in this FAQ. Both Christine Richard and Connor Davidson went through the numbers thoroughly and with two different approaches. Interestingly, their results came within 0.3% of one another at 21.6% and 21.3%. This is the accurate percentage of discount buyers assuming their SEC filings are correct, not what was once again claimed by Herbalife in the FAQ.

The FTC complaint also refuted this claim by Herbalife, who seem to be intent on pushing this false number everywhere they can. Sections 98-101 from the FTC complaint are shown below.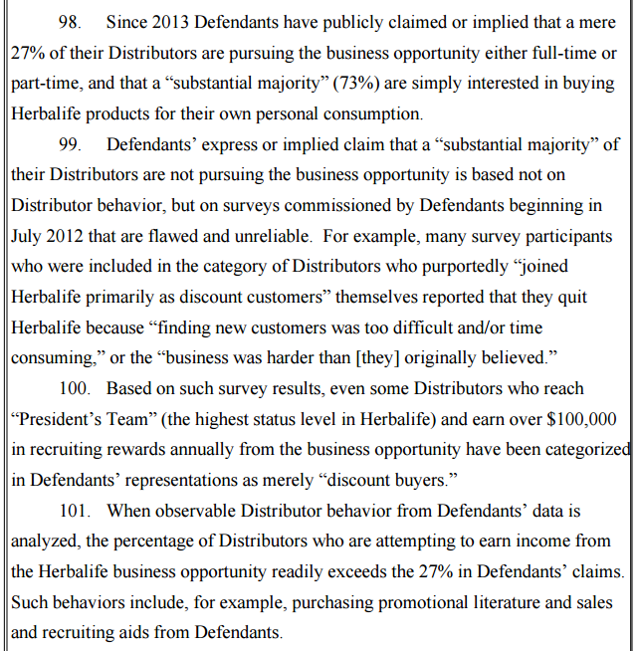 Herbalife persist with this number, as it can still also be found on the "I AM Herbalife" FAQ under the "Why do people become Herbalife distributors?" question. Unsurprisingly, it pops up again in the Herbalife Investor Presentation from August 2016 (slide 33). This case is indefensible. They are literally contradicting the FTC findings and analyst findings on a document specifically aimed at their investors.

Another debatable figure Herbalife used in this FAQ was the claim of having an 18.1% market share in the "United States meal replacement category". I have no doubt in terms of the numbers of product they claim to "sell" that this percentage is accurate, the issue comes in the fact that a lot of this product is not actually sold to the market for genuine consumption and demand of the product. The FTC findings concluded that there was no real demand for the product, so why is there an apparent 18.1% market share?

As suspected, a huge proportion of these "retail" sales were found to be within the company's own network. To give a fair representation of the actual market share, the huge amount of product being inventory loaded at all levels of the MLM should be ignored. This 60% figure skews the actual market share, and the correct market share should be calculated only considering the product sold outside of the network (which is why the receipt for retail sales idea is important for the FTC to monitor real demand). Additionally, Christine Richard's research found millions of dollars' worth of product being given to charity. This may be because top distributors are forced to buy massive amounts of Herbalife products to get their cheque. The following slide is from a presentation by Pershing Square.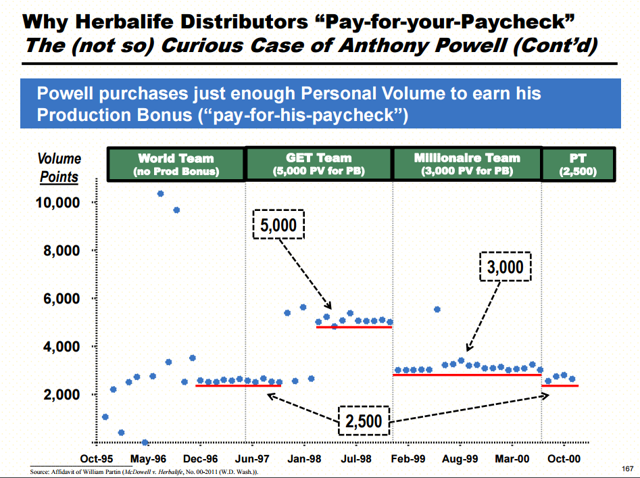 Basically this shows (slide 167) how top distributors are purchasing just over the required amount to hit the payout threshold. This is done when the extra bonus is worth the cost of the purchased products. Note that the top 0.7% of Herbalife distributors are responsible for the purchase of 13.5% of Herbalife products as proven here.
Does this ending for the product constitute a retail sale? This again shows that the top level distributors themselves have no strong demand for purchases. Using figures like 18.1% market share is grossly misleading potential members and potential investors. Furthermore, this Christine Richard's article goes into detail in other methods used to "stack" products by making multiple accounts and buying product under those accounts. What about the outrageous pressures for consumption at the nutrition clubs (a full breakdown of this is provided by another Christine Richard article)? Does this count towards sales and product demand? This all contributes to a misleading and to put it bluntly, fabricated market share. I believe Herbalife having to implement a receipt approach in the settlement will give proof of how low the demand really is. Unfortunately, this change has 10 months to be implemented upon the settlement agreement (July 15 th 2016). In a conference call in August CEO Michael Johnson hoped testing of this would be in place in "early 2017". I would like to know where they even managed to come up with this figure. As previously mentioned, they thought for some obscure reason there was no need to actually track their retail sales. How can they accurately know their market share? In the FAQ they say this figure came from a survey by EuroMonitor in 2015, and they give a citation. However, in the endnotes the corresponding citation simply says "EuroMonitor 2015". Oh, well that sure cleared that up - thanks.
Another contradiction to be raised is that Herbalife are now claiming 81% of nutrition clubs make money or break even. The following image is again from the FAQ.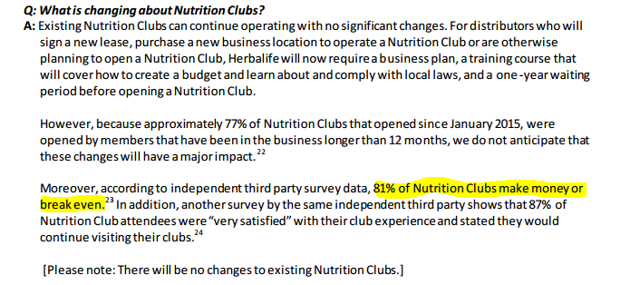 Now a quick glance at what the FTC found.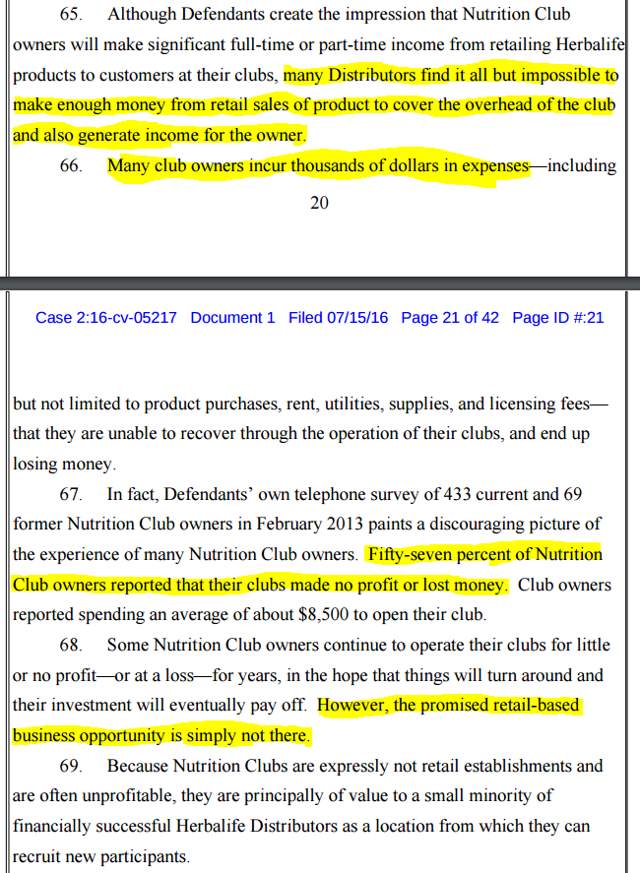 No comment needed.
This FAQ shows the same patterns other articles have touched upon recently including the inconsistency in the August conference call with the SEC filings. The language Herbalife use is only positive, with statements from Michael Johnson like:
"We have the greatest confidence in our ability to comply with the agreement…"
"…these changes are good for our company…"
A great breakdown of the inconsistency of the conference call and the 10-Q has been provided by Matthew Handley. I believe they have a duty to be open and honest to interested parties regarding the true state of affairs (any input Carl?). They managed to mention the adverse effects this settlement could have on them in the SEC filings, so why not in the FAQ or the conference call? They are aware that many people interested in signing up or considering whether to remain a member will read this FAQ and maybe listen to the conference calls, but likely will not dive deeply enough in to view such documents as SEC filings.
Now obviously the settlement agreement and the FTC complaint are fairly old news, and I personally took a backseat to see how Herbalife were going to handle the terms. However, upon the release of this document they are evidently still set in their ways of misdirection. For an investor considering taking up a position with Herbalife (I don't think many are still on the fence with this), you have to ask yourself, why are Herbalife making statements that directly oppose the FTC findings? Why are they continuing to claim an incorrect number only signed up for the discount? Why are they so vague when showing expected financial results from the "business opportunity"? Why are they not being transparent regarding the settlement? These are all questions a potential investor would need an answer too. With all these questions in mind and all the other issues raised with Herbalife, I find it hard to understand how some people have such confidence in the company and the current management.
Disclosure: I/we have no positions in any stocks mentioned, and no plans to initiate any positions within the next 72 hours.
I wrote this article myself, and it expresses my own opinions. I am not receiving compensation for it (other than from Seeking Alpha). I have no business relationship with any company whose stock is mentioned in this article.
Additional disclosure: This article was critiqued by Connor Davidson, who holds a short position in HLF at the time of this article being written.