In the last couple of weeks and months a lot of high yield income vehicles have lost a bit of ground. Reasons for the sell-off in high yield income were numerous and ranged from fears over a surprise interest rate on the part of the Federal Reserve to uncertainty over the U.S. presidential election. Pipeline companies, many of which have high yielding securities outstanding, further battled with the effect of lower crude oil prices and attacks on pipelines by radical climate activists seeking to disrupt the flow of crude oil from Canada to the United States.
Business Development Companies have also surrendered some of their YTD gains lately. The same is true for the Real Estate Investment Trust sector, which has done exceptionally well for shareholders in 2016, too.
The drop in the market prices of high yield income vehicles, however, is not that surprising. Most high yield income vehicles have rebounded strongly in 2016 after the energy-induced market sell-off at the beginning of the year. With crude oil price bouncing back and approaching $50 per barrel again, a lot of uncertainty has left the market, clearing the path for higher valuations in the process. But profit taking has taken a toll on high yield income vehicles lately, with few exceptions.
One such exception is New Residential Investment Corporation (NYSE:NRZ), a Real Estate Investment Trust investing in mortgage servicing rights, servicer advances, residential and consumer loans, residential securities etc.
You can see an investment snapshot here: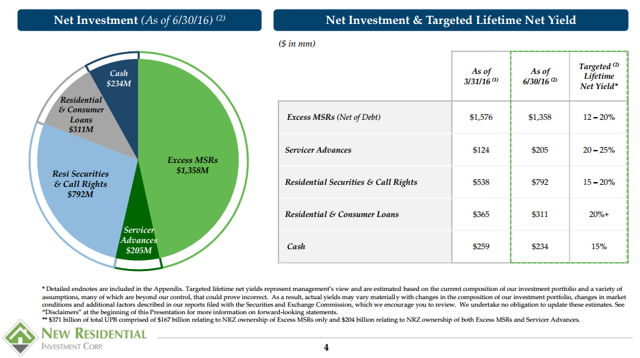 Source: New Residential Investment Corp.
I have covered New Residential a few times here on Seeking Alpha, and have always maintained the view that the mortgage REIT is one of the most outstanding high yielding investment vehicles on the Street. This conclusion was essentially based on four considerations:
1. New Residential covers its dividend payout with core earnings. More importantly, New Residential overearns its dividend, making it likely that the company will announce a dividend hike. The REIT certainly has the cash and earnings to accommodate such a dividend hike.
2. New Residential yields a fantastic 13.18 percent at the time of writing, exceeding the yields of many Business Development Companies.
3. New Residential, in my opinion, is significantly undervalued, which in turn implies a very favorable reward-to-risk ratio.
Read also: "Why New Residential Investment Deserves To Trade At $20".
4. An investment in New Residential comes with positive interest rate sensitivity, making an investment even more appealing than it already is from an income investor point of view.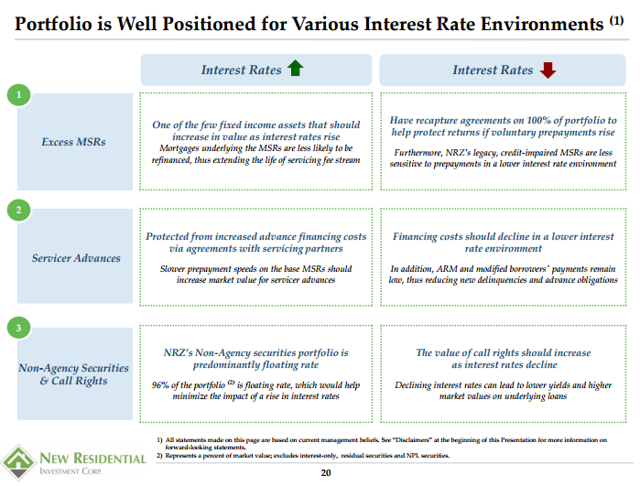 Source: New Residential Investment Corp.
The recent resilience of New Residential's shares could be the fifth reason on this list, and it is the result of what I believe is a superior value proposition.
See for yourself: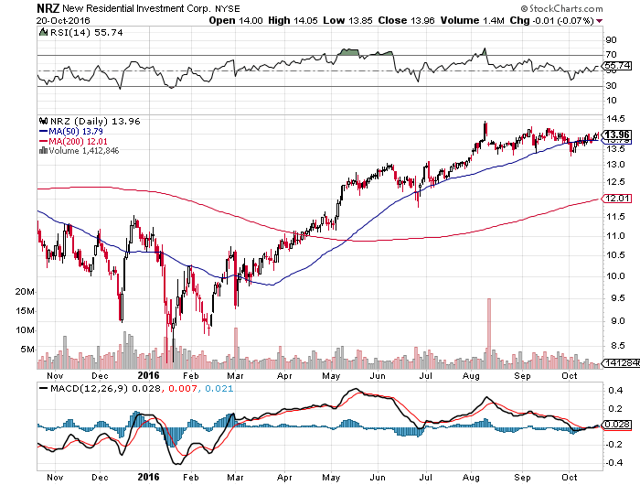 Source: StockCharts.com
New Residential announced a stable 3rd quarter dividend of $0.46/share at the end of September, which was good news for shareholders, but I still think New Residential's core earnings imply significant potential for dividend growth, too. The market does not appear to appreciate this potential yet.
Read also: "Don't Slaughter This Cash Cow Just Yet".
Your Takeaway
New Residential Investment has had a good run this year, and shares have held up well in light of the latest drop in valuations of high yield income vehicles. There are a lot of reasons to like New Residential as an income investor besides its high yield. Importantly, I think Mr. Market significantly underappreciates New Residential's potential to hike its dividend on the back of strong core earnings, which would make the REIT even more appealing for income investors. Buy for income and capital appreciation.
If you like to read more of my articles, and like to be kept up to date with the companies I cover, I kindly ask you that you scroll to the top of this page and click 'follow'. I am largely investing in dividend paying stocks, but also venture out occasionally and cover special situations that offer appealing reward-to-risk ratios and have potential for significant capital appreciation. Above all, my immediate investment goal is to achieve financial independence.
Disclosure: I am/we are long NRZ.
I wrote this article myself, and it expresses my own opinions. I am not receiving compensation for it (other than from Seeking Alpha). I have no business relationship with any company whose stock is mentioned in this article.