Overview
For those unfamiliar with Navistar (NYSE:NAV), they are the good folks that produce the iconic yellow school bus, along with the International brand commercial trucks and the MaxxForce brand diesel engines. Unfortunately, the most notable fact for this company over the recent years from the investor's standpoint is that they have had an incredibly ugly balance sheet, despite the healthy 2014/2015 run in heavy duty commercial truck sales: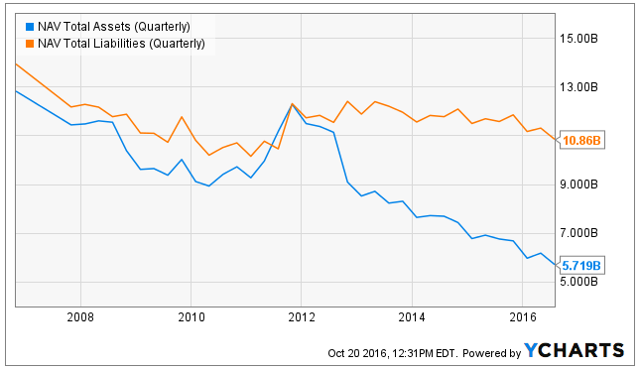 Source: YCharts
The problem started when the Environmental Protection Agency (EPA) pushed for higher air quality regulations back in 2001, which drove an industry wide development of cleaner engines. While all of Navistar's competitors developed a system called Selective Catalytic Reduction, Navistar pursued a system called Exhaust Gas Circulation. This did not go well and the EPA started fining Navistar for their non-compliance to federal emission standards.
Positive Developments with Volkswagen
The current management team, led by CEO Troy Clarke, has been successful at stopping the heavy bleeding. As of Q3 2016, their nine months ended net loss is $39M (compared to $113M in same period 2015). However, Navistar is still far from being considered a healthy company. With the commercial trucking industry facing increased emissions regulations, the VW Truck and Bus (OTCPK:VLKAY) deal came in at a good time and is expected to strengthen Navistar in three ways: Increased liquidity through equity investment, sharing of technology, and procurement deals. Seeing that Navistar already uses VW Truck and Bus for some of its powertrains, there should at least be some near term procurement benefits. As for the sharing of technology, that is bound to take some time (~2 years or so) as Navistar and VW would have to work through a few product development cycles together. It is important to note that the deal still requires regulatory approval.
The last earnings call came right after the VW Truck and Bus announcement. Inevitably, a lot of time was spent on answering questions about how the deal affects Navistar's long term outlook, its relationship with GM (NYSE:GM) in medium duty, and with Cummins (NYSE:CMI) as the primary engine supplier, etc. The short story is that Navistar has a lot to gain from VW Truck and Bus, the GM medium duty project will carry on, and Cummins will be an important partner for the foreseeable future.
Positive Developments without Volkswagen
Now, there have been "Pre-VW" positive developments as well, like Navistar's telematics solution, or their Fleetrite all-makes aftermarket parts business. CEO Troy Clarke highlights some of the future developments in Navistar's telematics solution in the Q1 2016 call:
OnCommand Connection, our unique open architecture approach to telematics continues to show strong growth. January was our best month to-date for new subscriptions and today, we have more than 180,000 subscribers. In addition, on February 29, we announced the launch of over-the-air reprogram or re-flashing of engine controls on vehicles that use our proprietary engines. This is a first in the industry innovation and it lays the groundwork for future two-way connected vehicle services, which will help improve bill efficiency, uptime and reduce vehicle maintenance cost, while the integration of OnCommand Connection with our service network will increasingly return customers to our dealers for parts and service.
Source: Q1 2016 Earnings call
OnCommand Connection is not a particularly big deal in the industry... yet. The most interesting part about Navistar's service parts and telematics strategy is its "all makes" approach. Both OnCommand Connection and Fleetrite are for all makes. While they are still busy trying to regain their market share for trucks, there is a good chance that even if these efforts do not yield the desired results, their telematics and service parts combo can open up a long runway. One way to think about this is the Autozone (NYSE:AZO) of commercial trucks, with the added benefit of having diagnostic tools installed inside customer trucks. Needless to say, having a strong dealership network will be crucial to developing this business, and a VW Truck and Bus that is hungry for North American market share might be the partner Navistar needs.
Closing Thoughts
For a company with an absolutely terrible balance sheet, Navistar has a lot going for it - and the VW Truck and Bus deal affords them an increased level of financial flexibility as well. While I am nowhere near comfortable putting my own money in it yet, Navistar seems to be making all the right moves to develop itself into a solid business. Additionally, Navistar's approach to telematics and service parts is well reasoned, and worth paying attention to for the long haul.
Disclosure: I/we have no positions in any stocks mentioned, and no plans to initiate any positions within the next 72 hours.
I wrote this article myself, and it expresses my own opinions. I am not receiving compensation for it (other than from Seeking Alpha). I have no business relationship with any company whose stock is mentioned in this article.
Editor's Note: This article discusses one or more securities that do not trade on a major U.S. exchange. Please be aware of the risks associated with these stocks.