"Whatever happened to me in the past, I don't even think about that. If you get stuck in the past, you're not going to be able to move on. Whether it is good or bad, you have to find a way to look forward." -Ubaldo Jimenez, Baltimore Orioles pitcher
"Bull markets are born on pessimism, grow on skepticism, mature on optimism, and die on euphoria" - Sir John Templeton
"Life and investing are long ballgames." -Julian Robertson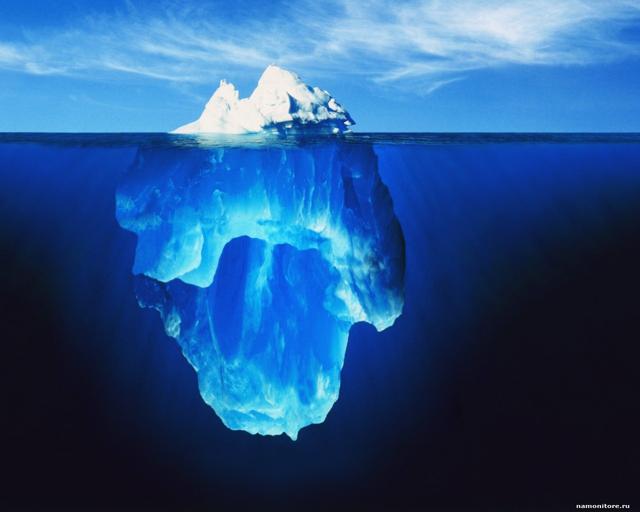 Introduction
Utilities have been of the strongest sectors in the market, particularly from 2011-2015, as investors from around the world gravitated towards yield oriented investments.
The rainbow, blue sky, sunny day environment of dividend seeking investors, lower input prices, and lower interest rates appears to be coming to an end. These tailwinds all propelled shares of utilities higher, and the formerly serene landscape for utility investors appears to be transitioning to a perfect storm, as interest rates and commodity prices are rising.
Thesis
Utility shares could face pressure from rising interest rates and an increase in commodity prices.
Utilities Have Kept Pace With The Market
Over the past ten years, utility shares, as measured by the Utilities Select Sector SPDR (NYSEARCA:XLU), which are a traditionally defensive investment sector, due to their regulated status, slow growth, and emphasis on dividends, have kept pace with one of the greatest stock market recoveries on record, rising 89% compared to the SPDR S&P 500 ETF's (NYSEARCA:SPY) 92% gain.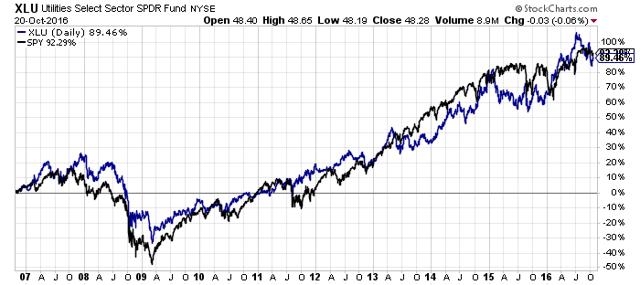 The increase in price of the XLU has brought the dividend yield down to 3.35%, which is historically low.
The exceptional returns of XLU actually understate results for most utility investors, as the biggest companies have significantly outperformed, while a few laggards have weighed down the returns of the ETF.
Next Era Energy (NYSE:NEE), the top holding in XLU, has risen 265%. The next four largest holdings of XLU have also risen more than XLU and SPY over the past ten years, with Duke Energy (NYSE:DUK) gaining 129%, Southern Company (NYSE:SO) gaining 127%, Dominion Resources gaining 173%, and American Electric Power (NYSE:AEP) gaining 135%.
Rounding out the performance over the past ten years of the top-ten holdings of XLU, PG&E Corporation (NYSE:PCG) has gained 104%, Exelon Corporation (NYSE:EXC), the outcast, has lost 20%, Sempra Energy (NYSE:SRE) has gained 165%, Edison International (NYSE:EIX) has gained 123%, and PPL Corp (NYSE:PPL), a laggard, has gained 65%.
For most of these utilities, and for utility investors, it has been the best possible investment environment, but that is starting to change.
Interest Rates Are Rising
It appears that interest rates are at the beginning of a long-term journey higher with 2-Year US Treasury Yields firming since July of 2014 and 10-Year US Treasury Yields recently joining the higher interest rate party.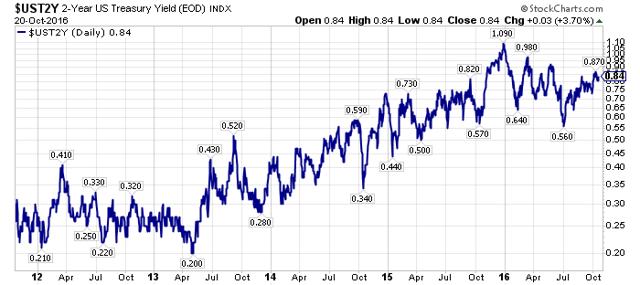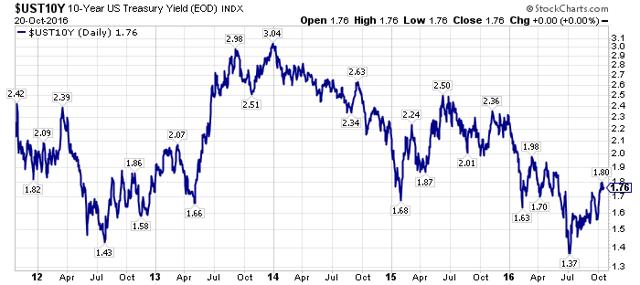 (Source: William Travis Koldus, stockcharts.com)
If inflationary pressures rise like a long dormant zombie, which nobody thinks will come back to life, the longest duration interest rates are the most vulnerable, and that is why shorting the iShares 20+Year Treasury Bond ETF (NYSEARCA:TLT) has become one of my favorite actionable investment ideas.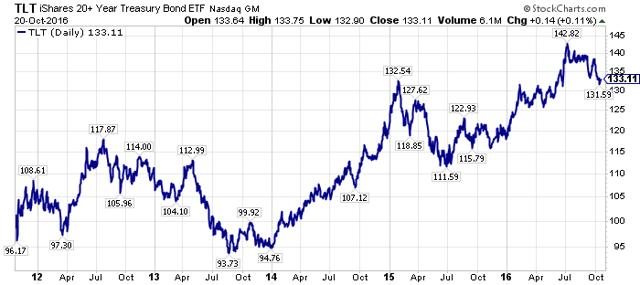 (Source: WTK, stockcharts.com)
In summary, I am looking for interest rates to head higher over the intermediate-term and longer-term, and this will be a headwind for utility shares, and other dividend favorites, including REITs, as measured by the Vanguard REIT ETF (NYSEARCA:VNQ), and the iShares U.S. Real Estate ETF (NYSEARCA:IYR), and dividend focused stocks, including the SPDR S&P Dividend ETF (NYSEARCA:SDY) and the ProShares S&P 500 Aristocrats ETF (BATS:NOBL).
Rising Natural Gas & Rising Coal Prices
While all yield-oriented investors will face headwinds, utilities, which produce electricity, have additional challenges, including the rising price of natural gas, and the rising price of coal, which are the two primary fuel sources to generate electricity.
Natural gas (NYSEARCA:UNG), (NYSEARCA:UNL), has risen 34% year-to-date, and it has roughly doubled from its lows earlier in 2016. Ultimately, five-years of low prices have curtailed supply.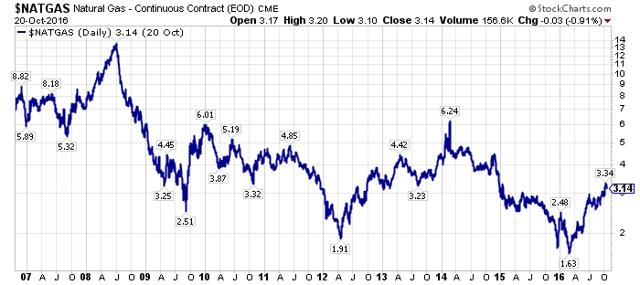 The price rise of thermal coal is evident in the 107% YTD increase in the price of the VanEck Vectors Coal ETF (NYSEARCA:KOL), and the increase in international thermal coal prices, which have rapidly risen to their highest levels since 2012.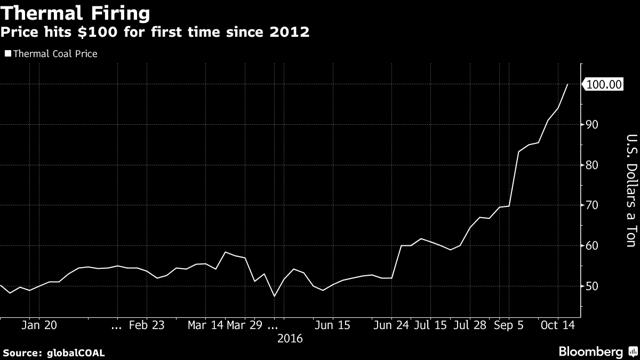 (Source: bloomberg.com)
In the U.S. Powder River Basin, the largest coal basin in the United States, coal prices have also increased at a rapid pace in 2016.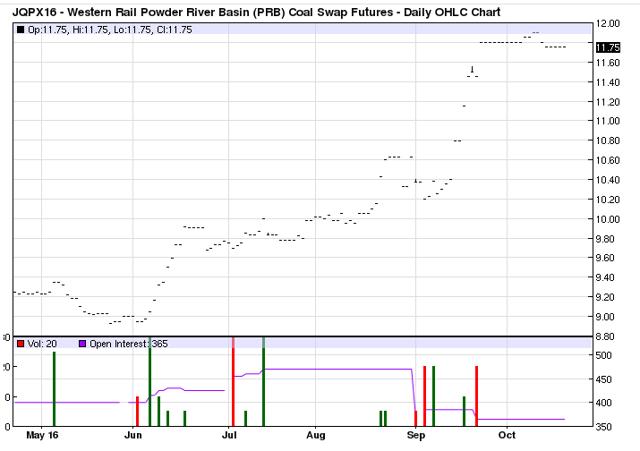 (Source: www.barchart.com)
The end result of the rise in coal and natural gas prices is a reduced earnings tailwind for utilities, which have benefited from lower fuel prices for a majority of the last eight years.
A Change In Sentiment
The rise in interest rates has taken its toll on interest rates sensitive sectors over the past two months, and the increase in commodity prices, has added pressure to utility shares, with the XLU falling 10% from its midsummer peak.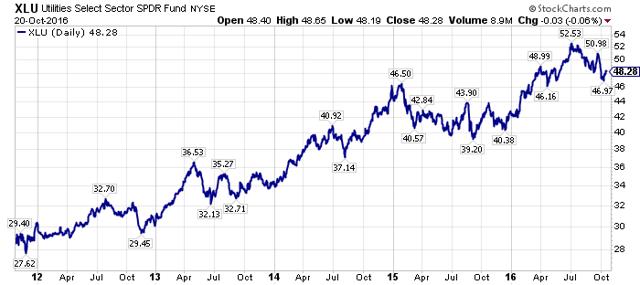 (Source: WTK, stockcharts.com)
A short-term rebound cannot be ruled out, especially if interest rates fall for any reason, but the long-term relative outperformance of interest rate sensitive sectors may be coming to an end.
The Takeaway - Be Cautious With Utility Shares
In the months and years ahead, look for utility shares to revert to their traditional defensive role, which means they might underperform the broader markets if a reflationary environment comes to dominate the investment landscape.
To close, the market environment is changing, and if you are interested in joining a unique, growing community of contrarian, value investors, and would like to see all of the historical trades and current positioning of the " Bet The Farm" and the " Best Ideas" Portfolios, please consider signing up for my premium research service, "The Contrarian." To receive my future public articles on Seeking Alpha, please click the "Follow" button above. Thank you for your readership.
Disclaimer: Every investor's situation is different. Positions can change at any time without warning. Please do your own due diligence and consult with your financial advisor, if you have one, before making any investment decisions. The author is not acting in an investment adviser capacity. The author's opinions expressed herein address only select aspects of potential investment in securities of the companies mentioned and cannot be a substitute for comprehensive investment analysis. The author recommends that potential and existing investors conduct thorough investment research of their own, including detailed review of the companies' SEC filings. Any opinions or estimates constitute the author's best judgment as of the date of publication, and are subject to change without notice.
Disclosure: I am/we are long THE POSITIONS IN "THE CONTRARIAN" PORTFOLIOS.
I wrote this article myself, and it expresses my own opinions. I am not receiving compensation for it (other than from Seeking Alpha). I have no business relationship with any company whose stock is mentioned in this article.