Annaly Capital Management (NYSE:NLY) is the largest mortgage REIT available to investors with a market cap of 10 billion. The company invest in a combination of agency backed mortgage securities, non-agency backed mortgage and commercial real estate. The company employs leverage to maximize its profits and dividends, but its leverage is among the lowest and most defensive in the industry at 6.1x. Despite the defensive positioning, the company has pulled back recently to the point that its dividend yield is approaching 12.0%. Hence, the author recommends a strong buy for Annaly at current levels (around $10.00). Here are some more key facts about the company:
Current share price: $10.13 per share
Market cap: $10B
Dividend yield: 11.50%
Leverage: 6.1x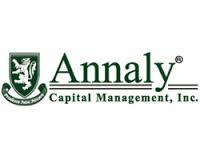 Dividend Kept Steady, Yield Approaching 12%
Annaly Capital Management's dividend has been kept unchanged recently at $0.30 per share, although many tools including Google Finance shows the company has cut its dividend and its yield is only 10%. Unfortunately, they do not take into account that the REIT has paid the dividends in two installments after its acquisition of Hatteras Financial. The two dividend installments include a $0.04 per share dividend at the acquisition, and a $0.26 per share dividend at the regular interval. Refer to the image below for more details.

Google Finance is showing an error on the company's dividends paid - it should be $0.30 with a yield of nearly 12%.
Due to this error in calculations, it is likely that many automated trading tools have been selling Annaly for "better alternatives", which has contributed to its pullback beneath $10.00. For individual investors, it is prudent to take advantage of the REIT's current depressed valuations.
A Safe Dividend
Annaly's current dividend situation is relatively safe as it has kept dividends at current levels for three years - twelve quarters to be exact. In addition, its current leverage employed is 6.1x, which is in the lower range of its target leverage of 6.0x to 8.0x. The lower leverage allows managers to start purchasing more assets to boost its comprehensive income. This increased income can in turn help cover its dividend if short term borrowing costs rises further. In comparison, consider the leverage situation of Annaly competitors:
| | |
| --- | --- |
| REIT | Leverage |
| Annaly | 6.1x |
| Armor Residential | 6.3x |
| American Capital | 7.2x |
| Normal Target Range | 6.0x to 8.0x |
Pullback Due to Macroeconomic Challenge and Forward Spread
Overall, the macroeconomic environment remains challenging for REITs as interest rate spreads remain very narrow. In addition, the federal reserve is looking to raise short term interest rates by the end of the year. These factors will prove challenging to mortgage REITs in general for the coming month although it is already priced into the shares thanks to the recent pullback. Going forward, it is important to look at the 10 year bond rate and how attractively high it can reach. Annaly's management will likely want to purchase more assets as the long term rate increases.
Conclusion
In conclusion, Annaly Capital Management is valued very attractively currently at around $10.00. Its dividend yield is approaching 12%, and its track record of excellent performance should attract investors to the REIT. The author recommends a strong buy for the company.
Disclosure: I am/we are long NLY.
I wrote this article myself, and it expresses my own opinions. I am not receiving compensation for it (other than from Seeking Alpha). I have no business relationship with any company whose stock is mentioned in this article.