The toy industry is resurging after several years of disappointing performance thanks to ties with movie studios. The U.S. toy industry is growing at a faster pace and a potential 7% increase in sales for the full year 2016 would be the highest growth rate since 1999, according to NPD Group. The upbeat third quarter 2016 performances from Hasbro, Inc. (NASDAQ:HAS) and Mattel, Inc (NASDAQ:MAT) depict that innovative product lines and renewed marketing strategies are helping toymakers accelerate sustainable growth.
Mattel's efforts to revive iconic brand gained traction, leading to a 16% increase in Barbie sales during the third quarter of 2016. Mattel's comeback in doll brands, however, could not stop Hasbro from gaining market share across the global markets. Both companies are playing smart, but it seems the force is with Hasbro. The second largest toymaker is building its cinematic universe while taking advantage of licensing deal with Disney (NYSE:DIS), which gives Hasbro an advantage over Mattel.
Hasbro's Growth Story Continues
The good thing about Hasbro is that it consistently delivers better-than-expected results, which is evident from the fact that Hasbro has missed the earnings estimates only on three occasions in the last 13 earnings announcements. Hasbro impressed the market yet again with a robust 14% increase in revenue for third quarter 2016, whereas Mattel's revenue growth remained flat.
Continued demand for Fisher-Price Brands and dramatic improvement in Barbie sales have generated 2% net revenue growth in North America during the first nine months of 2016. However, Mattel is struggling on a larger scale, and net sales in foreign markets have plunged 8% due to lackluster performance of boys and other girls brands. In comparison, Hasbro recorded 17% growth in the U.S. and Canada segment and 12% boost in the international segment, primarily due to robust demand for Disney Princess, NERF, Magic: The Gathering, Marvel action figures, and Star Wars toys.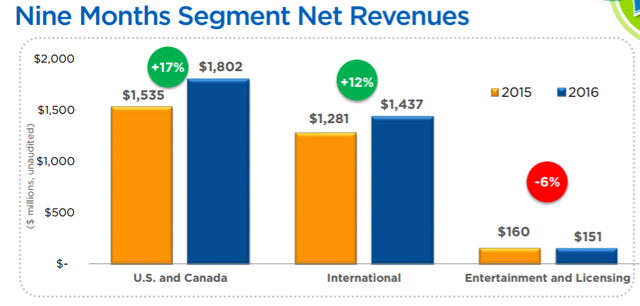 Source: Hasbro Presentation
Hasbro is surpassing the industry average growth rates as it continues to reach a broader audience. The launch of new toy lines and expansion into new markets enabled the company to book 13% growth in international sales. Most importantly, Hasbro has gained market share in Brazil and Russia where the macroeconomic environment is quite challenging, as well the U.K., Italy and Spain.
International markets have contributed well toward Hasbro's overall growth, but the domestic market is more critical due to higher spending on toys, great brand appeal, and absence of foreign exchange risk. The U.S. toy industry recorded 7.5% growth during the first half and continued momentum in the second half will help Hasbro end the fiscal year on a high note.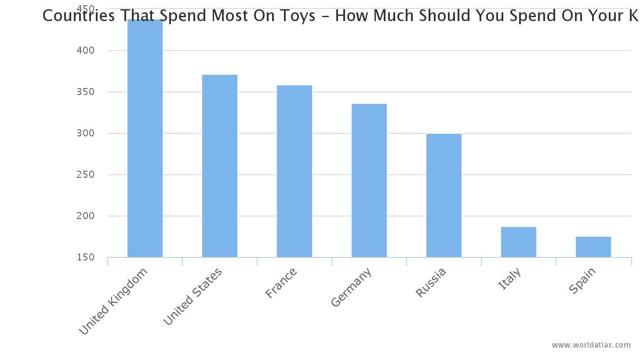 Source: Worldatlas
The prospects of global toys and the gaming industry have improved on the back of demographic changes in emerging markets and increased spending in the developed market. According to Euromonitor, close ties with the movie industry and new technology will help the industry grow at a CAGR of 4.5% by 2020. Hasbro's management is executing growth plans accordingly to capture more market share in the toys business and develop a portfolio of digital games.
Hasbro is releasing a whole bunch of new toys based on upcoming superhero and animated movies, including Doctor Strange, Rogue One: A Star Wars Story, and Moana. A new series of action figures based on ''Rogue One'' could potentially re-accelerate the fading force of Star Wars toys in the coming quarters. Hasbro is well-prepared for the Christmas and holiday season. Its Yo-Kai Watch is now available in all markets, and initial performance is encouraging in several markets. The inventory level has increased 36% year-over-year due to all new releases, which makes sense as demand is looking better than last year.
Hasbro Cinematic Universe Is A Good Idea
Hasbro is investing in storytelling to explore new opportunities in the entertainment industry. During the first nine months of 2016, Hasbro has spent $36 million on television and film production to develop appealing content. Most importantly, the company is developing a cinematic universe in collaboration with some other studios. The management is trying to bring five toy lines together to build the Hasbro Cinematic Universe, which makes sense as Hasbro has a lot of characters that can attract a broader audience around the globe. Subsequent to Transformers: The Last Knight, Hasbro plans to release My Little Pony: The Movie next year, which could dramatically increase the franchise appeal on the global scale.
According to PwC estimates, cinema spending in the U.S. will grow at a CAGR of 1.2% between 2016 and 2020, but several foreign markets will grow at a faster pace with improving disposable income and developing film culture. China box office is likely to reach $15.1 billion by 2020 compared to the $11 billion in the U.S. Foreign markets are critical for Hasbro Cinematic Universe to succeed because on average its films earn approximately 65% of total sales from outside the domestic market.
Mattel Is Looking For A Quick Recover
Mattel is trying to recover losses it suffered from the Disney Princess deal. The company has partnered with two leading toymakers in South Korea to acquire rights over new properties and expand into new markets. Under the first agreement, Mattel will manufacture and sell Turning Mecard toys in the global markets except for South Korea. The South Korean toy market is growing, and Mattel's 12% equity stake in Sonokong is a smart move to penetrate the market. In addition to that, Sonokong will distribute and sell Mattel's entire product portfolio, excluding games, in South Korea. These initiatives from Mattel may not hurt Hasbro immediately, but Mattel's expansion of newly acquired properties will increase the competition for Hasbro on the global scale.
Everything in Hasbro's bucket isn't shining. Boys toy business posted only 2% growth while preschool segment sales plunged 8% during the third quarter 2016, which means Hasbro should revamp its marketing and supply chain efforts to improve the consistency of these two segments.
However, I'm more concerned about the slower growth of Hasbro's franchised brands as well as increasing dependence on partner brands. The company estimates that the revenue contribution from partner brands will reach 30% by the end of this year. Thus, the risk long-term investors are facing is that the end of a deal with Disney can easily erode Hasbro's top-line.
Dividend And Valuation
Hasbro shares have gained 25% value so far in 2016, and as a result the dividend yield has dropped to approximately 2.5%. The yield is not very compelling, but a 9.6% average dividend growth rate between 2012 and 2016 is attractive. In my opinion, improving profit margins and growing cash flows can support at least same level of long-term dividend growth. Hasbro has produced $637 million in operating cash flow over the trailing 12-month period - a 51% increase in cash on the balance sheet despite 19% incremental share repurchases and dividend payments.

Source: Hasbro, Annual Dividend Rate
Mattel's better-than-expected results have pushed its forward price to earnings multiple of 18.5 times while Hasbro is trading at a forward price to earnings multiple of 18 times. The market is pricing Hasbro at PEG multiple of 1.7x and EV/EBITDA multiple of 12.3x, but Mattel is trading at PEG multiple of 2.43x and EV/EBITDA multiple of 18x despite the fact that Hasbro's EBITDA margin of 19.5% is significantly higher than Mattel's EBITDA margin of 14%. That said, Hasbro looks a bit cheaper than Mattel based on these valuation metrics.
Hasbro looks compelling investment for growing dividends and capital gains at a reasonable price. The support from partner brands, innovation across the product portfolio, increasing investments in opportunities such as films and digital games mean Hasbro can continue its growth journey.
Disclosure: I/we have no positions in any stocks mentioned, and no plans to initiate any positions within the next 72 hours.
I wrote this article myself, and it expresses my own opinions. I am not receiving compensation for it (other than from Seeking Alpha). I have no business relationship with any company whose stock is mentioned in this article.