Kinder Morgan (NYSE:KMI): Thoughts on Q3 2016 Results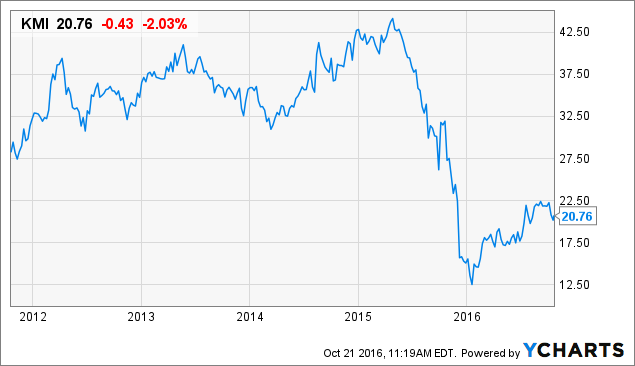 KMI data by YCharts
Kinder Morgan reported strong distributable cash flow of $1.08 billion in Q3 2016, which was down slightly from last year, but still impressive. With DCF per common share of $.48 and dividends per share of $.125, the dividend was easily covered, and shares now yield 2.36% as of writing. Since the majority of cash generated by Kinder Morgan is fee-based, the company is not directly exposed to commodity prices, so the strong operating results should continue even if oil prices fall. But is the stock a buy here?
Kinder Morgan is certainly making strides on reducing its large debt load, as it has now reduced over $2 billion in debt since last quarter as it aims to reach a level of 5X net debt-to-adjusted EBITDA. The company had a decent quarter in my opinion, and the $1.4 billion sale of its 50% interest in Southern Natural Gas certainly helped reduce its debt.
It also looks like the stock is also climbing on news that founder Rich Kinder said the company prefers to use excess cash on dividend increases, rather than on share buybacks or new projects. Analysts have suggested that the company could double its dividend by 2018 and still brings its net debt-to-adjusted EBITDA below 5X.
Why I'm Avoiding Shares
I'm still not a buyer of shares here. For one, despite the strong operating results and the progress in reducing its net debt, Kinder Morgan still remains a highly indebted company, as it ended Q3 with $36.7 billion in long-term debt and $2.94 billion in short-term debt, with net debt of $39.24 billion.
Meanwhile, why are analysts and investors are excited about the possibility of a large dividend increase by 2018? I'd argue that future dividend increases are certainly a lot easier when you previously slashed your dividend by 75%, as Kinder Morgan did in December of last year. Future dividend increases are hardly anything to celebrate in this case.
Before the cut, Kinder Morgan was touted by many as a top income stock to own. I kept reading that the dividend was "safe" given the company's fee-based business model and its ability to generate steady, reliable cash flow. Remember when Kinder Morgan guided for 6% to 10% dividend growth until 2020? The debt was the issue. I certainly would not count on future dividend increases, given the company's past. I don't see a reason to trust management at this point.
If the company is smart, it will tread carefully with its dividend increases and focus more on reducing its net debt, because another future dividend cut would be disastrous.
What to Buy Instead
So, I am just not a buying of Kinder Morgan shares here. Instead, I strongly prefer Enterprise Product Partners (NYSE:EPD) and Phillips 66 (NYSE:PSX) in the oil & gas sector.
I actually named Enterprise my top energy stock to buy for 2016 when shares traded at $22.57. The stock currently trades at $26.87 per share and yields 6.04%, and the company has a strong history of increasing its dividend, with 17 consecutive years of dividend growth. The distribution was raised by 5.3% last quarter; the company retained $200 million of distributable cash flow for the quarter and its distribution coverage ratio was 1.2x, so the distribution was easily covered. The stock also looks reasonably valued here, as it trades at an EV/EBITDA of 16.47, down from the valuation when I wrote that article in December of last year.
Keep in mind that Enterprise is a master limited partnership, or MLP. While MLPs don't have to pay corporate income tax (it passes profits to its partners instead), you'll face a tax when you sell your units, and the prior income you receive from the MLP will be treated as ordinary income. You'll also have to file Form K-1's at tax time, which makes doing your taxes much more complicated (my accountant charges me a bit more to do taxes because of K-1's). MLPs also shouldn't be held in a retirement account, as it could trigger the Unrelated Business Taxable Income (UBTI) tax.
Phillips 66 is my next favorite energy stock to own here. As I pointed out back in June, investor Warren Buffett continues to buy shares of the company at his conglomerate Berkshire Hathaway, and I think investors should follow suit. Phillips 66 owns a strong portfolio of businesses, from refining and midstream assets, to chemicals, marketing and specialties.
Last quarter, the company reported strong earnings of $496 million or $.93 per share, and returned $571 million to shareholders in the quarter, through $329 million in dividends and the buyback of 3 million shares of common stock for $242 million.
The company recently announced a quarterly dividend of $.63, and shares now yield 3.15%; the dividend has been raised for 4 consecutive years. Meanwhile, the company has maintained a conservative balance sheet, as it ended last quarter with $2.2 billion in cash and equivalents and $8.9 billion in total debt. With a solid balance sheet and a payout ratio of just 40.17%, the company has further room to grow its dividend.
What do you think of Kinder Morgan and my top 2 picks in the oil & gas sector?
Disclosure: I am/we are long EPD, PSX.
I wrote this article myself, and it expresses my own opinions. I am not receiving compensation for it (other than from Seeking Alpha). I have no business relationship with any company whose stock is mentioned in this article.