Libya has been in turmoil for a long time since bringing down Gaddafi. There is tension between the General National Congress, located in Western Libya (Tripoli), and the House of Representatives from the East, whose main base is in Tobruk. General Hifter from the East has made a lot of progress fighting his counterparts in the middle of Libya. The fighting continues in Sirte. Meanwhile, the Western part in Tripoli is experiencing disorder itself. There were minor battles among competing groups in that city.
Despite all that, there have been signs of increasing oil export during October.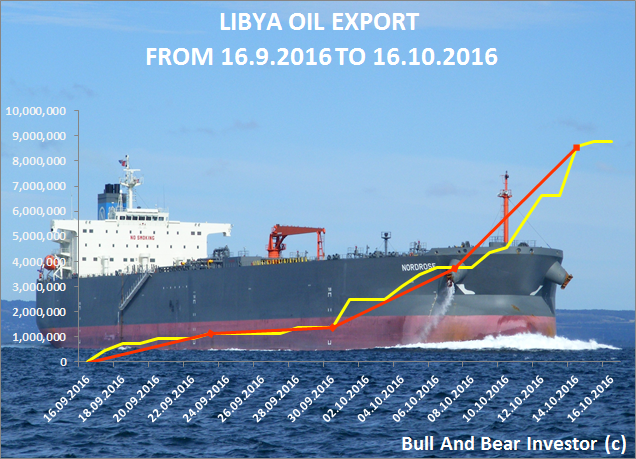 Source: Tanker tracking data, author's calculations.
As I wrote earlier, since Sept. 10, daily oil exports became much lower. After the first week of October there were a few weak signs of improvement, but it was too early to see where it all would go at that time. Now, after more than half of October has passed, it is clear that the trend is going up. Between Oct. 10 and Oct. 16 there were minor tankers sent to Netherlands, Italy, Greece, and Malta. One major tanker carrying 1.1mbbl sailed to the UK on Oct. 14. I made a recent update of my model on Oct. 16. What's interesting is that all deliveries that were made between Oct. 10 and Oct. 16 came from two ports only: Al Zawiya in the West and Marsa Al Hariga, near the eastern city of Tobruk. Both these ports are far from fighting in between the country, and the areas of these cities are firmly controlled by the opposite sides.
In other words, no export traffic has been flowing from the major central ports during that week. One week is not very representative, but this fits the whole tendency that Libya is becoming polarized. Before, it was thought that there would be one center of export control located in the West, but as time goes on, I see this probability clearly diminishing. So, the more territory and power the East controls, the more likely it is to export oil independently.
Given the volumes, it's too early to talk about restoring oil exports, but some positive tendencies of October should be noted. This all seems quite counterintuitive, because the mess is far from being solved. The assurances from inside Libya, as well as external experts, that say Libya oil is close to being finally restored sound too optimistic to me. It could well be merely oil taken from reserves. We will know it better after several weeks. This is normally how it happens with new tendencies: At first you see something new, but only in the later stages can you tell whether it was a one-off increment or a real trend. Currently, we will put this event on alert to watch it closely. However, time has gone on and Libya has resumed oil extraction from Waha oil field. It remains to be seen whether this will actually be reflected in changes in exports.
There appear to be two main thoughts on Libya: counter parties unite and oil production resumes, or the struggle goes on and production is weak. However, I see the other following possibility: The two parties keep controlling their territories, not united, but produce and export oil independently. This will lead to relatively stable restoration of oil production. Overall, I do not see any further oil production output from what we saw since early October.
Note: If you want to receive notifications on when my articles are published, please go to the top of this page next to my profile, click the "Follow" button and then click on "real-time alerts on this author."
Disclosure: I/we have no positions in any stocks mentioned, and no plans to initiate any positions within the next 72 hours.
I wrote this article myself, and it expresses my own opinions. I am not receiving compensation for it (other than from Seeking Alpha). I have no business relationship with any company whose stock is mentioned in this article.
Additional disclosure: The material presented in this article is provided for informational purposes only and is based upon information that is considered to be reliable.