Mr. Market usually punishes companies that fail to meet analysts' profit and revenue estimates. Yesterday, Kinder Morgan (NYSE:KMI), one of the world's largest energy infrastructure companies, reported its quarterly results in which it swung to a loss and failed to meet analysts' consensus estimates, but its stock actually gained almost 2.4%.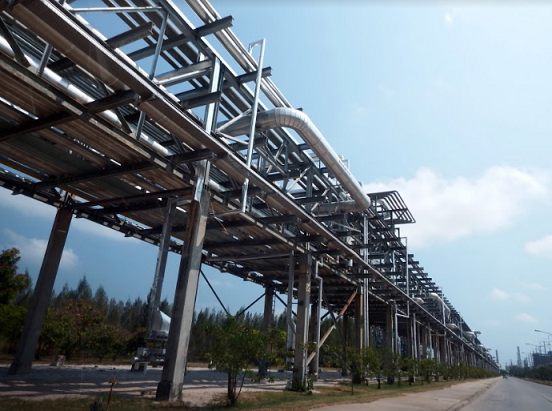 For the third quarter, Houston-based Kinder Morgan reported a 10% decrease in revenues to $3.33 billion, missing analysts' expectations of $3.45 billion, as per consensus data from Thomson Reuters. The company also reported a loss of $188 million, which compares against a profit of $186 million a year earlier. This translated into a loss of $0.10 per share, including preferred dividend effect, as opposed to a profit of $0.08 a year earlier and analysts' estimates of a profit of $0.15 per share. In addition to decline in revenues, Kinder Morgan's bottom-line was also hit by one-off charges, including the write-down of the company's investment in Midcontinent Express pipeline, which were $405 million higher than last year.
However, Kinder Morgan, which abandoned the master limited partnership model in 2014 in favor of a c-corporation, continues to trade like other energy infrastructure MLPs. For MLPs, the distributable cash flow is one of the most, perhaps the most, closely watched metric. It underpins a company's ability to fund its operations, acquisitions, debt repayment, distributions and buybacks. And it is here that Kinder Morgan has excelled.
In the third quarter, Kinder Morgan generated $1.08 billion of distributable cash flows, which depicts small drop of just 4.3% from last year. That was better than the street's consensus of $1.04 billion. For the first nine months of this year, the distributable cash flows were $3.36, down 2.9% from last year. But the company spent just around $280 million on dividends in the first quarter and $840 million in the first nine months. That led to excess cash of $801 million in the latest quarter and $2.52 billion in the first nine months of this year. This shows that the company continues to generate cash well in excess of dividends, despite persistent weakness in commodity prices.
The natural gas spot price has largely stayed below $3 per million Btu throughout the first nine months of this year and crude oil spot price (WTI) averaged $41.15 a barrel in this period, down from almost $51 in the first nine months of last year, as per data from US EIA. In this tough environment, energy infrastructure companies and MLPs have found it difficult to grow volumes, since oil and gas producers have scaled back drilling activity. But Kinder Morgan hasn't witnessed a large drop in volumes.
In the third quarter, for instance the company's natural gas pipelines business reported almost flat transport and sales volumes as compared to last year. In the products pipeline segment, total deliveries of refined products, NGLs and condensates actually climbed almost 3% to 196.9 million barrels. That's a big deal, considering that Kinder Morgan's natural gas pipelines and products pipeline segments account for nearly two-third of the company's earnings (EBDA).
That performance in the downturn says a lot about the strength of the company's business model. Kinder Morgan has often touted the quality of its future cash flows by saying that 91% of its anticipated earnings before depreciation and amortization are backed by fee-based contracts, 74% of which are take-or-pay agreement. Those fee-based contracts have minimized Kinder Morgan's exposure to volatile business environment, which was evident in its ability to generate decent levels of cash flows and volumes throughout this year.
In addition to this, Kinder Morgan is also making good progress on improving its financial health. The company's valuation has been weighed by a large debt load that has stayed north of $40 billion (debt, net of cash) for the last couple of years. But in the third quarter, Kinder Morgan's debt fell by $1.98 billion from last year to $39.25 billion. The debt reduction was driven partly by asset sale, particularly its decision to give 50% stake in Southern Natural Gas pipeline system to Southern Company (NYSE:SO) and sale of ~50% interest in Ohio pipeline project to a private equity firm.
Consequently, Kinder Morgan's leverage, measured in terms of net debt to adjusted EBITDA, also improved from 5.6-times a year earlier to 5.3-times at the end of the third quarter. The company has already achieved this year's target of reducing leverage to 5.5-times. Ultimately, it aims to bring the net-debt-to-EBITDA down to 5-times. In this context, Kinder Morgan still has to continue working towards debt reduction. But so far, Kinder Morgan's efforts have yielded better than expected results. If it continues to go this way, then perhaps by next year, it will bring its debt down to a more comfortable level. Once that is done, Kinder Morgan can get back to growing dividends.
Kinder Morgan used to be a high-dividend paying stock, but it slashed its payout by 74% in late-2015. Since then, shareholders have been anxiously waiting to see any signs of dividend growth. And with the recent performance that has highlighted the strength of the company's business model and the better-than-expected debt reduction efforts, we can safely assume that dividend growth might happen sooner rather than later.
Therefore, despite the earnings miss, there is every reason to be excited about Kinder Morgan.
Note from author: Thank you for reading. If you like this article, then please follow me by clicking the " Follow" link at the top of this page.
Disclosure: I/we have no positions in any stocks mentioned, and no plans to initiate any positions within the next 72 hours.
I wrote this article myself, and it expresses my own opinions. I am not receiving compensation for it (other than from Seeking Alpha). I have no business relationship with any company whose stock is mentioned in this article.