MannKind (NASDAQ:MNKD) investors have likely had a range of emotions over the past week. The stock dipped down into the $0.40's and then saw a run into the $0.60's yesterday, only to see disappointing script numbers come out and the rise in the stock come to a screeching halt. The fact than MannKind is still a very speculative play remains the reality of this equity. As such, traders carry the advantage while long time holders suffer swings of emotions on dips and rises that are making a few people a lot of money. I have a simple philosophy when it comes to trading. It is safer to wait to see a move confirm itself than to jump in or out on an initial move.
For the week ending October 14th script sales declined to about 270- from their peak of over 300 the week prior. Once again, what looks promising one week turns into disappointment the week after. Until this pattern changes, this stock will carry some swings but remain on an overall downward trajectory.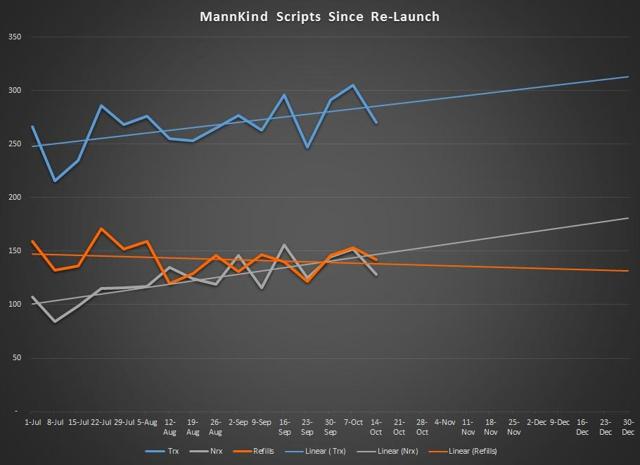 Chart Source - Spencer Osborne
On a quarter over quarter basis the numbers are finally showing some improvement. At two weeks into Q4 of 2016, the pace is running 27% better than two weeks into Q3. Even though that is positive, the victory is a hollow one. Sales remain well below what is needed to drive equity appreciation. At this stage, true equity appreciation can only come from solving the cash situation to obtain at least 9 months of operations or a perhaps an overall sale of the company. Either one would stop the bleeding,m but neither would allow many investors to at least break even.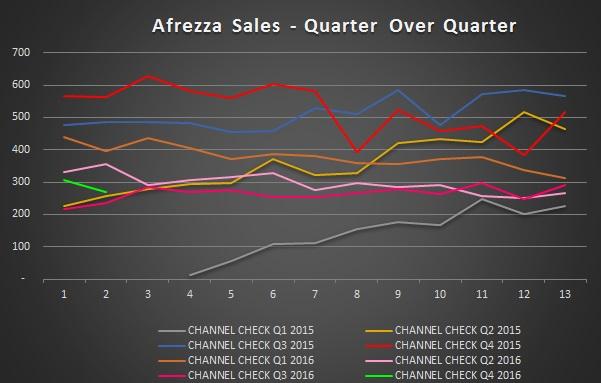 Chart Source - Spencer Osborne
The year over year comparisons remain problematic in terms of script sales. Sales in Q4 of 2016 are currently pacing 49% below sales in Q4 of 2015. The only saving grace in this is that the financial aspects of those sales differ. Last year Afrezza was in a partnership split with Sanofi (NYSE:SNY). This year MannKind owns all rights to Afrezza itself. The year over year chart does show that MannKind has been able to stop the bleeding in sales, but as yet, meaningful growth is still alluding MannKind.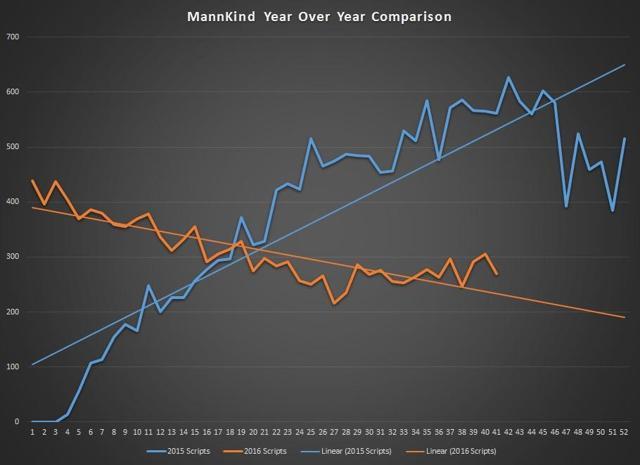 Chart Source - Spencer Osborne
In terms of projections, sales are now beginning to dip below even my most bearish sales line. On an aggregate basis we have seen 4,269 scripts sold since July 1st. The aggregate of my lowest estimate is 4,230. My middle was at 4,529 and my highest is at 4,876. The most recent trend is indicating that even my most bearish projection is actually in jeopardy. At this stage the re-launch of Afrezza is below what Sanofi did on the initial launch. Many MannKind bulls felt that Sanofi sandbagged the launch of Afrezza and that a dedicated sales force would blow away the performance of Sanofi. That has not happened. In fact, it is not even close.
The first chart below shows my projections, the actual sales, and the Sanofi pace on the initial launch. The second chart below outlines what some MannKind bulls were anticipating for sales. As you can see, sales are not trending in a way that would develop any sort of confidence.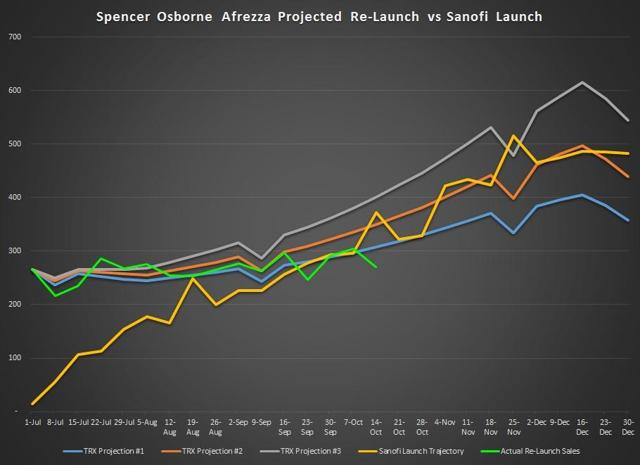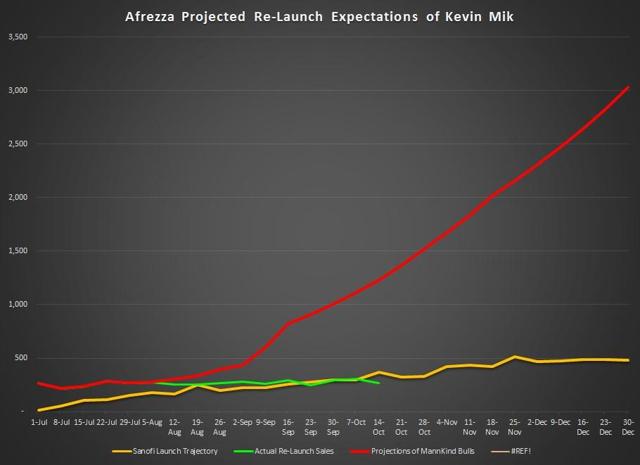 Source of Charts - Spencer Osborne
The bottom line is that the company is now 15 weeks into a re-launch. There has been time to pound the pavement, set up appointments, and establish the sales force. Thus far the results are simply underwhelming.
From a cash perspective we are seeing the biggest issue with MannKind. By my estimation the company has about $28 million dollars in cash and $30 million in a credit facility. MannKind is burning $10 million of cash per month. Essentially we are about 2.5 months away from the company absolutely needing to tap its last credit facility. Realistically speaking, the company is actually mere weeks away from needing a cash infusion of some manner. MannKind is losing leverage each and every day. That lost leverage will severely impact the ability of the company to solve the cash crisis. Even if a new rumored buyout were to transpire, it would happen at prices lower than many anticipate.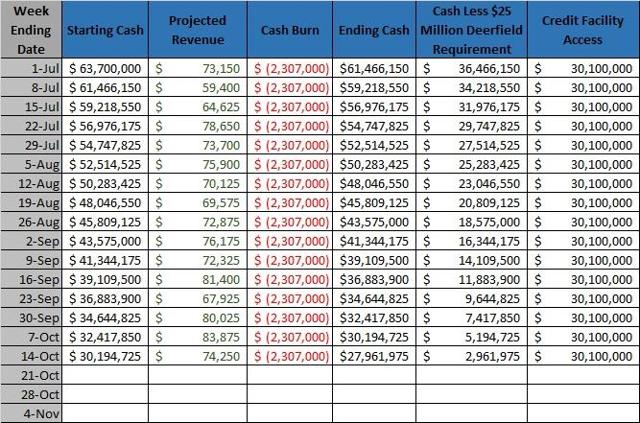 Chart Source - Spencer Osborne
Another cloud hanging over the head of MannKind is NASDAQ listing. Once the de-listing notice was received, the company had 123 days to get the matter resolved or apply for an extension. The problem with relying on an extension is that the company has limited cash to even get to that point and other compliance issues to solve as well. As of October 21st, the company has used up 27 of the 123 days. That means that 22% of the available days have vanished. If all other matters were resolved, the company needs to get above $1 and stay there for 10 consecutive trading days. There are not many 10 day windows in the 96 days remaining.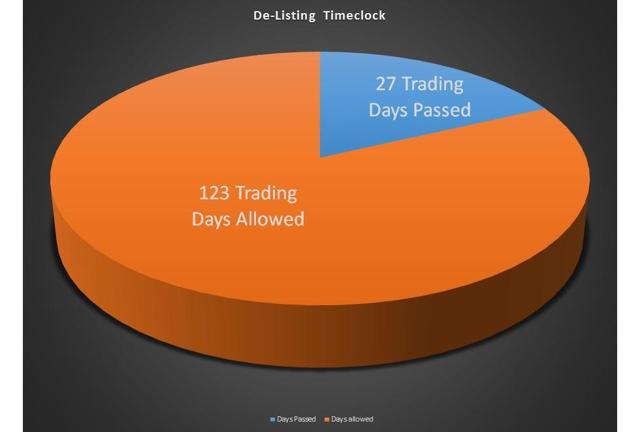 Chart Source - Spencer Osborne
The bottom line is that traders are the ones that are winning with this equity because of volatility and the ability to create swings and moves in the stock price. MannKind has not been able to stack together a string of positive events that change the narrative and opinion of the street. This equity remains on the highly speculative list and investors should treat it as such. The issue is that Afrezza is not gaining the traction needed. It may or may not be a great product. That does not matter. What matters is if it is a great selling product. Right now the answer is no. Stay Tuned!
Disclosure: I/we have no positions in any stocks mentioned, and no plans to initiate any positions within the next 72 hours.
I wrote this article myself, and it expresses my own opinions. I am not receiving compensation for it (other than from Seeking Alpha). I have no business relationship with any company whose stock is mentioned in this article.
Editor's Note: This article covers one or more stocks trading at less than $1 per share and/or with less than a $100 million market cap. Please be aware of the risks associated with these stocks.