Background
In November 2014 Saudi Arabia resisted calls to cut oil production by other OPEC members despite increasing global crude inventories and decreasing prices in an attempt maintain market share as well as to crowd out the higher cost U.S. shale oil producers. While the subsequent price war resulted in the bankruptcies of 69 U.S. companies as of May 2016, with more expected per a Deloitte, OPEC members also suffered severe collateral damage.
West Africa light sweet crude producers (Algeria, Angola, and Nigeria) witnessed demand drop as production was replaced by similar quality crude oil production from U.S. shale. Consequently, Saudi Arabia, Iraq and Kuwait experienced a drop in demand from Asia as supply was replaced by excess West Africa crude.
OPEC members entered into a price war with each other as demand continued to drop due to demand slowdown and higher inventory levels. A deal to freeze OPEC production at Doha in April failed, but a later meeting in Algiers in September resulted in an agreement by members to consider a freeze with a production target between 32.5 and 33 million barrels per day (bpd). Total production is currently 33.39 million bpd, so OPEC members would be required to cut approximately 1% of production to meet the agreement. OPEC will meet again on November 30 to finalize the agreement.
Just recently, Nigeria announced it would be selling oil below the market in an attempt to gain back market share. This action evidences the desperation of oil producers to obtain revenues to support their economies.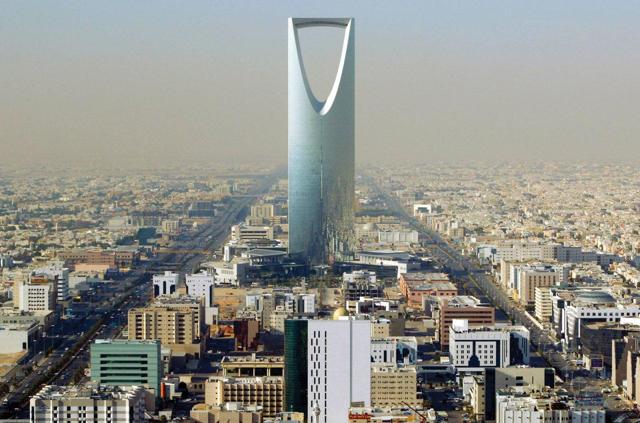 Initiatives to Increase Foreign Investment
Saudi Arabia recorded the first fiscal budget deficit since 2009 in 2014 with a shortfall of SAR54 billion ($14.4 billion USD) and the first back-to-back budget deficit since 2002 in 2015 with a shortfall of SAR367 billion ($97.9 billion USD). The expected budget deficit for 2016 is SAR268 billion ($71.5 billion USD). Details are noted in the table below.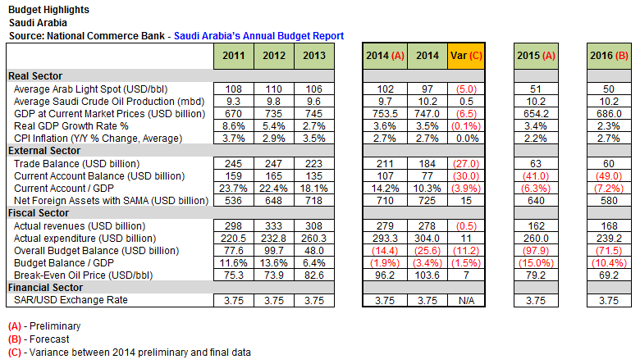 Several initiatives have been taken to increase foreign investment in an attempt to mitigate the decline in foreign reserves as result of these budget deficits. The first step was opening the Saudi Stock Market known as the Tadawul to direct foreign investment on June 15, 2015. The second step was the issuance of $17.5 billion in bonds to international markets on October 20, 2016. The final step may be the initial public offering of 5% of state-owned oil company Saudi Aramco that could yield up to $100 billion.
The opening of the Tadawul to foreign investment has failed to yield tangible results. In fact the index has fallen from 9,561.70 on June 15, 2015 to 5,651.80 on Oct 20, 2016. The bond sale allowed the repayment of several contractors that had payments delayed since 2015 as a result of the drop in oil prices.
Austerity Measures Taken
Persistently low oil prices and back-to-back budget deficits have also forced the Saudi government to begin implementing austerity measures in an attempt to rein in government spending on entitlements.
A listing of measures follows:
December 2015 - subsidies for fuel, electricity and water were cut.
September 27, 2016 - the salaries of government ministers were cut by 20% and other government employees had bonuses and other benefits eliminated.
Oct 4, 2016 - the Gregorian calendar will replace the Islamic calendar for public-sector employees, resulting in employees working 11 additional days a year for the same pay.
Oct 11, 2016 - announcement that capital spending would be reduced to $20.2 billion from $70.2 billion in 2015 and $98.7 in 2014.
In addition, the government is planning to raise additional revenue through a value-added tax (VAT), taxes on expatriate salaries, and international remittances.
Conclusion
The future is uncertain for Saudi Arabia. After years of reliance on oil revenues, it now faces a commodity downturn that does not appear to have an end. In addition, the time and opportunity to diversify the economy has been squandered on public entitlements and capital projects that add no economic value to the economy.
As the Saudi economy declines, the companies within that economy that source their revenue domestically will also decline. In addition, creating inflation through debt issuance and removal of subsidies will cause consumers to curtail purchases as well as pressure the Riyal /U.S. Dollar peg that is currently fixed at 3.75.
The iShares MSCI Saudi Arabia Capped ETF (NYSEARCA:KSA) is composed solely of Saudi Arabian equities and is currently trading at $20.33 with a 52 week range of $18.81 to $26.09. I expect this ETF to trend downward over the next several months as the Saudi economy continues to decline.
Disclosure: I/we have no positions in any stocks mentioned, and no plans to initiate any positions within the next 72 hours.
I wrote this article myself, and it expresses my own opinions. I am not receiving compensation for it (other than from Seeking Alpha). I have no business relationship with any company whose stock is mentioned in this article.