Overview
Landstar System, Inc (NASDAQ:LSTR) is a transportation logistics company that primarily services customers in North America. They basically operate as a large transportation brokerage firm - offering services ranging from truckload/LTL all the way to rail/air/ocean cargo. More interestingly, they maintain an asset-light business model in an industry that is usually capital intensive.
The biggest asset for Landstar is its network of trucking capacity: Truck transportation accounted for 93% of 2015 revenues. Landstar is the matchmaker for freight haulers and end customers. Their asset-light business model is supported by the relationships they maintain with independent contractors and other third party brokerage carriers. Typically, the independent contractors provide truck capacity under exclusive lease agreements while third party brokerage carriers provide truck capacity under non-exclusive contractual agreements.
The Landstar Business Model
The best part about Landstar's business model is its predictability of expenses. Like any other business, there are two categories of costs: Overhead costs and transactional costs. The big plus side for Landstar is that their costs disproportionately leans on the transactional side - and here's why:
There are 3 main cost drivers in Landstar's business model:
Transaction purchases of transportation
Sales commissions
SG&A
Landstar has a network of independent commission sales agents who locate customer freight, find third party carrying capacity, and coordinate the transportation of the freight. These agents are paid by the transaction and do not show up on SG&A. In other words, they eat what they kill. Moreover, until they kill, Landstar does not purchase transportation. The commissions paid to sales agents have typically resided around 8% of revenue while transportation purchases have been around 77% of revenue. This leaves us with a gross profit margin of about 15%.
So what does it take for Landstar to break even? Below is Landstar's income statement, our starting point: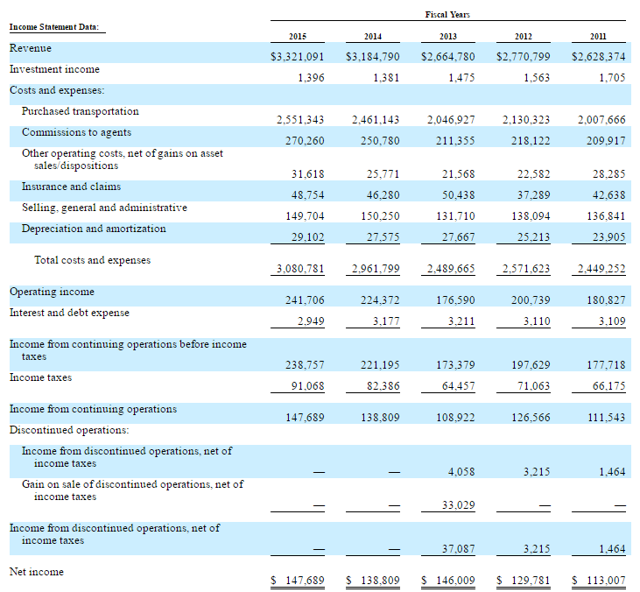 Source: 2015 10-K
Purchased transportation and sales commissions to agents have been directly proportionate to revenues. My spreadsheet actually goes all the way back to 2005, where purchased transportation has ranged from 74.7% to 77.3% of revenues and sales commissions to agents has ranged from 7.6% to 8.2% of revenues.
Now, just to be conservative, I've taken the highest values for other operating costs, insurance and claims, SG&A, and D&A over the past 10 years to get a feel for where Landstar's breakeven point would be:

With ~$280M in 10-year-record-high overhead costs and 15% gross profit margins, Landstar would have to maintain revenues just shy of $1.9B to breakeven. To have a frame of reference, here's a graph that shows freight volumes from 2000 to 2015: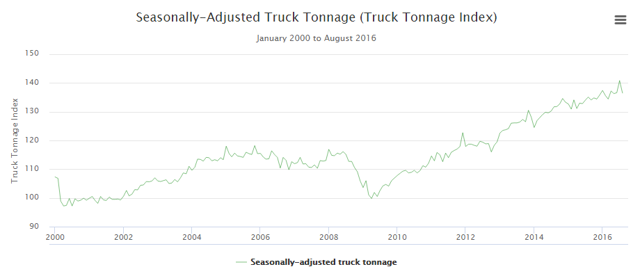 Source: U.S. Department of Transportation
Freight movement hit a low point in 2009 - where Landstar maintained a net income of $69M on $2B of revenue. And for what it's worth, Landstar also maintained a net income of $42M on $1.4B of revenue in 2001 - the year with the lowest truck tonnage movement in the graph above. Investors can take comfort in the fact that it is difficult for Landstar to actually lose money, thanks to its business model.
Share Purchases, Dividends, and Productivity Gains
In recent years, Landstar has not been shy about paying out dividends and buying back shares. In 2015, Landstar spent $57M paying out dividends ($27M in 2014, and 0 in 2013) and $161M purchasing shares ($56M in 2014, and $59M in 2013).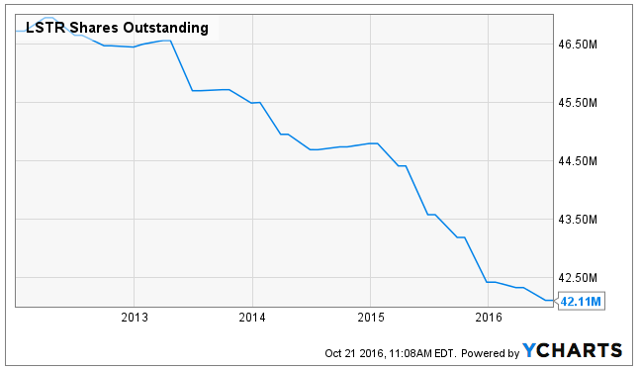 Source: YCharts
While some may wonder whether deploying so much cash towards share repurchases is prudent, this has helped with EPS growth: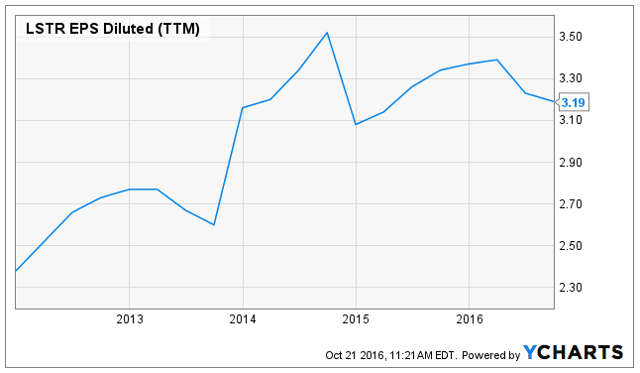 Source: YCharts
Landstar's scaled, asset-light business model has allowed it to print its own money, and they are continuing to work on productivity gains. CEO Jim Gattoni explains their agent workflow system that's about to roll out:
"Well, in March at our Agent Convention and we had an agent stand up and he described basically his business process. And it's the one agent that's utilizing the system today. But he's basically using it with one customer. And where he was doing a lot of manual type interactions between his carriers and the customer, the system we put in place now is a lot of automated, lot of EDI, lot of electronic communications.

And our goal really is to provide, to make sure that the agents have tools that they can generate, say, $2 million revenue. At that point they have to add an employee. And we'd like to push out $3 million. So our goal is to build efficiencies out there. And one of his comments was that before we rolled out this tool, he was probably about a $1 million - for every $1 million he had to drop in an employee. And now, he looks like it's more of a $5 million per employee now. You got a consider, his business was very manual, went very automated.

So we are not going to see that kind of outcome with every agent. But he is our only example, but we'd like to see an agent be able to do anywhere, maybe $3 million of freight with a single employee. That's kind of our goal and our target and we'll see how that rolls out as we start rolling it out to the agent base. There is more automation to it, a little bit more simplification to the process. That's what we're shooting for."
Source: Q3 2016 Earnings Call
Closing Thoughts
At its current market cap of almost $3 billion with a P/E of 22, I do not think Landstar is a screaming buy. I also do not think it is a terrible investment either. I would keep an eye on the Truck Tonnage Index issued by the US Department of Transportation (referenced earlier in the article). Whenever there is a slow down in the tonnage (and hopefully a widespread negative investor sentiment that follows), I would start looking for buying opportunities - not just for Landstar, but throughout the industry. At any rate, Landstar maintains a solid business and certainly has their place on my watchlist.
Disclosure: I/we have no positions in any stocks mentioned, and no plans to initiate any positions within the next 72 hours.
I wrote this article myself, and it expresses my own opinions. I am not receiving compensation for it (other than from Seeking Alpha). I have no business relationship with any company whose stock is mentioned in this article.