Buy the rumor, sell the fact.
The oil price (United States Oil Fund - USO) has rallied from under $40/barrel on August 2 to over $50/barrel the last two weeks. The primary driver of the recent rally has been anticipation of a major OPEC agreement to cut production at its meeting at the end of November.
But the actual event usually fails to live up to the hype and promises of ministers' statements leading up to the event. So I see the oil & energy sector as an attractive short opportunity at this moment.
In particular, I see a short opportunity in the SPDR S&P Oil & Gas Exploration & Production ETF (NYSEARCA:XOP). Oil E&P companies are still suffering greatly from the last two years of low oil prices, weighed down with debt incurred during the previous boom.
A full half of these companies have Debt/Equity ratios over 0.50, including EOG Resources (NYSE:EOG), ConocoPhillips (NYSE:COP), Anadarko (NYSE:APC), Devon Energy (NYSE:DVN), Continental Resources (NYSE:CLR), Noble Energy (NYSE:NBL), Cimarex Energy (NYSE:XEC), Cabot Oil & Gas (NYSE:COG), Newfield Exploration (NYSE:NFX), Range Resources (NYSE:RRC), Southwestern Energy (NYSE:SWN), and many more.
Rather than try to guess which individual companies will get hurt the worst, I recommend shorting the XOP index ETF as a whole.
Only a sustained and continuing rally in the oil price can save them. $60 a barrel oil would help many of them a lot; staying in the $40-$50 trading range for a longer period would be bad news for most of them.
XOP has rallied since February, along with the oil price, but in fact XOP has lagged the oil price itself. Here is a chart of the XOP to WTIC oil price ratio in 2016: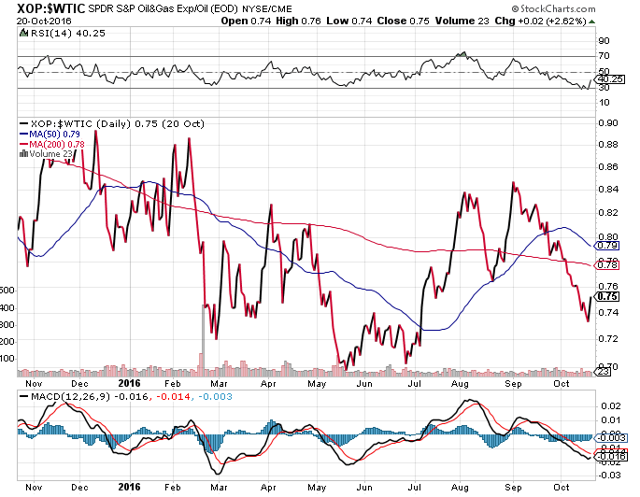 This indicates a lack of investor confidence in oil E&P companies in general -- for good reason, I think. The apparent rally in their stock prices is dependent upon still further increases in the oil price. But it looks like the oil price rally is petering out, and OPEC is set to disappoint.
Moreover, the U.S. election is another imminent catalyst at this moment, with a lot more downside than upside for energy stocks in my opinion. Think about the various scenarios:
If Trump somehow wins, a stock market selloff is likely at the very least. Oil and especially oil E&P stocks will get dragged down with the whole market.
If Clinton and the Democrats sweep everything, energy investors in particular may well fear greater regulation and anti-energy policies, and oil E&P stocks may well get sold off.
If the election is close and Trump disputes the result, or if Trump's supporters protest the result, or if there is any kind of uncertainty or unrest on either side about the election -- that will be toxic for the stock market. Energy stocks will not be spared.
So energy stocks have to thread the needle of a Goldilocks election scenario: Clinton wins, but the Democrats don't do too well in Congress, and the outcome is clear enough that neither Trump nor his supporters actively protest the result.
Even in that case, there is nothing particularly bullish about this outcome for energy stocks, so I don't see any great risk to the short thesis on the opposite side.
General cautionary advice: When shorting, it is always a good idea to hedge and protect your downside by buying out-of-the-money call options on the asset you are shorting. They are cheap and will prevent a wipeout if you are wrong.
Conclusion
XOP is an attractive short right now, with negative catalysts abounding in the election and the OPEC meeting. Complacent or over-optimistic traders are pricing in a best-case scenario for oil and energy already, when so many other scenarios are possible or even likely.
I recommend a target of $32.50 for XOP, a 15% decline from its current price. That level functioned as support from May to August and may do so again.
Disclosure: I/we have no positions in any stocks mentioned, but may initiate a short position in XOP over the next 72 hours.
I wrote this article myself, and it expresses my own opinions. I am not receiving compensation for it (other than from Seeking Alpha). I have no business relationship with any company whose stock is mentioned in this article.