Weekly Review
Amid a highly volatile month, the REIT sector saw a second consecutive modest bounce higher. The REIT ETF indexes VNQ and IYR gained 0.5% compared to a 0.2% gain for the S&P 500. (NYSEARCA:SPY)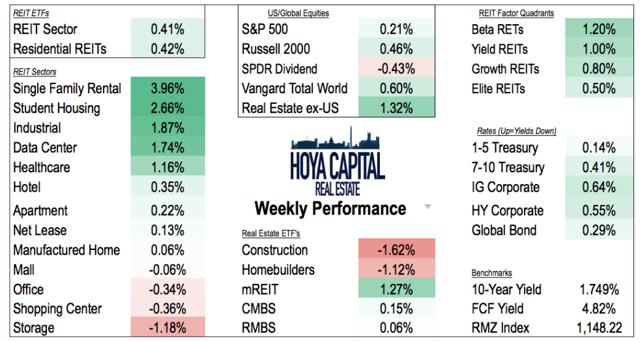 (Hoya Capital Real Estate, Performance as of 1pm Friday)
The volatility in REITs moderated further this week after sharp moves during September and early October. The 10-year yield finished the week essentially unchanged at 1.75%. The 10-year has traded in a tight range between 1.70% and 1.80% over the past 11 days.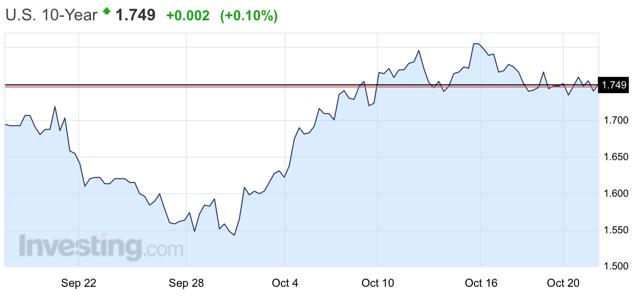 Rolling correlations between REITs and treasury yields reached record highs earlier this month, but that trend has reversed over the past two weeks. We have seen a similar pattern reoccur as Fed rate hikes get increasingly priced into the market. Correlations spike during periods of sharp changes in the implied probability of a rate hike.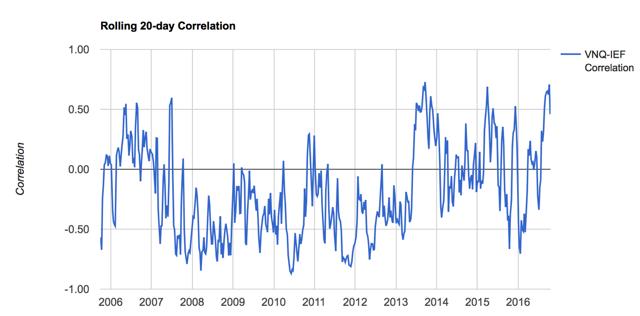 (PortfolioVisualizer.com)
The probability of a December rake hike increased slightly from 65% to 70%. The stability in longer term yields during the week, even as the probability of a rate hike increased, indicates that the hike and volatility that surrounds it is largely priced into the market.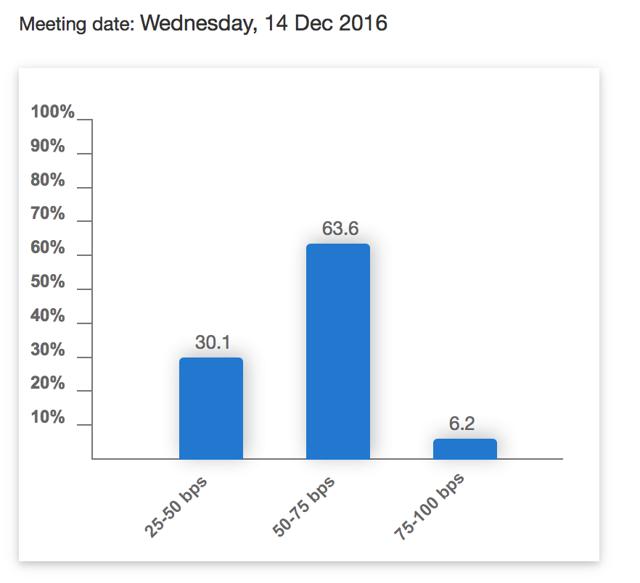 (CME Group)
Across the other areas of the real estate sector, mortgage REITs (NYSEARCA:REM) finished the week higher by 1%. The homebuilder ETF (NYSEARCA:ITB) and commercial construction ETF (NYSEARCA:PKB) finished lower by roughly 1%. The ex-US real estate ETF (NASDAQ:VNQI) outperformed US REITs, finishing the week higher by 1.3%.
Relative Valuation
Last week, we introduced readers to our new relative valuation model. ( After Selloff, REITs Cheapest in Years) We note that FCF yield analysis is just one tool in a real estate investor's toolbox, but one of the most important and predictive.
Free Cash Flow yields retreated slightly for the second conservative week as REIT prices increased and our FCF estimates remained static. FCF yields remain at or above the post-recession average, indicating that REITs appear cheap on an absolute valuation basis.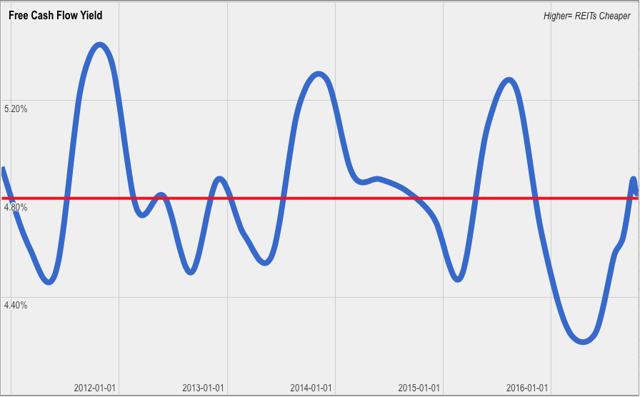 (Hoya Capital Real Estate, Company Financials)
Compared to the 10-Year note, REITs are still in "cheap" territory based on 5-year average spreads between Free Cash Flow to the 10-year treasury. Compared to the S&P 500 earnings yield, REIT FCF yield continue to appear cheaper and cheaper.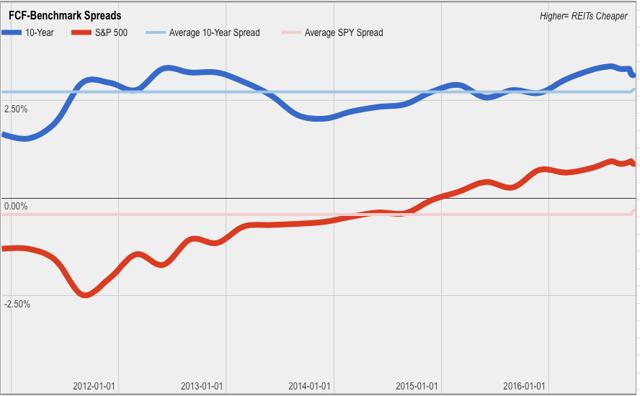 Economic Data
Real estate economic data was mixed on the week. Key themes include a surprising decline in multifamily starts, cooler than expected inflation data, a slight uptick in jobless claims, and strong existing home sales. Mortgage rates remain near all-time lows but increased slightly on the week, and the overall mortgage market appears healthy.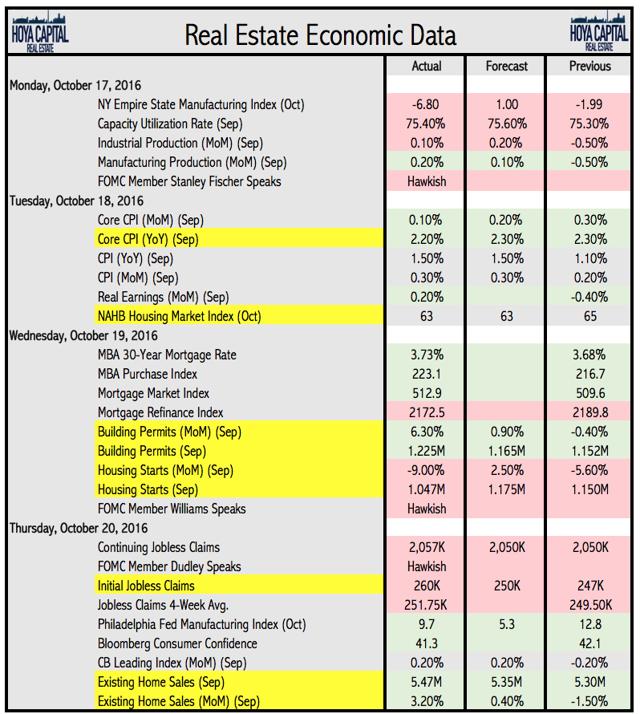 (Hoya Capital Real Estate, HousingWire)
Every week, we like to dive deeper into some of the more interesting trends we see occurring in the real estate markets.
Multifamily Starts/ Permits
We start this week with perhaps the most important housing-related data point, building permits and starts. Housing starts fell 9% month over month, but all of the weakness was in the multifamily sector. Multifamily housing starts plunged nearly 40%, the largest drop since the recession. This was a rather odd reading given the decent permitting data from the last several months. Permits are the leading indicator to starts, leading by one to two months. If we assume this reading is accurate after revision, this seems to indicate that builders in the multifamily sector are reluctant to break ground on new units. MF rents are widely expected to soften in 2017 due to the influx of new supply that is coming online over 2016 and 2017, which is seen in the chart below as the spike in starts and permits in early/mid-2015.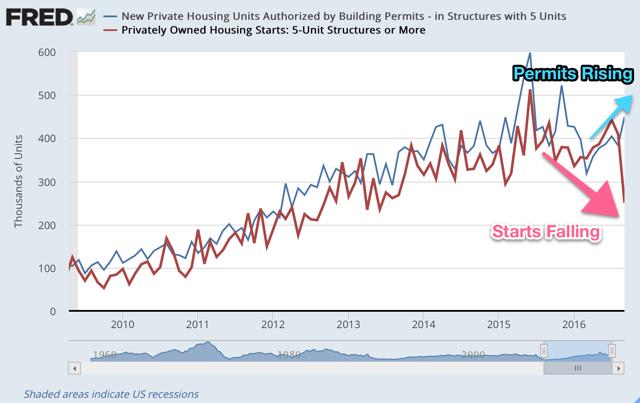 Concerns in Apartment Market
The quarterly report from the National Multifamily Housing Council showed softness in apartment markets. Mark Obrinsky, the SVP of the NMHC said,"The growing supply of new apartments, primarily in the Class A space, appears to have finally reached a level to slow the historically high rent growth… Despite the softening due to the new development focus on Class A apartments, the overall fundamentals for apartments remain stable, indicated by the strong demand for Class B and C properties."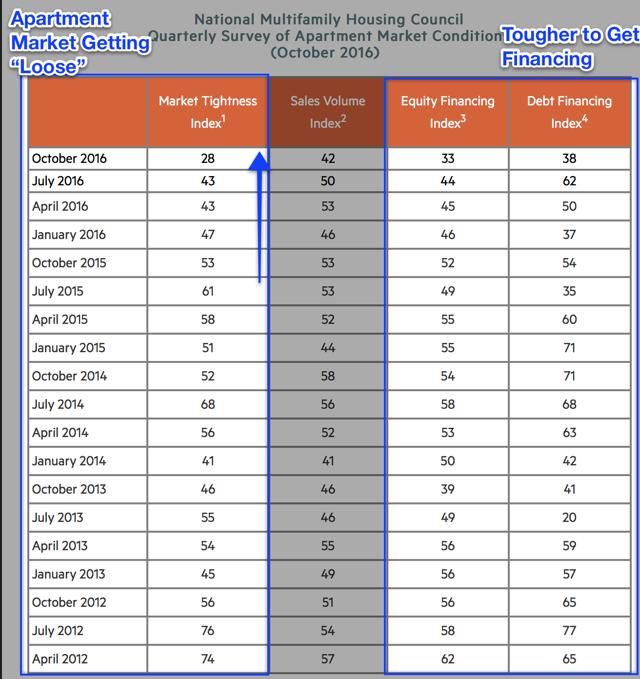 (National Multifamily Housing Council)
CPI and Rent of Shelter
Next, we look at CPI, and specifically how it compares to rent inflation. Core CPI came in at a slightly "cooler" than expected 2.2% year over year. The base effects of last year's low oil prices are expected to result in high year over year readings in CPI over the coming months. The month over month rise of just 0.1% should dampen fears of an immediate rise in CPI, which would put increased pressure on the Fed to raise rates. Below we show year over year CPI versus rent inflation. Rent of shelter increased at a year over year pace of nearly 3.5%. Medical care and rent have been the two "hottest" cost-sectors over recent years, far outpacing broader measures of inflation. We expect rent growth to moderate over the next two years and grow in-line or slightly above broader inflation in the long-run.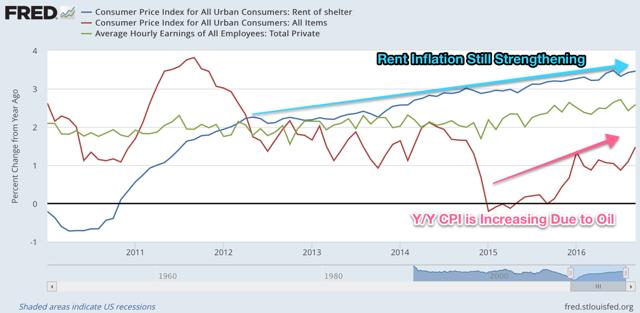 Architecture Billings Index
The Architecture Billings Index is a leading indicator of future construction, particularly in non-residential commercial construction. It tends to lead construction by nine to twelve months. For the first time since 2012, the index showed a consecutive monthly decline and the reading of 48.7 was recorded the lowest score since April 2015. Along with the Dodge Index, these two private leading indicators indicate a continued moderation in new construction activity. We appear to be beyond the cyclical peak in new construction starts.
Single Family Housing Dynamics
This week we published a well-received article that examined the long-term prospects of the single family housing sector,"As Millenials Return to the 'Burbs, Homebuilders May See Resurgence." We noted five bullish and five bearish trends for the homebuilder sector.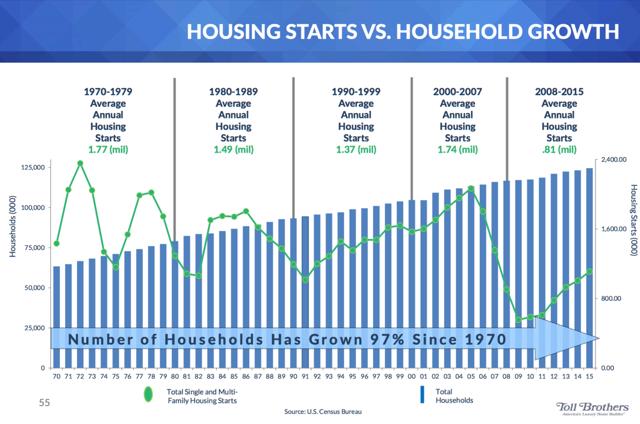 Weak GDP in 2016
Finally, we note that the Atlanta Fed kept their Q3 GDPNow forecast at 2.0% and The NY Fed still estimates 1.6% growth in Q4. Combined, if these estimates prove accurate, GDP will have grown at just 1.4% in 2016, which would be the slowest GDP growth rate since 2009.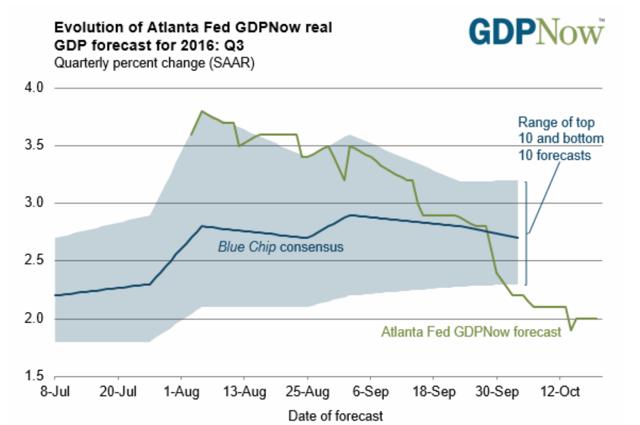 Week Ahead: Earnings
Earnings season kicked off this week, and enters high-gear next week. Q2 earnings for REITs were quite strong with 40% beating expectations, 50% meeting expectations, and 10% falling short. Despite the strong results, REITs have struggled over the past quarter dragged down by the storage, data center, and mall sectors.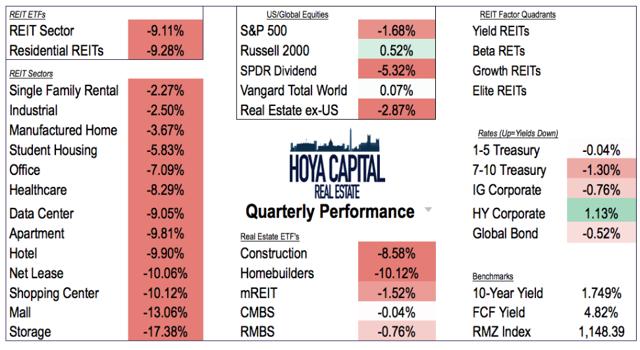 We anticipate that the REIT sector will average 7.5% growth in Free Cash Flows, and are looking for signs of oversupply in the nonresidential space, which is generally more opaque and difficult to track than the residential sector. Strong leasing results from storage and data center REITs could quickly reverse the recent weakness.
This week, we note the earnings from ELS, BDN, EGP, LHO, SLG, CCI, and PLD.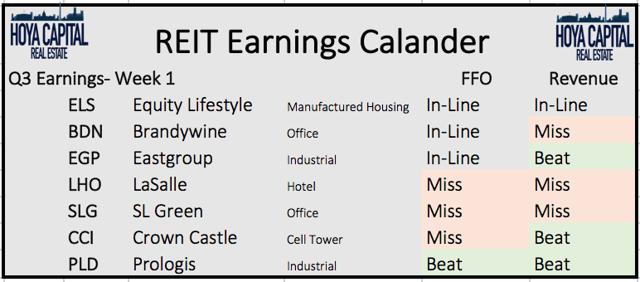 Over 50 REITs report earnings next week. Notable large-cap REIT earnings next week include:
Monday: Avalonbay (NYSE:AVB)
Tuesday: Boston Properties (NYSE:BXP), Equity Residential (NYSE:EQR), HCP (NYSE:HCP), Healthcare Trust of American (NYSE:HTA)
Wednesday: Extra Space (NYSE:EXR), Public Storage (NYSE:PSA), Simon Property (NYSE:SPG), Realty Income (NYSE:O)
Thursday: American Tower (NYSE:AMT), Digital Realty (NYSE:DLR), Essex (NYSE:ESS), Camden (NYSE:CPT), Kimco (NYSE:KIM), Mid-American (NYSE:MAA)
We also recently continued our REIT Rankings series where we covered all 13 REIT sectors. Readers can check out all of our REIT rankings located on our author page.
Finally, we encourage readers to follow our Seeking Alpha page (click "Follow" at the top of the page) to continue to stay up to date on our weekly recaps and analysis on the REIT and broader real estate sector.
Disclosure: I am/we are long AMT, AVB, BXP, CPT, DLR, ELS, EQR, EXR, PLD, PSA.
I wrote this article myself, and it expresses my own opinions. I am not receiving compensation for it (other than from Seeking Alpha). I have no business relationship with any company whose stock is mentioned in this article.
Additional disclosure: All of our research is for educational purpose only, always provided free of charge exclusively on Seeking Alpha. Recommendations and commentary are purely theoretical and not intended as investment advice. Information presented is believed to be factual and up-to-date, but we do not guarantee its accuracy and it should not be regarded as a complete analysis of the subjects discussed. For investment advice, consult your financial advisor.