With low economic growth and a real estate bubble finally giving way, I had previously argued that Sweden's stock market is significantly overvalued. Since 2015, we saw that the OMX Stockholm 30 index fell from a high of 1700 down to just below the 1300 level before subsequently rebounding to a level of 1464.85 at the time of writing: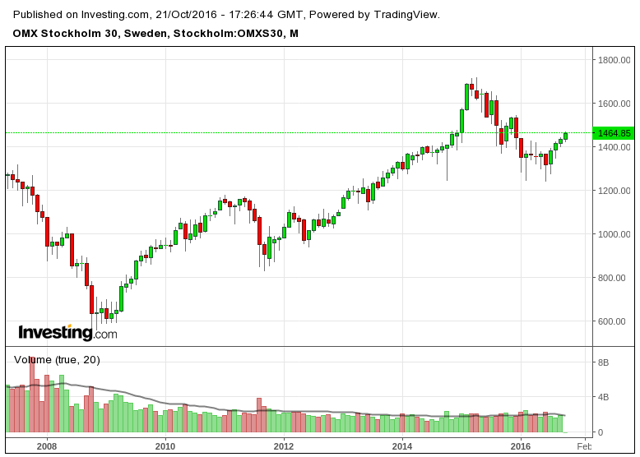 When it comes to the Shiller-CAPE metric, Sweden's index is indicated as being at least at fair value or potentially overvalued in spite of the price drop. For instance, Sweden's ratio at the time of writing is 19.8, while that of Developed Europe is 15.6 and Developed Markets as a whole is 20.9. Therefore, according to this ratio, while Sweden's index has been rebounding from an extended fall, it may not necessarily be a value play.
Moreover, in spite of the temporary fall in the index, this does not necessarily mean that Sweden's economy as a whole has returned to stability. In the face of continuing negative interest rates, property prices continue to be pushed up. Additionally, after Britain's vote to leave the European Union, this situation has been exacerbated with potential property investors viewing Sweden as an attractive alternative.
While Brexit had no doubt rattled Sweden's market initially, this has subsequently seen a flow of capital to the country in the form of investment. Moreover, the reasons for the drop are not necessarily related to Sweden directly - banking firms such as Swedbank (OTCPK:SWDBY) and Handelsbanken (OTCPK:SVNLY) had fallen by 9 percent as a result of UK exposure. In this regard, the fall in the Swedish stock market is not necessarily telling the whole story, and with cheap lending rates persisting, there is little doubt that the current rise in housing cannot be sustained indefinitely. Moreover, with companies such as Victoria Park AB (VICPA.ST) having risen by just under 60 percent this year, it is quite possible that property firms are also at the point of potential overvaluation.
To conclude, I still would not be a buyer of the OMXS30 Index in spite of a price drop. The drop appears to have largely been influenced by Brexit, and Sweden's high-risk of an asset bubble remains.
Disclosure: I/we have no positions in any stocks mentioned, and no plans to initiate any positions within the next 72 hours.
I wrote this article myself, and it expresses my own opinions. I am not receiving compensation for it (other than from Seeking Alpha). I have no business relationship with any company whose stock is mentioned in this article.
Editor's Note: This article discusses one or more securities that do not trade on a major U.S. exchange. Please be aware of the risks associated with these stocks.