Baker Hughes (BHI) reported today (October 21, 2016) that the North American rig count rose for the fifth straight week to 553. This figure was 37% higher than the low of 404 in late May.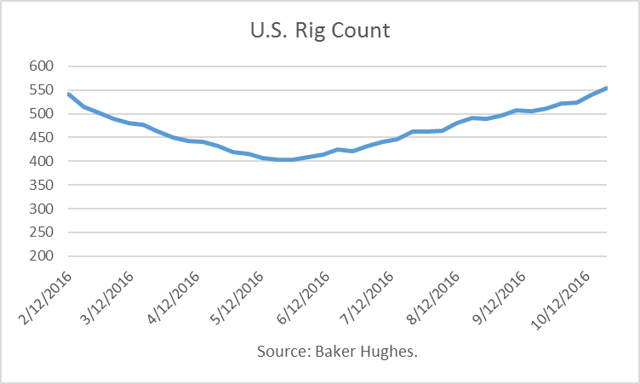 In related news, Schlumberger (NYSE:SLB) and Halliburton (NYSE:HAL) said drilling activity stabilized in the third quarter and is set to increase in coming months. "After calling the bottom of the cycle in the second quarter of the year, our business stabilized in the third quarter," Chief Executive Paal Kibsgaard said.
Halliburton Chief Executive Dave Lesar said on a post-earnings call, "things are getting better."
I have recently modeled rig activity using data from the Energy Information Administration's (EIA) Drilling Productivity Reports (DPR) for natural gas and crude oil. Given the success of my methods with that data, I decided to begin to apply them using the Baker Hughes data.
U.S. Rig Count
Given the growing influence of shale oil production on total U.S. production, and its variant economics compared to conventional oil, I shortened the modeling time frame to begin with January 2013 (instead of 2006).
Using total drilling rigs, ignoring the split between oil and gas, I obtained an adjusted r-squared of 99.2%. All t-ratios were highly significant. The fitted data (from the regression) are compared to the actual monthly data as depicted in the graph below.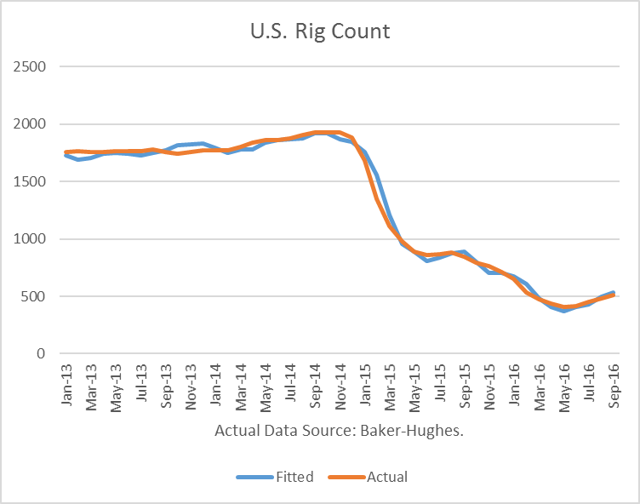 Then I used today's NYMEX crude futures prices, along with the regression equation, to forecast U.S. rigs into the future. The projected data are graphed below.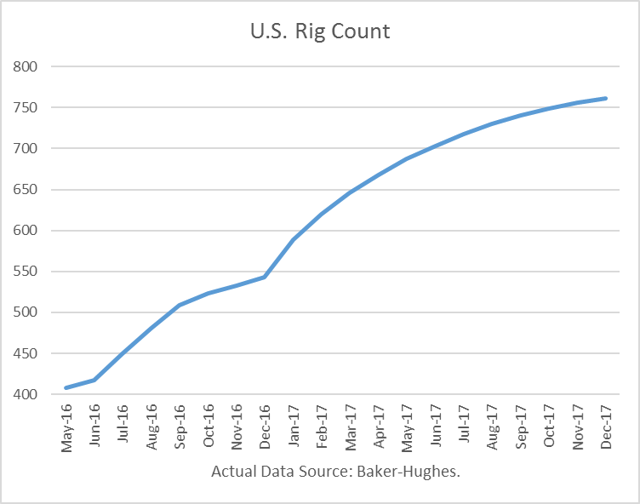 The result is a much faster rise in rigs than I had obtained with the DPR rig data, though futures prices were also lower when I projected using that data. My next step will be to project total U.S. crude and natural gas production using this rig forecast and "legacy" production data (i.e., not new production resulting from this rig activity).
Total World
Total world rigs reached a low in May 2016 of 1,405. In September, they had increased 13% to 1,584. I applied the same regression approach to total world rigs. The adjusted r-squared was 98.6%, a little less than the U.S. equation, as I had expected, given the varying conditions worldwide. Below I graph the actual data compared to the fitted data from the regression.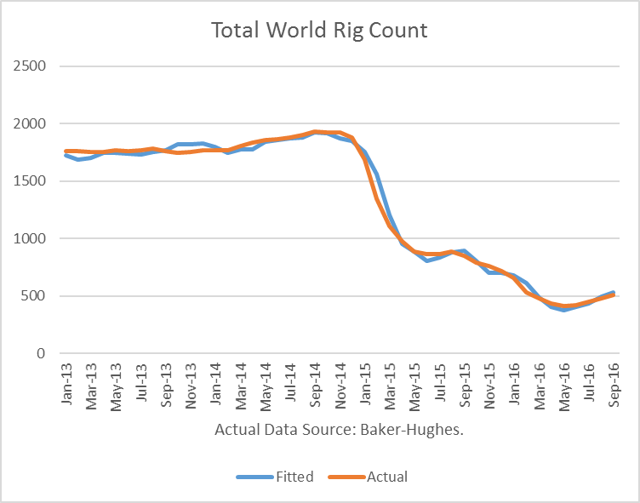 Then I used today's NYMEX crude futures prices, along with the regression equation, to forecast total world rigs into the future. The projected data are graphed below.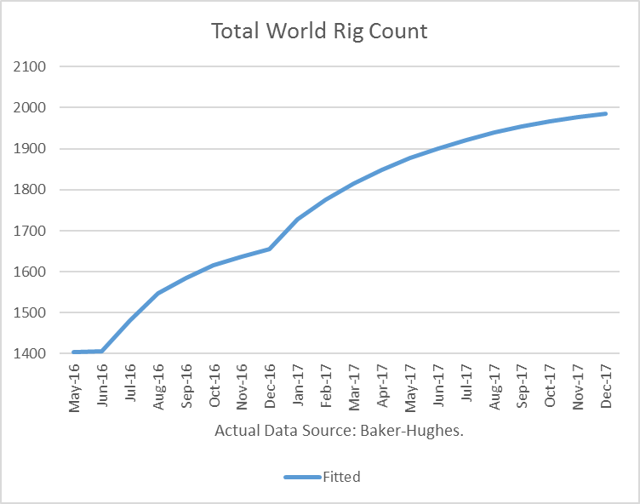 By the end of 2017, rigs rise by 25% to 1,985. I will next model this with legacy production to obtain a fit for total world production and a forecast based on this fit.
Conclusions
The drillers are seeing demand materializing for their services and my independent projections support that.
Given the greater volatility of conditions worldwide, which disrupt production, there will be a greater uncertainty in the production forecasts I can produce with projected rigs, but I expect it will shed more light on what levels may be expected.
Disclosure: I/we have no positions in any stocks mentioned, and no plans to initiate any positions within the next 72 hours.
I wrote this article myself, and it expresses my own opinions. I am not receiving compensation for it (other than from Seeking Alpha). I have no business relationship with any company whose stock is mentioned in this article.