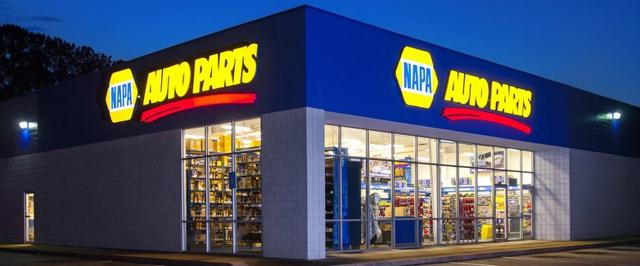 Genuine Parts Company (NYSE:GPC) is a name I've been critical of for a long while. The auto parts retail sector is littered with high-quality names and while GPC isn't a pure play like AZO, ORLY or AAP, it is close. And to be honest, it just doesn't stack up. That has led me to my bearish stance, and in the third quarter, GPC validated that bearishness and the stock was pummeled.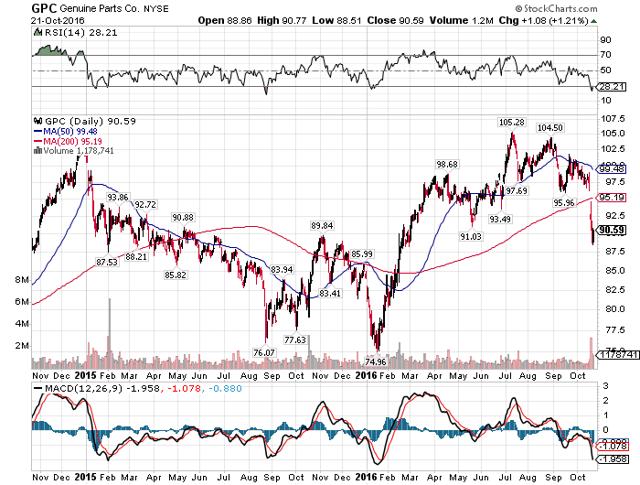 One of my principal complaints against GPC and its valuation is the simple fact that it has virtually no growth. This company has been producing diminutive top line expansion numbers for as long as I can remember and in Q3, the revenue gain was just 50bps. It's certainly never good when your revenue gain is measured in bps but at least it wasn't negative; so there's that.
The really interesting thing is that acquisitions - something that GPC does quite a bit of - added 3.5% to the top line in Q3. If you're keeping score at home, that means the organic growth GPC put together for Q3 was -3%, and while other companies have certainly done worse this earnings season, GPC's valuation doesn't allow for that sort of thing. My chief grievance against GPC has been its high valuation in light of its also-ran fundamentals but with the stock falling to $90, the divergence has narrowed somewhat. The bottom line is that GPC's revenue growth is ridiculously low and it seems perhaps Mr. Market has finally realized this is not a growing company worthy of a huge multiple.
GPC put in a good showing with gross margins as they rose 60bps to 30.4% against last year's Q3 number of 29.8%. That's a worthy addition to gross profit but the problem is that the gains were squandered elsewhere. SG&A costs were up 80bps and that cut operating margins from 7.7% to 7.4% this year. GPC managed to sport a lower tax rate this Q3, which kept its net income margin largely intact, but it is clear that GPC has some issues.
Its very weak sales numbers are driving operating expenses higher as a percentage of revenue, and that is exactly the problem with a business that can't grow on its own. GPC tackles the problem by buying other companies, but acquisitions are the most expensive thing any business can do and it shows with GPC. Even with the benefit of 3.5% of additional sales growth from acquisitions, its revenue was basically flat and operating margins fell appreciably. In other words, the bear case I've been making against GPC hasn't lost any of its weight and I'd argue that Q3 made it worse for the bulls.
Analysts have GPC earning $5.11 next year, making the current forward multiple 17.7. That's still not cheap despite the string of weak quarters GPC has put together and the fact that it sold off heavily after the Q3 report. And if that weren't enough, I think the $5.11 is at risk.
First, analysts think GPC is going to grow sales by almost 4% next year. I have no idea what makes them think that because GPC has proven over and over again in the past several quarters that it is totally incapable of sustainably producing that kind of growth. It would take a massive acquisition or several sizable ones for GPC to have a shot at that level of revenue growth next year.
In addition, if it does go out and buy its way to 4% growth, we know that margins are likely to suffer. We've seen it before and Q3 was yet more evidence that acquisitions don't fix a weak business because even when they provide sales growth, the integration process is long and expensive and it is difficult to realize the synergies you'd expect. And with analysts forecasting margin growth in their 8% EPS expansion estimate for next year, you can color me skeptical.
I'm not on a crusade to trash talk GPC; I just see a weak company with a strong multiple. That kind of divergence is impossible to ignore, and now that the market has finally realized what's going on, the stock looks very weak technically. GPC blew through the 200DMA during the post-earnings beating, and apart from some tenuous support at the $90 level, bulls could be at risk for a retest of the $75 area if Q4 is ugly. Right now, I think GPC is a no-brainer short because the stock just broke down completely and its fundamentals are weakening, not strengthening. The yield is still nice but it won't save GPC this time; I'm short.
Disclosure: I am/we are short GPC.
I wrote this article myself, and it expresses my own opinions. I am not receiving compensation for it (other than from Seeking Alpha). I have no business relationship with any company whose stock is mentioned in this article.