On October 21, 2016, General Electric (NYSE:GE) reported results that showed that the sluggish economy was a drag on the conglomerate's industrial operations during the third-quarter of 2016. For Q3 2016, GE reported a top-line revenue number that missed the consensus estimate ($29.3b vs $29.6b) but earnings that came in slightly above estimates (EPS of $0.32 vs $0.30). On another positive note, GE was able to report industrial revenue growth of 4% YoY and industrial earnings that were slightly down (5% YoY decline), even with the downward pressure from the Oil & Gas segment (revenue and profit were down 25% and 42%, respectively).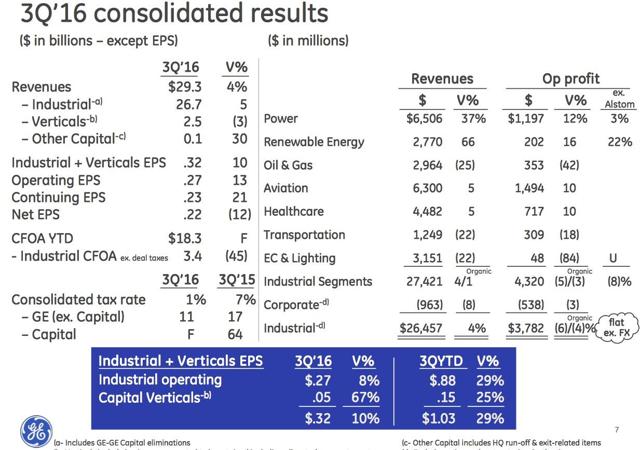 (Source: Q3 2016 Earnings Presentation)
The market was not only lukewarm on the Q3 2016 results, but the stock price was also under pressure during the early morning due to the "downbeat" guidance that was provided by management.
Full-Year 2016 Guidance, Down But Not Out
The guidance for the current year is still largely intact but management did slightly lower the organic top-line revenue growth expectations in addition to narrowing the range for what they expect for 2016 EPS. Previously, management projected for organic revenue growth to be in the range of 2%-4% and for 2016 EPS to be in the range of $1.45-$1.55; however, now management is projecting for organic revenue growth to be flat or up 2% and for 2016 EPS to be in the range of $1.48-$1.52.
The biggest takeaway from the revised guidance (and the quarterly results) is that the long-term story is intact. Yes, the downturn in the oil and gas industry and a stronger dollar are impacting the company's results, and are likely to negatively impact results over the next three months, but looking out to 2017/2018 the company still has strong growth prospects. Moreover, management is on record stating that the negative foreign exchange impact is projected to be less impactful in the upcoming quarter. In this article, I provided a preview of GE's Q3 2016 earnings and I described the 3 things that I was watching for when the conglomerate reported the quarterly results: Alstom acquisition, orders, and capital deployment.
Update On The Alstom Integration
To start, Alstom was accretive to Q3 2016 EPS by $0.01 ($0.02 ex FX) and management is still high on the long-term benefits of this acquisition. For example, GE disclosed that the YTD synergy benefits for this acquisition are already $850M and that there may be additional benefits recognized in the upcoming quarter.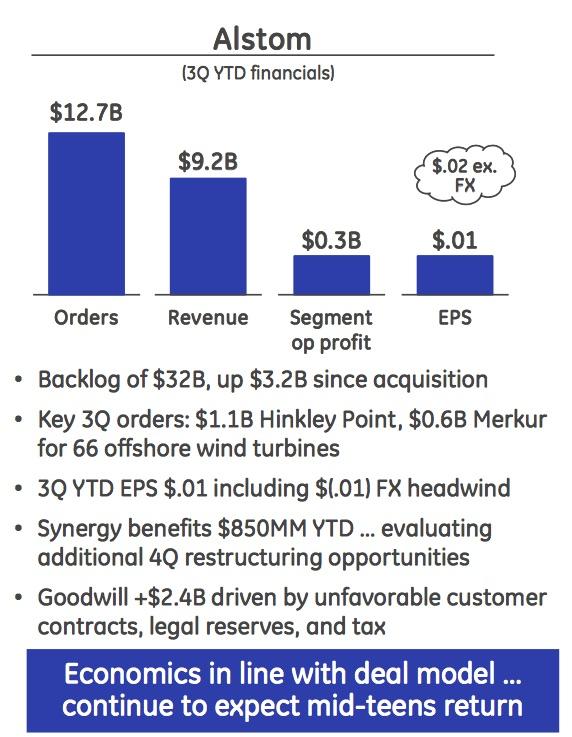 (Source: Q3 2016 Earnings Presentation)
Furthermore, GE reported strong Alstom order and revenue growth and the management team talked highly about the future prospects of the Alstom acquisition during the Q3 2016 conference call:
Alstom remains on track and we're building backlog and winning key new orders.....Alstom is on plan. We think the Alstom return still looks solid and the Alstom earnings outlook for '17 and '18 still looks solid.
Yes, management has to talk positively about the acquisition that was deemed "vital" to GE's long-term growth strategy, but, in my opinion, the numbers are already supporting management's assertions. In addition, management confirmed that the Alstom acquisition is on-target to meet the 2017 and 2018 projections. As I described in this article, all is still well with the Alstom integration.
Orders
The order numbers have been the main focus for the financial community for the past two quarters and rightly so, as the prior results have shown that the sluggish economy is already impacting the conglomerate's industrial businesses. For Q3 2016, GE reported a double-digit increase in equipment orders and a high single-digit increase in service orders.

(Source: Q3 2016 Earnings Presentation)
With all things considered, the orders were up 5% YTD but the company reported a slight decline in organic order numbers over the first 9 months of 2016. The results were obviously positively impacted by Alstom, but even ex Alstom the order numbers were not terrible. The decline in organic orders was largely a result of the Oil & Gas segment, which saw orders decline 21% YoY (34% on a YTD basis).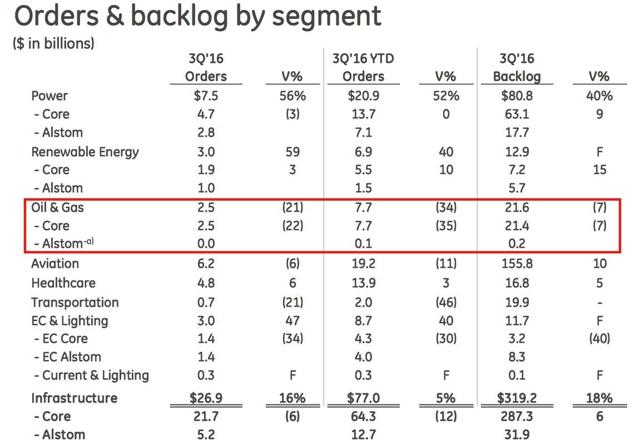 (Source: Q3 2016 Supplemental Information - edited by author)
On the Digital front, the company reported an ~11% increase in digital and software orders for the quarter, which is encouraging from a long-term investor's perspective because the company has long touted this business as the next big thing in the industrial space. Digital and Software revenue was up 13%, but, in my opinion, this business is still in the early innings so another solid quarter shows that GE is still making positive progress in the industry.
Capital Deployment
On a YTD basis, GE has returned ~$25b to shareholders (~$18.1b through buybacks) and management announced that the board approved an additional $4b to be added to the buyback program.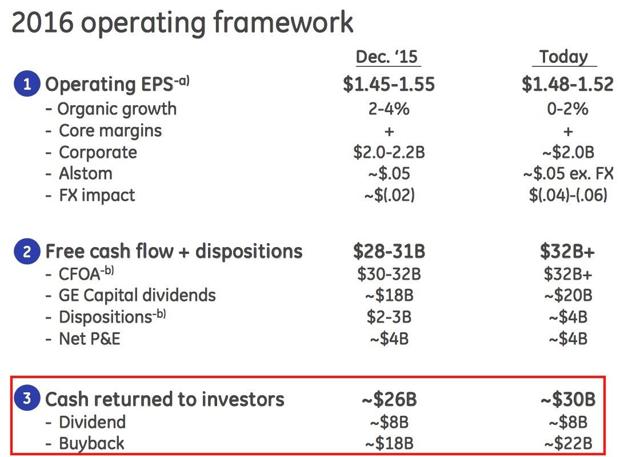 (Source: Q3 2016 Earnings Presentation --edited by author)
GE is slowly becoming a more shareholder-friendly company and I fully expect for management to announce a dividend increase later in the year.
On the financial leverage front, a review of the Condensed Statement of Financial Position shows that the debt balances are trending in the right direction (down).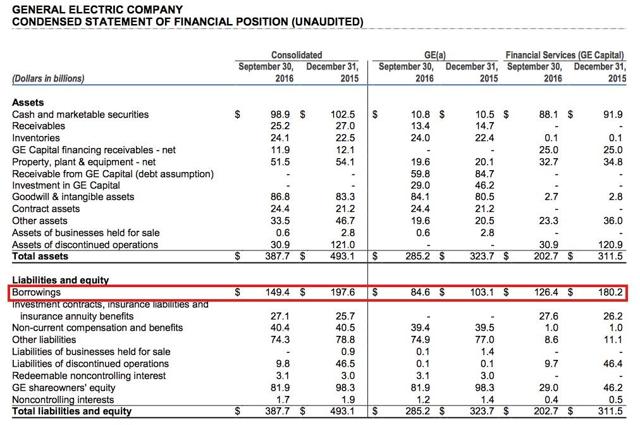 (Source: Q3 2016 Earnings Press Release - edited by author)
The company still has some work to do related to its financial leverage but I plan to do a more-detailed review the Q3 2016 debt activity once the 10-Q is available, so stayed tuned.
Bottom Line
The Q3 2016 results were a mixed bag but nothing that I read/heard changed my thoughts on GE being a great long-term investment at today's price. The Alstom acquisition is already paying huge dividends and GE is making some significant progress in the transition to becoming a more industrial-focused company.
I plan to dig deeper into GE's Q3 2016 results but I came away impressed after my first review of the earnings report (and supplemental information) and conference call transcript. With GE trading at ~19x 2016E earnings and ~17x 2017E earnings, I still believe that GE is a long-term buy at today's price. Therefore, investors should treat any significant pullback as a buying opportunity.
If you found this article to be informative and would like to hear more about this company or any other company that I analyze, please consider hitting the "Follow" button above.
Disclaimer: This article is not a recommendation to buy or sell any stock mentioned. These are only my personal opinions. Every investor must do his/her own due diligence before making any investment decision.
Disclosure: I am/we are long GE.
I wrote this article myself, and it expresses my own opinions. I am not receiving compensation for it (other than from Seeking Alpha). I have no business relationship with any company whose stock is mentioned in this article.