Pipeline giant Kinder Morgan (NYSE:KMI) has been on the upswing in recent days after reporting better than expected Q3 2016 results. The company was able to hit most of the marks analysts were looking for, lowering debt and leverage as well as providing a crucial update to its capital return (dividends) plans.
DCF is flat Q/Q, down 6% from last year
Kinder Morgan generated around $0.48 per share of distributable cash flow "DCF", up a penny from last quarter, but down $0.03, or around 6%, from last year. This variance was largely due to lower segment earnings, coming mostly from weaker oil prices and from the paying of the preferred dividends. Nevertheless, Kinder Morgan's performance was in line with its full year guidance as its core midstream business posted mostly steady results.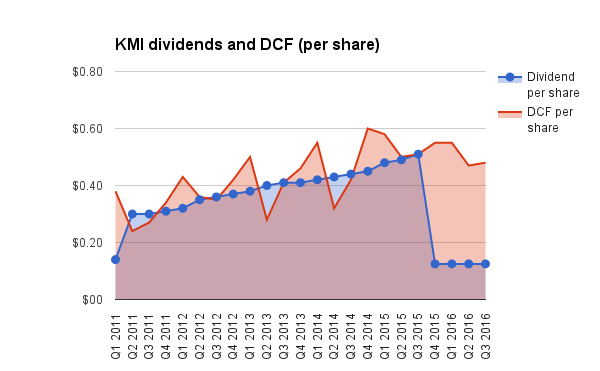 Low oil prices hurt comps
As noted above, Kinder Morgan was hurt from lower oil prices. The CO2 segment saw its earnings decline nearly 20% from last year, from $282 million to $229 million. This drop of $53 million represents a $0.023 per share hit to quarterly DCF - ouch!
Digging deeper, oil produced was sold at just $62.12 per barrel compared to $74.18 per barrel last year. This was with hedges as the spot prices were even weaker, below $50 per barrel. Couple this with a 5% drop in production and it is easy to see why this segment dragged down Kinder Morgan's results.
Debt is down big
One bright spot of Kinder Morgan's quarter was its debt reduction plans. The company lowered net debt by around $2 billion in the quarter, largely a result of the sale of 50% of the Southern Natural Gas ("SNG") pipeline system to Southern Company (NYSE:SO) for $1.4 billion plus proportional SNG debt. This reduced Kinder Morgan's debt to just over $39 billion and net debt to EBITDA to just over 5.3x, from 5.7x last quarter.
Keep in mind that this does not include the $749 million Kinder Morgan held in escrow ready to repay senior notes, subsequently redeemed on October 1. Including this brings the debt total to $38.5 billion and net debt to EBITDA to 5.2x.
Elba Liquefaction construction starting up soon
Kinder Morgan noted that its Elba Liquefaction Company received FERC authorization on June 1, 2016 and construction is slated to start on November 1, 2016, pending a final FERC rehearing. Initial liquefaction is scheduled for mid-2018, with the final units coming online by early 2019.
This project is expected to cost around $2 billion and is one of the assets being mentioned for possible joint ventures and or an outright sale. I would not be surprised if Kinder Morgan has some news on this front after the final FERC hearings are completed.
Dividend growth to return in 2018?
Lastly, Kinder Morgan hinted during its conference call that it was on track to return to dividend growth relatively soon. The company noted that it was pleased with its efforts to lower debt and leverage, which would free up more cash for both dividends and share repurchases.
Kinder Morgan is currently paying out just over $1.1 billion, or 25%, of its DCF in dividends, a very low payout ratio for a pipeline company. DCF is expected to be around $4.5 billion to $5.0 billion over the next few years. Even when assuming a $2-3 billion annual capital budget, Kinder Morgan is still left with plenty of free cash flow. In other words, the dividend could easily grow from the current levels.
Though, this depends on when Kinder Morgan gets its leverage back down to where it wants it, which is around 5.0x-- which seems doable by late 2017 or 2018.
Further upside for the dividend is possible if Kinder Morgan starts funding its capital budget with debt-- typically they have funded it with 50% equity, 50% debt, though the "equity" portion will come from retained DCF, not new shares.
Again assuming $4.5 billion in DCF, and retaining $1.5 billion for half the capex budget, would leave around $3.0 billion for dividends, triple the current payout. I'll have much more on this topic in a future article.
Note: If you liked this article, please consider following me. It really helps a lot and will allow you to get more of my work even faster. Thank you.
Disclaimer: The opinions in this article are for informational purposes only and should not be construed as a recommendation to buy or sell the stocks mentioned. Please do your own due diligence before making any investment decision.
Disclosure: I am/we are long KMI.
I wrote this article myself, and it expresses my own opinions. I am not receiving compensation for it (other than from Seeking Alpha). I have no business relationship with any company whose stock is mentioned in this article.