Skechers USA, Inc. (SKX) continued its extended rout as shares of the company fell more than 17% on Friday, October 21. The performance footwear developer dropped on Q3 2016 earnings that once again fell short of expectations. Revenue came in at $942 million, just shy of the consensus expectation of $954 million. Earnings came in at $0.42 per share in contrast to analyst projections of $0.46 per share. The company also provided revenue guidance for the fourth quarter between $710 million and $735 million. This too fell short of the $800 million revenue outlook that was anticipated to be announced.
Since reaching a high of $54.53 in August 2015, shares in the company have been scorched, having now dropped down to the level of $19 following the latest earnings miss. Accounting for this 65% drop over the last year and a half has been the dashing of high expectations and a sequential weakening in domestic sales. Investors remain concerned for the brand in light of the ongoing decline. For Q3 2015, the company's domestic wholesale business fell 3.4% despite the fact that the number of pairs shipped had actually increased by 0.06% compared to volumes realized in Q3 2015.
Yet as the impact to market sentiment is sure to settle over the coming days, contrarian and long-term investors should begin to take a look back at the bigger picture now at hand. Over the past year and a half, the decline in the company's market capitalization has far exceeded the declines in its most fundamental metrics. When compared to its long-term growth in revenue, earnings, and shareholder equity, Skechers has now begun to look undervalued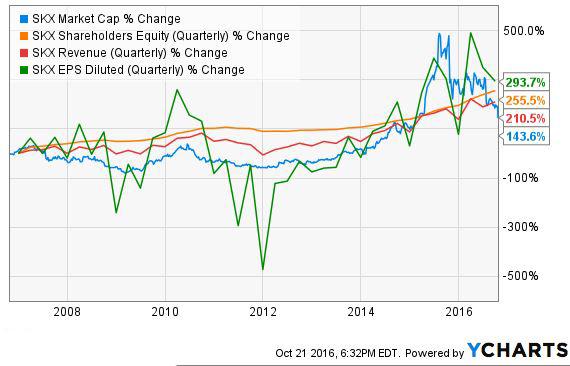 Despite experiencing an extended decline that has thus far wiped off two-thirds of the company's market valuation, Skechers continues to see sales growth. Q3 2016 sales had actually increased 10.1% year over year leading to a new net sales record for the company of $2.8 billion in the first 9 months of the fiscal year. A look at the company's historical price-to-sales ratio now shows that share prices have reached levels that are more in line with the company's historical range.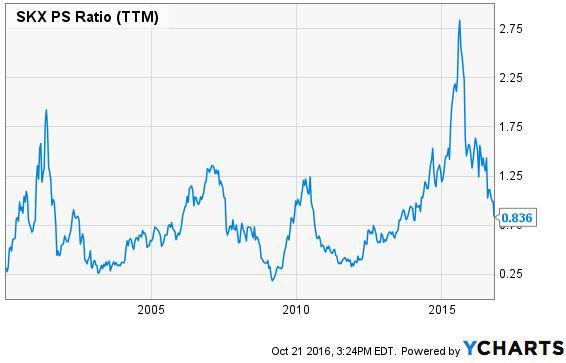 While earnings have seen a moderate softening over the last year, a look at the company's trailing price-to-earnings ratio also suggests that the company's earnings multiple continues to get compressed as it seeks to find a new low. As seen in the graphic below, the company now supports a trailing P/E ratio of 11. Comparing the company continues to place it very much on the low end of the spectrum despite previously trending alongside its peers. This also suggests that the decline in Skechers may begin to abate in the coming months.

It also remains important to note that despite the sequential single-digit decline in domestic sales year over year, Skechers continues to witness enduring double-digit international growth. The company's net sales growth for the quarter was most directly influenced by an 18.3% growth in the company's international whole sale business. This business section now accounts for 40.1% of the company's total net sales. This was noted in the company's Q3 2016 earnings call where CFO David Weinberg noted that "many countries" are continuing to show strong sales increases. Among these, one of the most important is China where the company saw a strong sales increase at over 50%.
International growth remains a key part of the ongoing bullish thesis for Skechers. Yet along with an increasing global presence comes the volatility found in currency fluctuations. For the quarter, a $15.9 million negative currency translation impact was felt by the company. This translated into a diluted earnings per share impact of approximately $8.1 million or $0.04 per diluted share. Without this fluctuation, earnings would have actually fallen in line with expectations for the quarter.
Yet despite the concerns of lower revenue guidance and missed earnings, investors should also consider the financial health of Skechers. As of September 30, the company has seen its total assets rise to $2.23 billion while total liabilities have fallen to $553 million. At the end of 2015, the company had total assets of $2.05 billion and total liabilities of $720 million. As a result, we see that in the last 9 months shareholder equity has risen $347 million to $1.67 billion despite witnessing a 37% decline in the company's share price.
Yet, along with this rise in equity is the company's steadily increasing cash balance. The company's cash on hand has now reached $665 million, almost a quarter of its current market capitalization. Capital expenditures for the third quarter amounted to $25.8 million, but the company also expects for capital expenditures to only be approximately $5 to $10 million for the fourth quarter. So even with its ongoing growth plans, it is clear that Skechers maintains a significant and growing cash pile. In the last quarter alone, cash grew $36 million while the company also reduced its liabilities.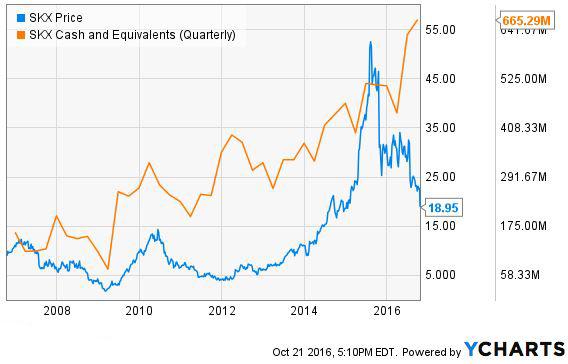 Why this is important is because of the increasing flexibility that Skechers now has to addressing its current situation. A meaningful share repurchase could both serve to raise the company's stock price while increasing earnings. Yet, holding onto that cash also provides the company with more than enough maneuvering room should the company require a pivot in its strategy. In either case, the rapidly growing cash balance remains a convincing argument that the company is far from distressed in its current situation. This stands in stark contrast to what investors might be prone to believe over the past few quarters based on market action alone.
Final Thoughts
There is little denying that Skechers has seen a slowdown on the domestic front. While today overall revenue has still managed to grow at a double-digit rate, the company continues to expect growth to slow in the coming quarter. Despite the last earnings miss, long-term investors should begin to question if the market correction has been a bit stronger than what is warranted. After all, much of the miss itself can be accounted for through currency exchange rate fluctuations - a factor that could easily swing the other way should the US Dollar begin to soften. At the same time, the company is still growing internationally and has the financial flexibility to turn around its domestic operation.
With a growing cash war chest and a greatly improved balance sheet, Skechers is increasingly looking like an attractive value play at its current share price. The company has developed an impressive brand for itself that continues to gain ground around the world in consumer markets that are still developing. This includes China where a maturing middle class should continue to drive growth for consumer brands such as that offered by Skechers. For long-term investors, the latest drop in the company's share price should provide an opportunity to begin averaging in.
Disclosure: I am/we are long SKX.
I wrote this article myself, and it expresses my own opinions. I am not receiving compensation for it (other than from Seeking Alpha). I have no business relationship with any company whose stock is mentioned in this article.