Stay TrueBlue
(To receive timely trade ideas from us, take a free trial to our newsletter - click here to get started.)
Earnings announcements often trigger share price overreactions. That's especially true with lesser-followed shares if EPS exceed, or fall short, of analyst expectations.
True Blue's (NYSE:TBI) September quarter results (70-cents adjusted versus 60-cents) handily beat last year's number, but by less than predicted. Management also guided down somewhat for Q4. 2016 now appears on track to finish with adjusted EPS of just above $2.00.
That would represent a not-too-shabby 18% gain from 2015, a year which capped a nice five-year growth spurt. By mid-afternoon on Friday TBI was down to $17.85, only 22% more than its Oct. 20, 2010 closing quote.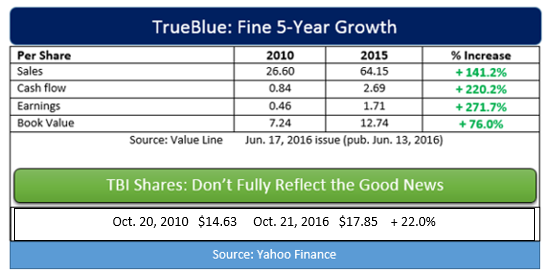 TrueBlue's shares, at $17.85 are now offered for less than 8.9x times 2016's current consensus EPS estimate of $2.02. TBI traded at almost $15 on this date in 2010, when sales and EPS were just a fraction what what they are today.
Why is the stock being pummeled so badly?
Management indicated that Amazon (NASDAQ:AMZN), TBI's largest customer, has been phasing out its use of outside contract help. AMZN represented about 13% of TrueBlue's 2015 revenues. They will account for around 6% this year with further drops planned.
The question becomes how well TBI handles this. They could find new, higher margin business. They may simply downsize expenses and overhead. The loss of business from Amazon will hurt growth prospects but it is not a fatal blow.
You might liken this situation to that of American Express (NYSE:AXP) which voluntarily walked away from its association with Costco (NASDAQ:COST) as that firm's sole credit card provider. AXP's shares dropped all the way to $50.27 last February as the general market tanked and traders panic sold.
American Express is working hard to replace the lost business. Better than expected Q3 results yesterday sent AXP back up. As of 2:50 PM on Oct. 21, 2016, the stock was quoted at $67.30, up almost 34% from last winter's nadir.
TrueBlue may be providing that same type opportunity to investors with reasonable time horizons right now.
The four most recent "best entry points" (green-starred below) provided excellent trading opportunities to capture 50% to 100% gains over reasonable time horizons.
TBI historically needed to be sold (red-starred) only when its multiple approached P/Es of 18x to 25x.
Throw out 2010 as an inflated P/E outlier. TrueBlue averaged an 18.1x multiple over the five years ended Dec. 31, 2015. Applying a somewhat conservative multiple to today's earnings supports a 12- month target price of $25 - $35.
That is far from crazy. TBI peaked in that neighborhood during each of the past four calendar years including 2016 YTD.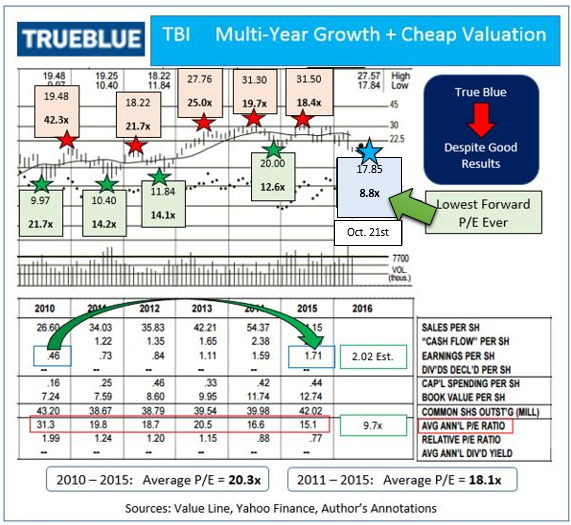 Option sellers can collect excellent premiums if willing to own TBI even cheaper. At 2:24 PM on Thursday afternoon TBI's May 19, 2017, expiration $17.50 and $20 strike price puts fetched around $2.05 and $3.40 per share respectively.
The worst-case scenarios would be forced purchased at about $15.45 or $16.60. Even the more aggressive, in-the-money strike, puts offer break-even levels below TBI's absolute lows since the first half of calendar 2013.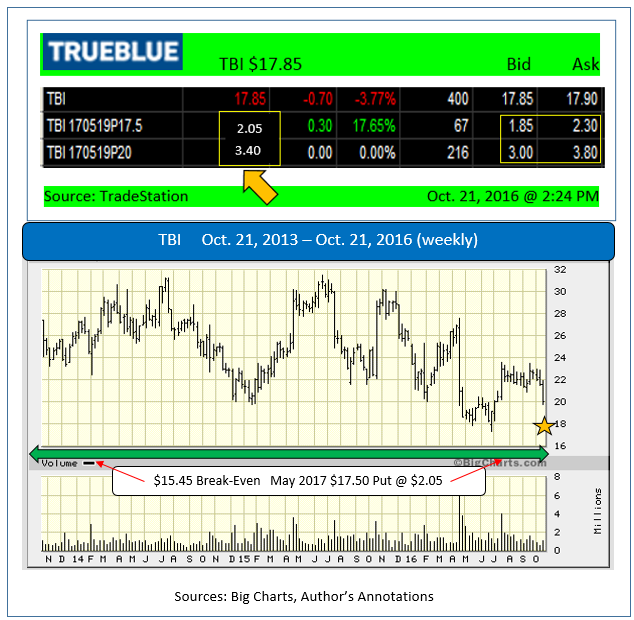 Buy TrueBlue's shares, sell some puts or consider doing both.
Disclosure: Long TBI shares, short TBI May 2017 puts.
Disclosure: I am/we are long TBI.
I wrote this article myself, and it expresses my own opinions. I am not receiving compensation for it (other than from Seeking Alpha). I have no business relationship with any company whose stock is mentioned in this article.
Additional disclosure: Long TBI shares, Short TBI puts.