Note: Tidewater (NYSE:TDW) has been covered by me previously, so investors should view this article as an update to my earlier publishings on the company.
Tidewater (NYSE:TDW) investors have already been experiencing difficult times for a couple of quarters now, as the world's largest offshore service provider's business has been severely hurt by the ongoing oil price weakness.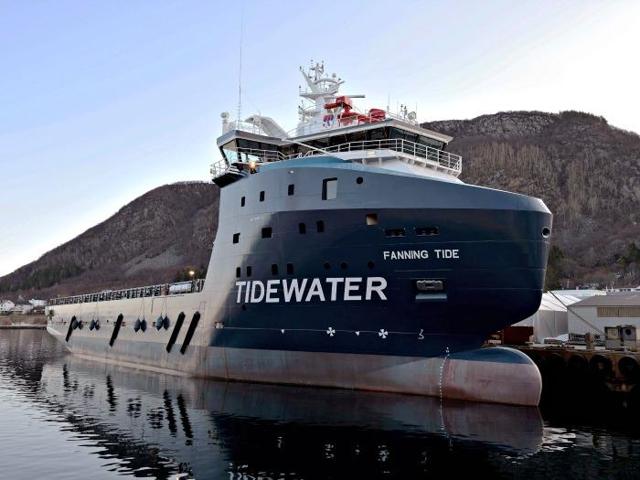 Picture: Offshore support vessel "Fanning Tide" - Source: Marinelog.com
Due to the offshore service industry's current unfortunate position at the very low end of the "oil service food chain," it might take well into the next decade for the company's business to recover in a material way as new offshore projects are widely expected to take the back seat to unconventional land-based drilling for the time being.
Even worse, the company's ongoing weak operating performance has recently caused it to violate certain covenants governing its substantial debt load.
In anticipation of the looming covenant breaches, management proactively decided to draw down the entire $600 mln available under the company's revolving credit facility back in March.
For a couple of quarters now, TDW has been in discussions with its principal lenders and noteholders. Back in March, Tidewater managed to obtain limited waivers from its lenders until mid-August in order to provide some headroom for the ongoing negotiations.
The company updated investors about its progress in its most recent 10-Q:
The company continues to engage in discussions with its principal lenders and noteholders to amend the company's various debt arrangements in advance of the expiration of the waivers on September 18, 2016. The company believes that these discussions have been constructive and progress has been made in resolving several important issues, although other important issues remain to be resolved and no assurances can be given that they will be ultimately resolved. Any such amendments would require successful negotiations with the company's principal lenders and noteholders, and may require the company to make certain concessions under the existing agreements, such as providing collateral to secure the Bank Loan Agreement, the Troms Offshore Debt and the Senior Notes, repaying a portion of the indebtedness outstanding under the revolving portion of the Bank Loan Agreement, accepting a reduction in total borrowing capacity under the revolving credit facility, paying a higher rate of interest, issuing some form of equity or equity linked compensation enhancement, paying down a portion of the Troms Offshore Debt and/or Senior Notes, or some combination of the above. In addition, such amendments will need to address the audit opinion requirement of the Bank Loan Agreement and the Troms Offshore Debt (the waiver of which has been extended until September 18, 2016). Obtaining the covenant relief will require the company to reach an agreement that satisfies potentially divergent interests of its principal lenders and noteholders.

If any of its principal lenders or noteholders accelerate the company's outstanding indebtedness, the company's multiple borrowings will become immediately payable (as a result of cross default provisions), and the company will not have sufficient liquidity to repay those accelerated amounts. If the company is unable to reach an agreement with its principal lender and noteholders to address the potential defaults, the company would likely seek reorganization under Chapter 11 of the federal bankruptcy laws, which could include a restructuring of the company's various debt obligations.
The unexpected warning about the company potentially having to issue new equity to its creditors in return for some covenant amendments caught investors flat footed and accordingly the shares tanked 25% over the trading session following the report.
Personally, I did not foresee the lenders to demand any kind of equity compensation either, given the company's otherwise rather good financial shape and the important fact that the company's entire debt structure has been unsecured so far.
Basically, I expected Tidewater to provide some kind of collateral on a pro-rata basis to all of its lenders and moreover pay back a substantial part of the recently drawn revolver balance in return for the required covenant amendments.
Since the Q2 report, the limited waivers have been extended until October 21 on September 16 with the language remaining basically unchanged at that time:
Consistent with disclosures included in the company's recently filed Form 10-Q, the company believes that the ongoing discussions with its lenders and noteholders have been constructive and progress is being made towards resolving the principal open issues. However, work remains to be done, and no assurance is given that the various parties will reach agreement on amendments to the various loan agreements and notes.
But in Friday's after hours session, Tidewater not only announced another short extension of the limited waivers (until November 11), the company also dramatically changed its respective disclosure language:
The company has previously reported that progress was being made in its negotiations with its principal lenders and noteholders to obtain the covenant relief sought; however, recent industry data, including data regarding projected levels of offshore drilling activity, a primary driver of activity within the offshore service vessel (OSV) industry, has led the company to conclude that important debt terms will require further negotiation. While the company will continue to work toward amendments to its various debt arrangements that will be acceptable to all parties, there is a possibility that the lenders, noteholders and the company will not be able to negotiate new debt terms that are acceptable to all parties, in which case the company will have to consider other options, including a possible reorganization under Chapter 11 of the federal bankruptcy laws.
Given the downbeat language and the rather short three-week waiver extension, I do not expect the company coming to terms with its various lenders anymore and now estimate Tidewater to file for bankruptcy protection until the end of 2016.
In the obvious absence of a pre-packaged restructuring support agreement, bankruptcy proceedings will most likely prove to be complex and protracted as it is going to take time for the company to present a plan of reorganization to the court.
Assuming this worst-case scenario will indeed play out, the company's current equity is clearly at elevated risk of getting heavily diluted or even wiped out entirely as Tidewater currently carries a whopping $1.4 bln in net debt. With both a term loan and a revolving credit facility as well as seven different bond issues involved (some of them being denominated in Norwegian Kroner), its hard to envision any material recovery for the equityholders anymore.
Clearly, I did not expect this outcome given the company's unique, entirely unsecured debt structure but seemingly some of Tidewater's lenders are not exactly thrilled by the prospects of a fleet of mostly stacked offshore support vessels being provided as collateral on a pro-rata basis.
While I firmly expect Tidewater to successfully restructure its debt obligations in court and to emerge as a financially stronger company over time, there's now a very high probability for the equity to get cancelled and the current creditors emerging as Tidewater's new owners later on.
Unfortunately, Tidewater's market capitalization still calculates to more than $140 mln at the close of Friday's session, so there's still very substantial downside for the shares here. The stock finished the after hours session at $2.50 on rather low volume (roughly 40,000 shares), down 16.5% from its closing price of $2.99 but I firmly expect the shares to move substantially lower next week.
Personally, I wouldn't be surprised to see the stock fall by more than 30% or perhaps even 50% on Monday and accordingly went short a few thousand shares in after hours.
Bottom line:
Things have turned decidedly worse for Tidewater and the chances for the company still coming to terms with its lenders look substantially diminished at this point. Should the company decide to file for bankruptcy protection without a pre-packaged plan of reorganization in place, the company's equityholders might face very substantial dilution or even a complete wipe-out. In this case, expect bankruptcy proceedings to be protracted.
At this point, it might be appropriate to quote the old, alleged Dakota tribal wisdom "If your horse is dead, dismount" - while in case of Tidewater the horse isn't dead yet, I would still advice investors to dispose of their holdings at this point given the outsized risk of losing all or a substantial part of their remaining investment in the end.
Disclosure: I am/we are short TDW.
I wrote this article myself, and it expresses my own opinions. I am not receiving compensation for it (other than from Seeking Alpha). I have no business relationship with any company whose stock is mentioned in this article.