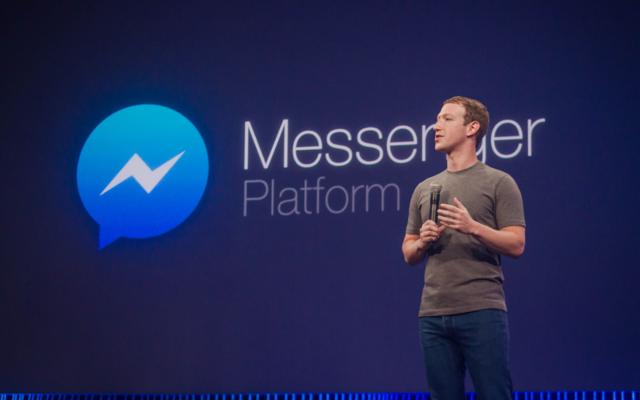 Back on May 4 th of this year I wrote an article calling Facebook the new Apple. Apple had been the darling of the tech investors, but it was starting to get a little ripe.
In the article I compared Facebook (NASDAQ:FB) with Apple (NASDAQ:AAPL) side by side. I showed how the earnings growth of Facebook had run circles around Apple. I also showed how superior earnings growth had also led to far superior stock performance of Facebook over Apple.
Lastly I predicted that over the next five years Facebook's returns would run far ahead of Apple.
Since I wrote that article Apple is up almost 24%, while Facebook is up 11.6%. I am wrong so far, but I am sticking to my bold call. Here is why…
My millennial son, who works for me at my firm, continues to remind me that Facebook continues to become more and more irrelevant each and every day.
Then why, I ask, did the stock BREAK OUT to new ALL-TIME HIGHS on Friday? This is a bell-weather growth stock. This bodes well for the future of this 7.5 year old plus bull market.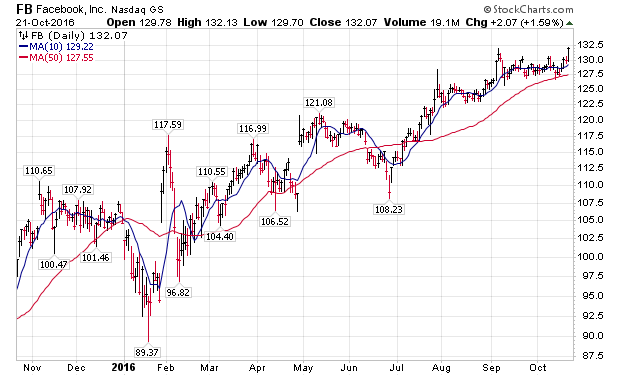 Facebook is now up 27.4% since the beginning of the year while the S&P 500 is up just a paltry 4.8%. Now, that is a lot of Alpha.
My son tells me that most of his peers have moved on to Snapchat, the image messaging app developed by three students at Stanford University.
I wonder if the creators of still private Snapchat have figured out how to monetize all of those users yet? After all, publicly traded Twitter (NYSE:TWTR) still struggles with this question.
Meanwhile, Facebook will earn about $11 billion in earnings on about $24 billion in sales this year.
My son then chimes in with Instagram. It is way more relevant than Facebook he says.
Then when why is Facebook now a $379 billion dollar market cap company? Why, it was under $50 billion in market cap as recently as late 2012. It has grown exponentially since then.
I also reminded my millennial son that Facebook bought Instagram for a billion bucks back in 2012. Oh, he said.
Well, he says, when I want to send an instant message to my friends I use WhatsApp.
I ask him if that is the company that Facebook bought back in 2014 for $19 billion?
Oh yeah, I guess it is he says.
Kids now days!
I tell him that Facebook paid $19 for each of WhatApp's one billion users. I also remind him that it was started by two millennials who were previous employees of Yahoo! Is this yet another one that Yahoo! let get away?
My millennial then makes one more attempt at persuading me that Facebook is becoming more irrelevant by the day.
He says, Dad you have Twitter running all day in your office. You now have a decent sized stadium of listeners through StockTwits. You send out several tweets per day says he.
I tell him to check back with me when Twitter has figured out how to make money. I have not paid one thin dime to Twitter since I started using it several years ago. I wonder if Trump has paid them anything?
It seems to me that Facebook has surely figured out how to make money with their 1.23 billion users. It seems crazy to think that one out every six persons on this planet are counted as monthly users of Facebook.
It seems to me that if I needed to get an important message out, I would surely turn to Facebook somehow.
Let's now take a little closer look at Facebook the stock.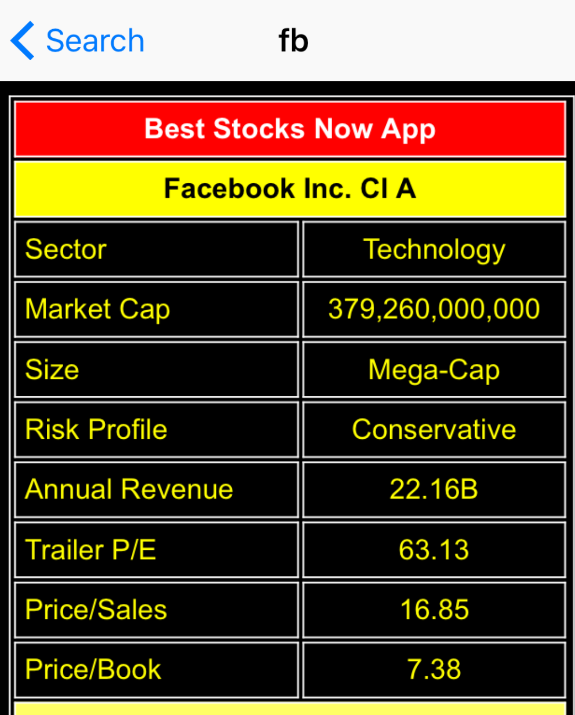 As I mentioned earlier, Facebook is now a $379 billion dollar market cap company. I consider it to currently be one of the Premier Large-Cap growth stocks in the market.
I mentioned three other of my current favorite Premier Growth stocks in an article that I wrote a few weeks back
Facebook currently has revenue of $22 billion and is trading at a PE ratio of 63X. It has a price to sales ratio of 16.9X, and a price to book value ratio of 7.4X.
These all seem like astronomical numbers, but I will make a value case for the shares towards the end of this article.
Let's next look at the performance of the shares of Facebook.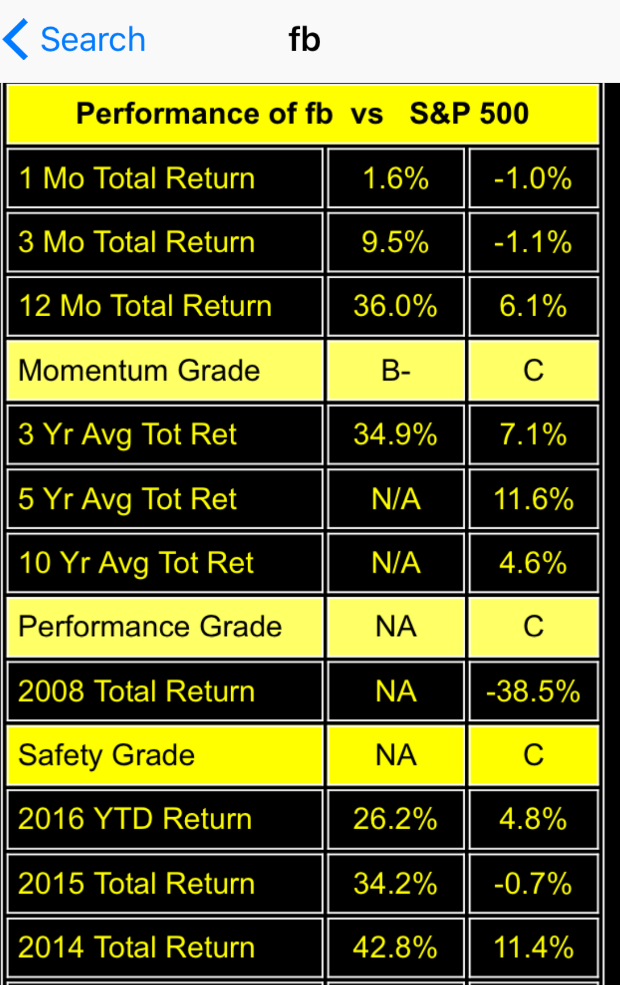 Over the last three years, the shares have returned an average annual return of almost 35% per year, while the market has delivered just 7.1% per year. That is some superior alpha.
Also consider that over the last five years, Facebook's earnings have been growing by an average annual rate of 53% per year.
Over the last twelve months, the shares of Facebook are up 36% while the S&P 500 is up just 6.1%. Once again, those are some superior alpha numbers!
But, investing is all about the future. While past performance (momentum) is a great attribute to bring to the plate, it is now all about what it does over the next one, three, five, and even ten years if applicable.
For that estimation it is best to turn to forward expectations.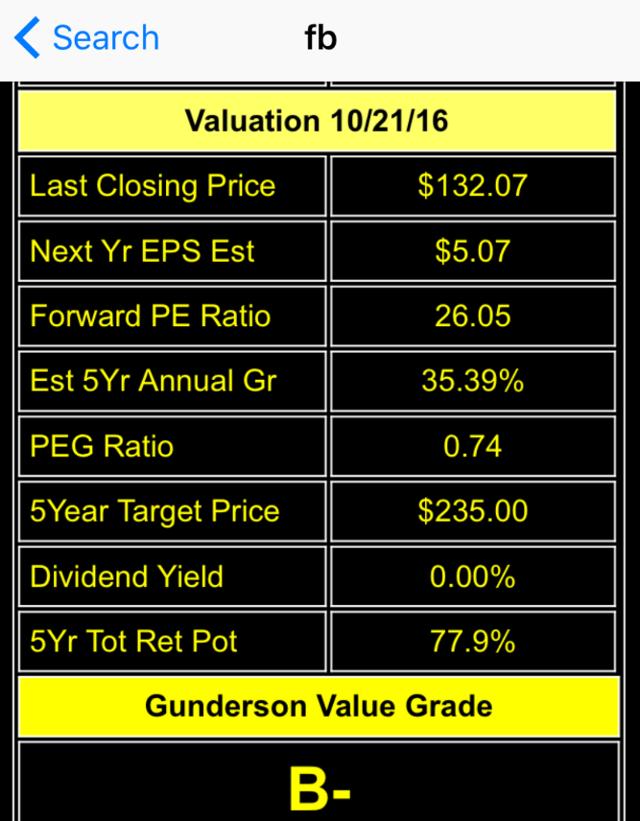 As of now, Facebook is expect to make $3.94 in earnings per share in 2016. This represents a considerable 73% increase over last year. Also consider that Facebook currently has about 2.87 billion shares outstanding. You can do the math as to how much Facebook has figured out how to monetize its application.
In 2017 Facebook is expected to make $5.08 in earnings. This would represent a 29% increase over this year. It would also represent about $14.6 billion dollars in earnings (profit) next year! And Hillary is complaining about the drug companies? Maybe we need to regulate "Likes" on Facebook.
In addition to those substantial annual earnings, the consensus five-year annual average growth estimate on the street is currently just over 35% per year. This means that the shares are still trading a fairly substantial discount to its growth rate as measured by its current PEG ratio of just 0.74.
Imagine what those potential earnings at Facebook would like five years from now? The math alone puts them at $17 per share or a total of almost $49 billion in earnings.
What do the shares have the potential to be worth by then?
Just using a price to earnings multiple of 14-15 gives you a five year price target of $238-$255. In my opinion, the shares still have substantial upside potential.
A value investor could argue Wells Fargo is a much better value right now after the beating that it has taken in recent weeks. I rendered my opinion on that argument in my article last week. Read it and decide for yourself.
It is almost unfathomable that I currently find Facebook to be a better value than a beaten up bank stock, but I used the same valuation methodology on both stocks.
When I combine value with performance, Facebook is currently ranked #61 in my proprietary ranking system. By contrast, Wells is currently ranked at #1,246 out of the 4,165 stock in my database of stock, mutual funds, and etf's.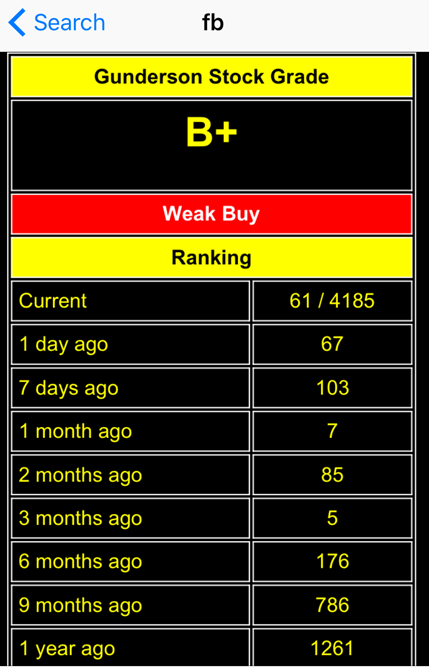 We are currently long the shares of Facebook at my firm despite my son's opinion of its increasing irrelevance.
That's okay though. He is learning a lot about the market and the great importance of earnings under my tutelage. I have now had over two decades of experience of valuing stocks.
In the meantime, who do I turn to when I am struggling with all of my darn apps?
My millennial son!
Disclosure: I am/we are long FB.
I wrote this article myself, and it expresses my own opinions. I am not receiving compensation for it (other than from Seeking Alpha). I have no business relationship with any company whose stock is mentioned in this article.