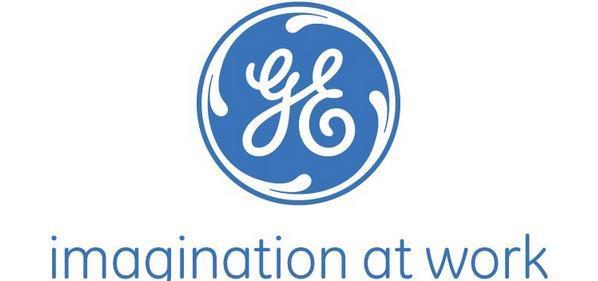 I have been looking forward to General Electric's (NYSE:GE) 3rd quarter results, largely because I was hoping for either a positive or negative catalyst. General Electric's shares have been stuck in the high $20s range for a while now, and they have had some real trouble edging back over $30. 3rd quarter earnings could have breathed some vital life into General Electric's shares, but they failed to do so.
Unfortunately, it now looks as if shares will continue to go sideways for a while longer, and that is not an attractive prospect at all. General Electric's earnings release was neither spectacularly positive nor negative, in my opinion, but the company clearly failed to excite investors.
Proof of it is that GE's shares slumped on the back of General Electric's earnings release even though the industrial company said its profits were up Y/Y, and that it was going to return more cash to shareholders. On the other hand, a rather concerning revenue outlook weighed on General Electric's shares on Friday, and I don't think this is going to get better any time soon.
General Electric said as part of its earnings release that it cut its revenue outlook due to continued weakness in its Oil and Gas business (not surprising since the entire sector is struggling). General Electric's Oil and Gas revenues in the 3rd quarter, for instance, slumped 25 percent to ~$3.0 billion compared to the 3rd quarter a year earlier. The decline in Oil and Gas-related revenues and earnings is nothing new for General Electric: The Oil and Gas business has consistently been one of the worst performing businesses for GE in the last couple of quarters.
Importantly, General Electric reduced its revenue guidance from 2-4 percent growth to 0-2 percent growth. Clearly investors didn't like that, and General Electric's shares sold off as a result.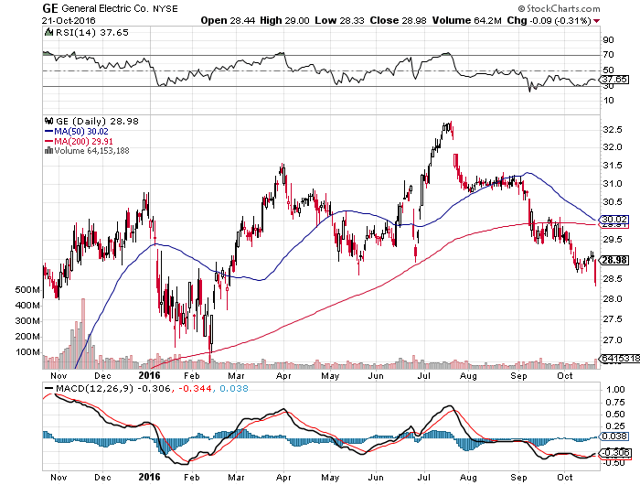 Source: StockCharts.com
It was not all bad on Friday, of course, but (downward) revised revenue forecasts barely sit well with shareholders.
On the other hand, General Electric also reported good results. 3rd quarter profits from continuing operations climbed ~7 percent Y/Y to ~$2.1 billion. General Electric also beat the consensus adjusted earnings estimate of $0.30/share. GE earned $0.32/share in the last quarter.
Importantly, General Electric raised its guidance with respect to capital returns. While the company previously guided for $26 billion in combined cash returns in 2016, GE is now aiming to return $30 billion.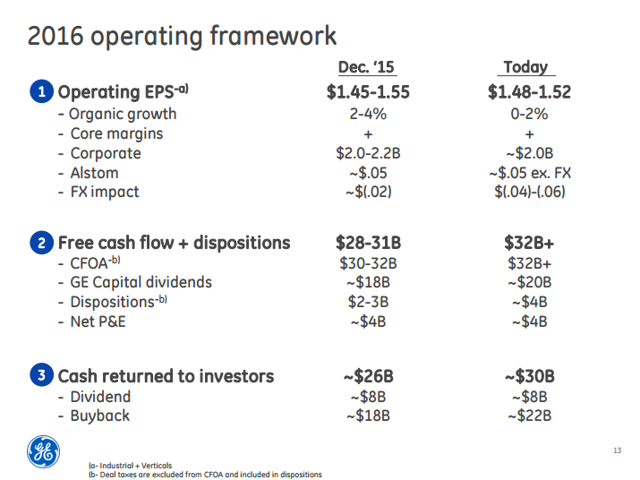 Source: GE
The lowered revenue forecast can be expected to weigh on General Electric's shares, at least over the short haul, and it certainly was a negative catalyst for GE on Friday. Given a lack of major (positive) catalysts, I'd think that GE will have a hard time moving up. As a result, there is a high probability that shares are going to trend sideways over the next year.
Your Takeaway
General Electric shocked investors with a lowered revenue forecast, even though the industrial company's profits rose Y/Y, GE beat consensus earnings estimates, and it is going to return more capital to shareholders this year. All considered, I think the revised revenue guidance will weigh on GE for a while here, which in turn hampers the potential for GE's shares to edge higher. As far as I am concerned, there is a considerable risk of shares remaining in 'no man's land' for the next 12 months.
If you like to read more of my articles, and like to be kept up to date with the companies I cover, I kindly ask you that you scroll to the top of this page and click 'follow'. I am largely investing in dividend paying stocks, but also venture out occasionally and cover special situations that offer appealing reward-to-risk ratios and have potential for significant capital appreciation. Above all, my immediate investment goal is to achieve financial independence.
Disclosure: I am/we are long GE.
I wrote this article myself, and it expresses my own opinions. I am not receiving compensation for it (other than from Seeking Alpha). I have no business relationship with any company whose stock is mentioned in this article.