There are very few stocks out there that we would class as must-own stocks. But we would have to agree with analysts at Jefferies that have labeled global payments powerhouse PayPal (NASDAQ:PYPL) a must-own stock. Thanks to the continuing growth of online shopping, even after the post-earnings jump in its share price, we think PayPal represents a fantastic long-term buy and hold investment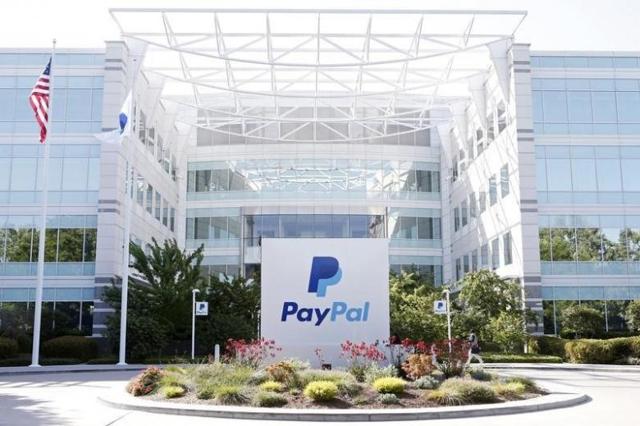 Despite the fact that online shopping is big business, it represents only a small part of total retail sales presently. In the first quarter of 2016 just 7.8% of all retail sales in the United States were made online. Although we still believe bricks and mortar retailing has a future, we see significant growth ahead for online shopping over the next decade. This puts PayPal in an incredibly strong position for growth, especially with its market-dominating position. Apple (NASDAQ:AAPL) with Apple Pay, Alphabet (NASDAQ:GOOG) with Android Pay, and other payment companies such as Visa (NYSE:V) and MasterCard (NYSE:MA) will no doubt be strong competition. But right now PayPal is entrenched and not looking likely to give up its share any time soon.
Once again payment volumes grew in the third quarter despite currency headwinds. According to its quarterly presentation payment volume grew slightly quarter on quarter but over 24% on the prior corresponding period to $87 billion. As you can see below, the year on year growth has been very strong.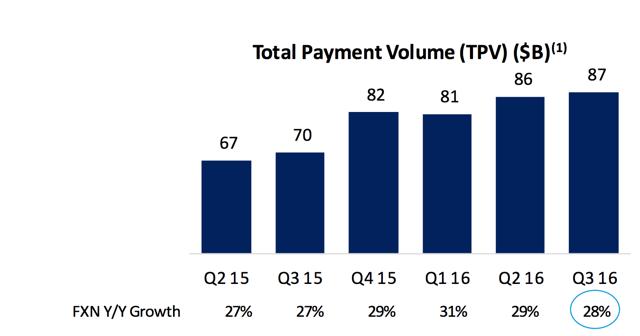 Source: Company Presentation
Playing a key role in this has of course been an increase in active customers. The long run of quarter on quarter growth continues, leading to year on year growth in the quarter of approximately 11% to 192 million accounts.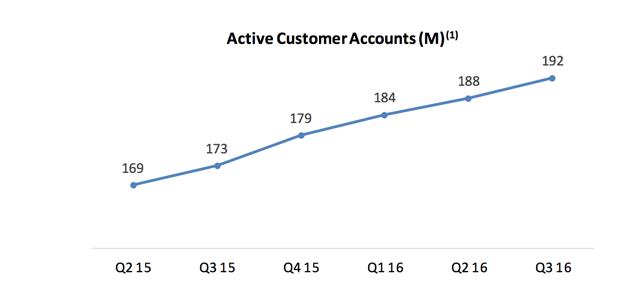 Source: Company Presentation
But it isn't all about gaining new customers. Of course new customer accounts growth is vitally important for the company's growth, but the number of payments they make is just as important. A business could grow active customer accounts at a rapid rate, but if its customers are transacting less and less often then total payment volume will start to shrink. Thankfully, and impressively, PayPal continues to see a rise in the number of payment transactions per active account. During the third quarter PayPal processed 1.5 billion transactions, which was up 24% on the prior corresponding period. Transactions per active account increased 13%.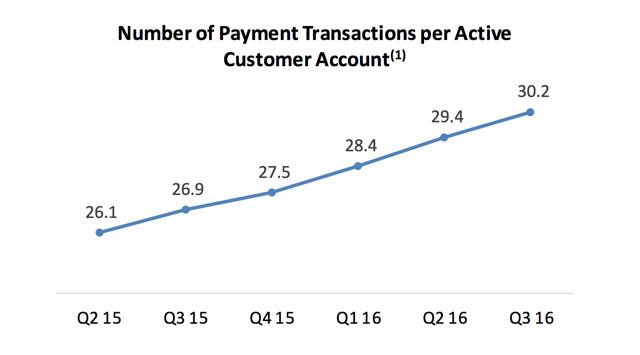 Source: Company Presentation
This is something we expect could continue to grow for some time to come. As online shopping grows, we believe that we are likely to see more and more transactions per active account.
There are two factors that we expect to drive this, with one being the ex of its overall presence. In the third quarter PayPal added a number of notable merchants to its platform that now boasts 15 million active merchant accounts. Notable brands using PayPal include H&M (OTCPK:HNNMY), Costco Mexico (NASDAQ:COST), Yelp (NYSE:YELP), and Yandex Direct (NASDAQ:YNDX).
We think the second driver will be One Touch. When One Touch is enabled shoppers can skip entering login and billing info and just click buy. It really is as easy as it sounds. And anything that makes transacting easier and quicker, without compromising on security and fraud protection is going to go down well with shoppers in our opinion. This certainly appears to be the case as well. As of the third quarter over 32 million active consumer accounts and 4 million active merchant accounts had enabled One Touch.
But it's not all about PayPal's core product. We have found the growth of its Venmo service to be very impressive. Venmo lets users split payments for cabs, food, or bills, for example, with friends and is growing at a rapid rate. In the third quarter the service handled payments of $4.9 billion, after volume grew a staggering 131%. We think the service has a lot more growth in the tank and really fills a niche in the market.
So overall we are very pleased to be invested in this growing company. Admittedly at 39 times trailing earnings its shares appear at first glance to be a little on the high side.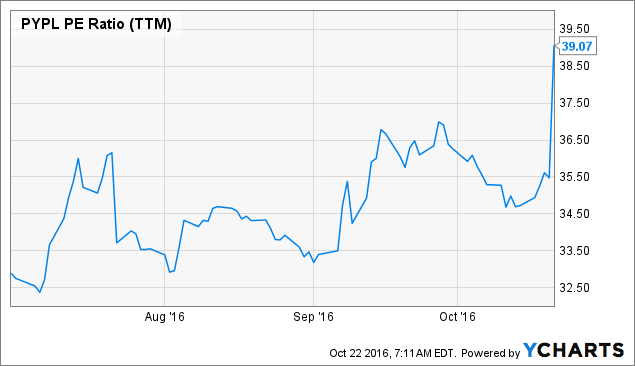 But with management forecasting earnings per share to come in between $1.48 and $1.50 for FY 2016, we feel this makes its shares about fair value now at 30 times forecast earnings.
Moving forward management believe for the next three years, at least, that total payment volume will grow by upwards of 20% per year on a constant currency basis. As they are also hinting that operating margins will expand during this time, we expect that its earnings growth will remain strong enough to justify a PE ratio of 30.
For FY 2017 we have forecast earnings per share of approximately $1.75. At 30 times earnings this would mean a price target of $52.50, equating to a 12-month return of just under 19% from its last close price.
It is for this reason that we agree with Jefferies. PayPal is a must-own stock.
Disclosure: I am/we are long PYPL.
I wrote this article myself, and it expresses my own opinions. I am not receiving compensation for it (other than from Seeking Alpha). I have no business relationship with any company whose stock is mentioned in this article.