2015 was clearly a bad year for both Australia's economy and stock market, with plunging oil prices hurting economic, and hence index performance.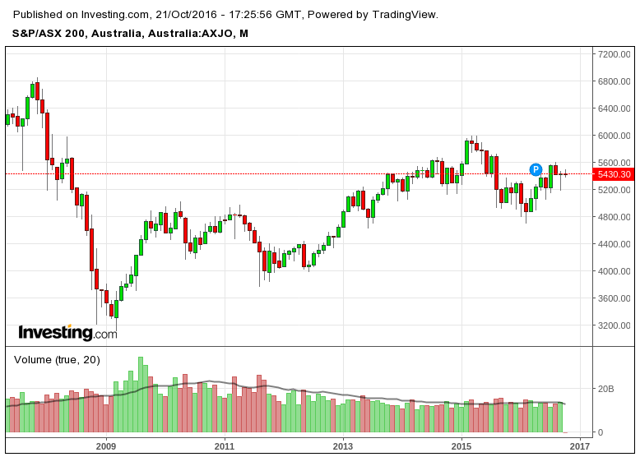 However, we have since seen a rebound in the index from a low of just under 4800 to 5430.30 at the time of writing. At the same time, we have seen the Aussie dollar strengthen significantly as oil prices have been rising, and investors have been looking for a higher-yielding currency. This is particularly the case after Brexit, along with uncertainty regarding policy interest rate decisions in the United States.
So, what are the prospects for the index looking forward? I had already asserted that Australia is, slowly but surely, weaning itself off its dependence on oil in favor of more organic growth within other industries. However, oil prices clearly have an impact and while prices have stagnated, the commodity seems to be on the rebound as the World Bank raises its 2017 forecast to $55. This is expected to have a positive impact on oil exports and the economy, which could well lead to the index going higher from here.
Nevertheless, the question has to be raised as to the potential impact of a stronger Aussie dollar. As the currency strengthens, could exports to major trading partners such as China become uncompetitive? Based on historical patterns, this is highly unlikely. We see that while the AUD has been in an uptrend for a while, it still remains well below the 10-year historical average relative to the USD: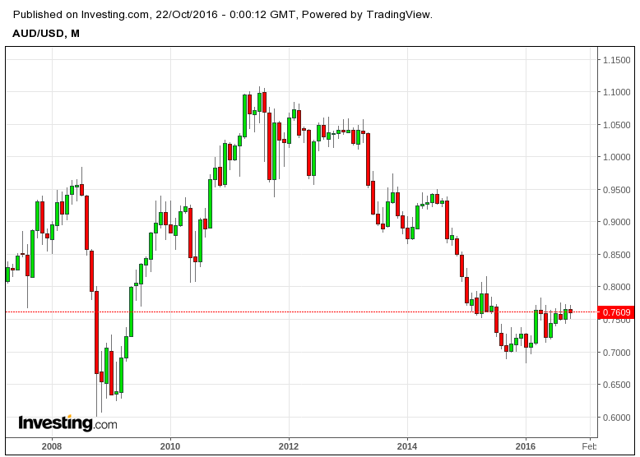 As regards China specifically, trade with Australia has improved as China maintains stable growth of 6.7 percent, and China has now become the top wine export market for Australia, with exports having risen by over 50 percent from last year to $474m AUD. More broadly, I expect that Australian exports to China are set to increase very significantly as a result of the Australia-China Free Trade Agreement which came into being at the end of 2015. As a result, I expect that revenues for exporters across a wide range of industries are expected to increase, and this will lead the index higher.
To conclude, the current economic climate is highly favourable for Australia's primary stock market index. I expect that price will continue to climb higher, and a rebound to a level of 6000 in 2017 is highly possible.
Disclosure: I/we have no positions in any stocks mentioned, and no plans to initiate any positions within the next 72 hours.
I wrote this article myself, and it expresses my own opinions. I am not receiving compensation for it (other than from Seeking Alpha). I have no business relationship with any company whose stock is mentioned in this article.