Markets are irrational as usual. Despite reporting higher revenue in the fiscal third quarter, investors sold off shares of Advanced Micro Devices (NASDAQ:AMD). If Intel's (NASDAQ:INTC) strong results, followed by a weak outlook was any sign, investors should have anticipated profit-taking on AMD's shares. Intel now trades at a P/E below 17 times and pays shareholders a dividend yielding 3 percent. Ahead of AMD's report, rival Nvidia (NASDAQ:NVDA) announced a cheap video card and posted on its blog it would supply the graphics for Nintendo's (OTCPK:NTDOY) upcoming Switch console (previously called NX).
Competition heats up for AMD
AMD may face some competition in the mainstream and budget market for computer graphics card. Nvidia announced on October 19 GeForce GTX1050 will cost just $109. This is very inexpensive for consumers. In response to the launch, AMD dropped prices on the RX 470 and RX 460. The RX 460 is now $10 less, at $100, while the RX 470 is $170. One site notes the RX 470 is not readily available at that price.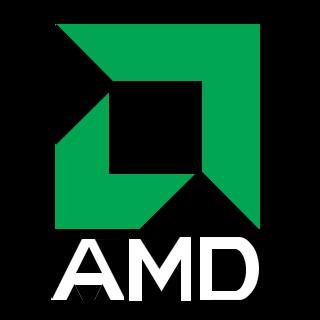 AMD investors need not worry about Nvidia's budget card. The GTX1050 does not support VR (virtual reality), whereas AMD's mainstream RX cards do, at a higher but compelling price.
Nvidia's Nintendo win builds from AMD's approach to custom APIs. On its blog, Nvidia said:
"The Nintendo Switch's gaming experience is also supported by fully custom software, including a revamped physics engine, new libraries, advanced game tools and libraries. NVIDIA additionally created new gaming APIs to fully harness this performance. The newest API, NVN, was built specifically to bring lightweight, fast gaming to the masses."
Nintendo will release the Switch on March 2017.
Revenue jumps
Unsurprisingly, AMD's third-quarter revenue jumped 27 percent quarter over quarter (up 23 percent Y/Y) to $1.3 billion. Higher sales for semi-custom and graphics drove the revenue beat. Revenue from mobile APUs and discrete GPUs grew 11 percent Y/Y. AMD ended the quarter with $984 million in cash and $772 million in inventory. The $29 million increase in inventory will support the ramp up in semi-custom and GPU sales this quarter.
Zen on schedule
AMD met key project milestones during the quarter for Zen's Summit Ridge. The company is confident that it will launch Zen in the first half of 2017 for desktops and servers. AMD will ship in meaningful volumes in the first quarter. For the upcoming (fourth) quarter, the company will ship production samples to its customers. CEO Lisa Su believes Zen and Vega will drive revenue and profitability for the company in 2017.
Investors should note top line revenue growth, free cash flow, and operating margin improvements will happen in the next 18 to 24 months. That makes the dip in AMD's shares on October 21 a blip on the way up: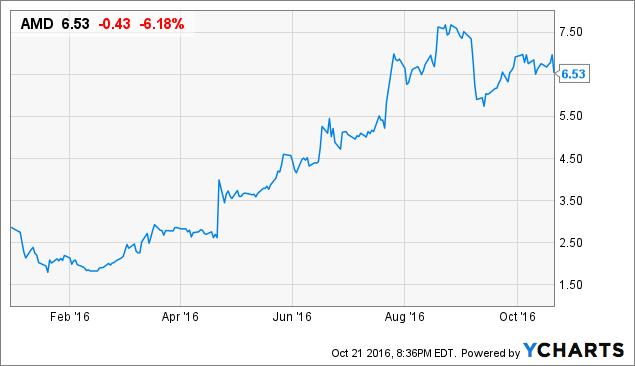 Share issuance and debt sale
AMD's share issue and sale of debt, which netted the company nearly $1 billion, is a dark spot for shareholders. The stock may re-test the $5.74 level this quarter, since the company will not report GPU sales during the holiday until next quarter nor will it benefit from Zen sales until 2017. This quarter, AMD attributed $340 million in charges to an amendment to the WSA with Global Foundries. The agreement gives AMD more flexibility in adjusting chip production.
Bottom line
NVDA's cheap GPU will most likely have little, if any, impact on AMD's GPU sales in the next six months. Though the company issued a light outlook for the upcoming quarter, it still forecasted a $112 million drop in inventory. Once sales for the older generation chips exits inventory, AMD's revenue growth should accelerate.
AMD does not anticipate Zen's release will face any delays. There are still risks. Poor reviews, price cuts from competitor Intel, or poorly received demand after launch will hurt sales. If early preview reviews are any indications, chances are low Zen will disappoint the market.
Bears will pressure the stock in the near term. The short float is 10.85%. Looking ahead, AMD has a bright future. As the company resolves some supply constraints for its add-in board and it wins deals through the Alibaba (NYSE:BABA) cloud partnership, AMD may beat its lowered expectations next quarter. The stock will then respond by moving higher.
[+] Follow me for continued coverage on AMD. Click on my name next to my avatar at the top of the article and optionally get free real-time alerts. Thank you for reading.
Disclosure: I am/we are long AMD.
I wrote this article myself, and it expresses my own opinions. I am not receiving compensation for it (other than from Seeking Alpha). I have no business relationship with any company whose stock is mentioned in this article.
Editor's Note: This article discusses one or more securities that do not trade on a major U.S. exchange. Please be aware of the risks associated with these stocks.