With today's official acquisition offer from BAT for RAI amounting to $47B, the entire tobacco sector turns smoking hot, with Altria (NYSE:MO) up +3.7%, Phillips Morris International (NYSE:PM) up +1.7% and Vector Group (NYSE:VGR) up more than 3%.
Altria closed the highest in a month just shy of $64 and may have found its bottom after a very strong run in 2016.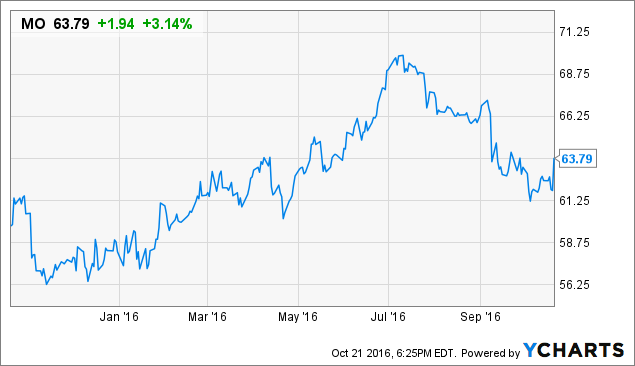 Altria's long-term performance is nothing but outstanding. From 2011-2015 the stock has outperformed the S&P by a considerable distance and its long-term chart demonstrates the company's remarkable success story and management's proficiency in delivering above-market shareholder returns.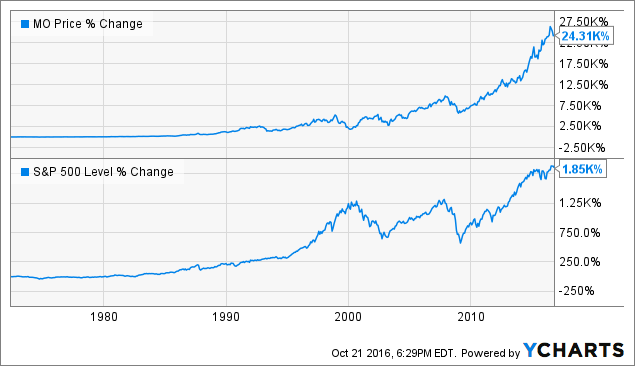 From the '70s till today Altria, formerly Philip Morris, has continually cemented its status as (one of) the most legendary dividend and total return stocks in the entire market, beating the broad S&P 500 by a significant distance.
Dividend investors love this company as it boasts one of the most impressive dividend track records with 50 increases over the last 47 years. Its current dividend yield sits at a healthy 3.8%. Its 3-year CAGR is above 9%.
With such an impressive history, the pressure is on for Altria to deliver for the next decades; yield-seeking investors in particular have high expectations.
In the past, the company could rely on extremely stable and reliable income streams, mostly stemming from the tobacco business, but now, with Altria's tobacco division reduced to the US market and all the anti-smoking headwinds swirling around, the question is whether the company is up for the challenge and what strategy it adopts to withstand these pressures.
Altria's Snapshot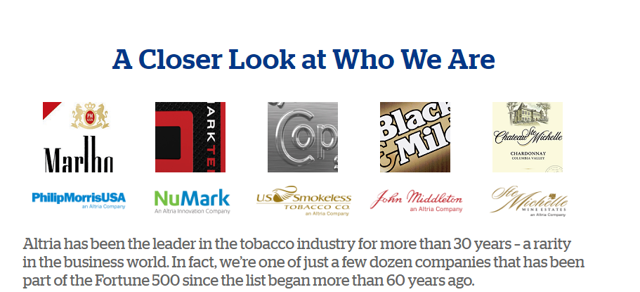 Source: altria.com
Let's start with an official description of the company itself:
"Altria Group is a Fortune 200* company headquartered in Richmond, Virginia. For more than 180 years, Altria's companies have built some of the best-known brands in the world - Marlboro, Copenhagen, Skoaland Black & Mild - that today lead their respective categories"
With more than 8,000 employees, the company is generating $19bn revenue and $5.63B net.
The company wholly owns 5 core areas:
PhilipMorrisUSA: home of the iconic Marlboro brand, it is the largest tobacco company in the U.S and is contributing the lion's share to Altria's bottom line
John Middleton: concentrates on manufacturing machine-made cigars and pipe tobacco
U.S. Smokeless Tobacco: another world leader in the field of moist smokeless tobacco
NuMark: this is Altria's incubator for new innovate products in the e-vapor market
Ste. Michelle Wine Estates: the only non-tobacco related company of Altria focuses on a strong portfolio of premium brands and helps diversify revenue.
Today's Altria is not the Altria of the past as the company carried out various spin-offs and buyouts of companies in which it had strong stakes. The most notable ones are Mondelēz International, Inc. (NASDAQ:MDLZ), Philipp Morris , The Kraft Heinz Company (NASDAQ:KHC) and SAB Miller.
These M&A activities produced fabulous returns for shareholders but have now also left the company more vulnerable than ever before to its U.S. tobacco business (Philipp Moris USA) -- as the international tobacco business has been spun off into Philipp Morris International.
The five companies mentioned above only represent Altria's wholly owned subsidiaries. Apart from these the company now has a 9.6% stake in Anheuser-Busch Inbev SA/NV (NYSE:BUD) which merged with SAB Miller in what is termed the "mega brewer-merger".
Let's put into perspective what Altria got
Before that deal Altria held roughly 27% in SAB Miller and most shareholders wanted to accept a 100% cash deal which would have left Altria with a monstrous cash amount which would have to be fully taxed with capital gains tax. However, Altria went ahead and created a far more valuable transaction in which it received the majority of the transaction volume in stock, precisely 185 million shares of restricted stock in BUD, and only a comparatively small amount of $5.3B was supplied in cash.
In addition, Altria will also help run Anheuser-Busch, since it will get two board seats hosted by Altria's CEO and CFO respectively. Due to different reporting periods of Altria and BUD, there will be a significant uptick in Q4 earnings for Altria.
What do shareholders get?
Short-term and long-term this is terrific news for Altria's investors as the sole reliance on that still stable and reliable tobacco business faces tremendous risks whereas the beer business has not been under similar scrutiny yet. This positions the company well for future cash flows and dividend growth.
The company has already decided to boost its share-buyback program by $2B and also raised its dividend by 8% in September reaffirming its strong dividend track record history.
Altria targets a maximum payout ratio of approximately 80% of adjusted EPS, which is currently perfectly in line with its target.
Investor Take-Away
The recent closure of the SAB Miller deal with BUD provides enough reasons for Altria's shareholders to cheer. Not only has the company raised the volume of its stock repurchase program and boosted the dividend, but that vital 9.6% stake provides valuable diversification to Altria's business model.
The future looks bright and at today's prices the stock is simply a long-term buy for investors wanting to own a company with a very stable business and which is doing its utmost to react to regulatory and legislative changes to reduce its dependence on the tobacco business.
Altria should be able to boost its dividend going forward at a healthy ratio. Based on that assumed growth of 8-9% over the next 5 years and then a terminal growth of 4% the stock appears to be undervalued between 15% and 37% if we apply a discount rate of 8% and 7%. I personally prefer the 8% discount rate as this is in line with the overall long-term stock market return.
What do you think?
Is Altria making the right steps?
Will the tobacco business plummet like a rock which cannot be offset by the beer business?
Should Altria act more like an investment company to further diversify its business, and in which direction?
What will be management's next surprise?
If you like this article, please hit the "follow" button.
Disclosure: I am/we are long MO, PM.
I wrote this article myself, and it expresses my own opinions. I am not receiving compensation for it (other than from Seeking Alpha). I have no business relationship with any company whose stock is mentioned in this article.