It took them long enough, but as I suggested it might seven months ago, British American Tobacco (NYSE:BTI) is bidding for the 57.8% of Reynolds American (NYSE:RAI) that it does not already own, intending to create the world's largest publicly-traded tobacco company. And as I expected, the bid came in at a 20% premium over Reynolds' October 20th closing. It is hard to guess the cause of the delay, but uncertainty about the condition of its principal banker ─ Deutsche Bank (NYSE:DB) ─ may well have given BAT's management some pause.
I had expected an all-cash bid, given the valuation difference between the two companies' shares. Even after its considerable post-'Brexit' rally, at 19.0X the Financial Times consensus earnings for this year, BAT is trading at a substantial discount to Reynolds' 23.2X (Yahoo! Finance). Shares are an expensive currency in this situation. However, BAT has offered $24.13 in cash and the remainder of the (current) $56.50 bid price in the form of 0.5502 BAT shares (note that BAT's ADRs represent two of its underlying, London-listed shares).
BAT's shares responded strongly to the decline in the value of Sterling that resulted from British voters' decision to leave the European Union. BAT has little revenue in Pounds, so the depreciating British currency has boosted its share price. BAT's shares have risen as much as 21% in Sterling terms from the date of the 'Brexit' referendum on June 23rd. Meanwhile Reynolds' share price performance has been fairly poor since early July until the announcement of BAT's bid.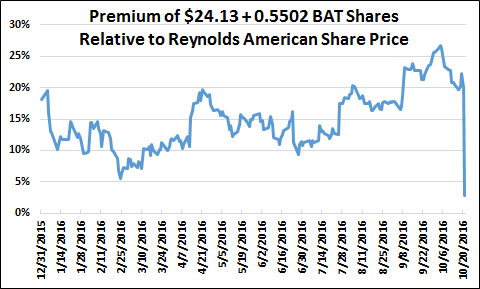 But since June 23rd Sterling is down 18% relative to the dollar, offsetting much of BAT's local currency share price gain. This simply underlines the fact that, given the valuation differential between the two companies, and the low borrowing costs that a company as soundly financed as BAT enjoys, a bid making use of shares is not financially optimal. Their use is justified only because there are a large number of taxable Reynolds shareholders who would otherwise insist upon a substantially higher premium. Their interests are likely to prove crucial to the final form of the deal, and on the evidence of some of the comments that SA readers made on my March 7th article, their interests may well stretch to an all-share alternative.
Although BAT expects the purchase to be earnings accretive in the first year, it is not basing this on a forecast of major cost savings. I have not been able to source a specific forecast from the company, but the numbers being discussed in the press are around $400 million in savings over an unspecified time period. This is hardly compelling given the size of the combined companies. BAT brings to the merged group a certain amount of growth opportunity in the companies' main product line (for the first nine months of 2016 BAT achieved 0.9% organic volume growth in cigarettes), which is essentially unavailable to Reynolds American as a stand-alone. BAT's growth potential in Next Generation products is also higher than that of Reynolds: its accessible market is much larger and most of it is as yet completely untapped. Both companies' shares are income vehicles, although BAT's currently yield slightly less than Reynolds' shares.[1]
The value of BAT's offer as currently structured has averaged a 15% premium over Reynolds American's share price since the beginning of 2016 and more than 20% over the last month. Reynolds' shares are down 13% since July 1st, having been penalized for a disappointing Q2 earnings announcement. Shareholders may object that there is a certain amount of opportunism in the timing of BAT's offer ─ and of course there is ─ but while the premium it is offering is not generous, Reynolds shareholders would be unwise to regard it as insulting. There are few cost savings or acquisition synergies to support a significantly higher one.
Reynolds shareholders are a loyal group, but the offer will inevitably give rise to some soul-searching. In particular, they will contemplate the fact that BAT's offer has driven Reynolds' share price to a new all-time high, which fundamentals alone do not support and which Reynolds would otherwise be unlikely to achieve in the next year or two. Capital gains are not the primary motive for most investment in tobacco stocks, but even determinedly income-oriented investors are unlikely to refuse them. The prospects for the combined group to provide them, while continuing to produce income comparable to that Reynolds' investors already enjoy, are good and demand consideration.
A deal structure with a greater equity component, or even an all-stock option, should attract these investors' serious consideration. BAT is an unknown quantity to most Americans, although there have been periods, for instance in the mid-1980s, when U.S. interest and onshore trading activity in its shares was high. BAT is an excellent candidate for the "Honorary American" stock exchange status enjoyed by a handful of non-U.S. companies such as Royal Dutch, Honda and Unilever, and should its offer for Reynolds American go through, it is quite likely to achieve it.
---
[1] A note on ADR yields: dividends on the underlying shares are translated at the exchange rate prevailing at the time of payment. In a rapidly changing exchange rate environment, this can give a misleading impression of an ADR's yield prospects. It is wise to consult local currency data, for instance Bloomberg's quote page for BAT's London-listed shares.
Disclosure: I/we have no positions in any stocks mentioned, and no plans to initiate any positions within the next 72 hours.
I wrote this article myself, and it expresses my own opinions. I am not receiving compensation for it (other than from Seeking Alpha). I have no business relationship with any company whose stock is mentioned in this article.