Pearson's (NYSE:PSO) 9-month results were a resounding dud. The company missed analyst revenue expectations prompting the stock to drop by 8% during the day. But despite the headline results, PSO's long-term prospects and my bullish thesis remain unchanged.
Summarizing the bull case that I outlined in this article, PSO's dividend at 6.5% is safe and well above market dividend yields. The problem is that investors are uncertain that the company will be able to maintain and grow its dividend in the future.
But liquidity at the company is strong; their markets are at a trough; and there is an additional liquidity option by the name of Penguin Random House that the company can tap if things get truly hairy.
Once these factors are recognized, income seeking investors should return to the stock in droves driving the dividend yield to a more sensible level and providing nice capital appreciation to shareholders who bought here.
Revenues continue their decline, but is the turnaround close?
Fig. 1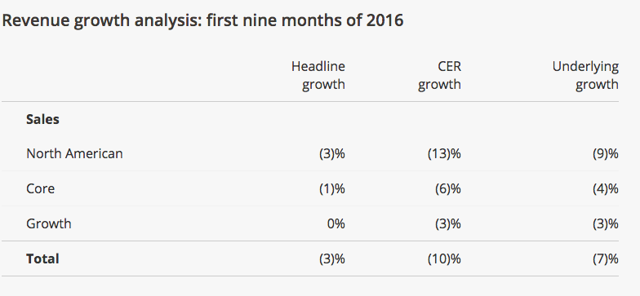 Source: 9-month interim management statement
In Fig 1, readers can immediately see the weakness in PSO's overall markets. Once again, the biggest culprit was Higher Education courseware, which the company attributed to both cyclical and secular factors impacting retailers. Despite the company's lower base of sales for 2016, Pearson reiterated its guidance for this year as well as its GBP 800m operating profit target by 2018.
Analysts on its 3Q earnings call, however, were skeptical that it could get there.
Barclays: ...I am struggling to understand why you can reiterate 2018 when it seems to be very likely that this North American higher education revenues will be materially lower as a starting point in 2016…I don't really understand how that can't be a problem that you are starting at a lower revenue base.

Deutsche Bank: If we just stand back from this you're blaming the [retailer] channel for some of the problems there for two years in a row... Isn't there really another suggestion that this is a market that is going through some pretty profound changes and that is what is causing the drop in revenue per enrollment?

Goldman Sachs: Can you talk about what enrollment trends you need in 2017/2018 to reach the 2018 guidance? And ultimately what gives you confidence in these measures?
As these analysts identified, these sales issues cannot be ignored, but context here matters.
Management's market research has indicated that the buying behavior from students and instructors has not changed. And in fact, inventory corrections from Pearson's Higher Education distributors may finally be normalizing as textbook returns fall and purchasing from retailers rebounds as Fig. 2 suggests.
Fig. 2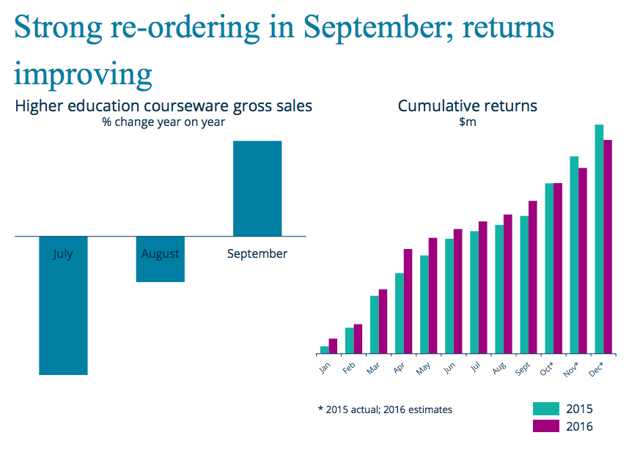 Source: 9-month interim management statement
Meanwhile, the company's digital transformation is making up more and more ground. Pearson noted in its trading statement that:
In Higher Education, REVEL registrations almost doubled compared to the previous year;

In assessments, PSO's partnership with Measured Progress Inc. was awarded the contract for the next-generation Massachusetts Comprehensive Assessment System;

VUE was awarded a contract to deliver the new Blueprint Certification exams for digital advertisers for Facebook;

In K12 courseware, PSO's new literacy programmes, ReadyGen and Investigations 3.0, are helping gain share in the Open Territories.
The unexpected declines forced the company to curtail discretionary expenses such as new hires, travel, and third-party spend to remain on track to hit guidance for 2016. It's terrific to know that across Pearson's GBP 3.5bn cost base that the company has an ability to take savings when it needs it, but you don't want the company to keep pulling these "levers" because it would ultimately impact the long-term strength of the business.
The dividend remains safe
On Pearson's 3Q conference call, the company was asked about its dividend. Two items really stuck out here. First, PSO's operational restructuring is on track to complete by year end, so the company's cash flows will normalize by next year allowing the company to generate free cash flow.
Second, Pearson's CFO Coram Williams noted on the 3Q conference call that while the company pays its dividend in sterling, 90% of the company's earnings are generated in currencies that have appreciated significantly against the sterling. These currency moves have actually improved overall cover on the dividend.
In sum
Investors should not be surprised that PSO's recovery would be lumpy; the once mighty print publisher is transforming into a digital education giant and that level of change isn't simple. Going into the end of the year, sales at the Higher Education courseware business will need to be monitored. It will be a major swing factor for the company's GBP 800m 2018 target.
Still the investment case here isn't impaired. The above market dividend is well protected by a solid balance sheet and the Penguin Random House liquidity option. Meanwhile, Pearson's management team is making all the right moves to advance the company into digital. A single product company focused on digital education will arise out of this year; streamlined operations eliminating much of its printing space; and GBP 350m of annualized savings to replace all the revenues that have been sold off over the last few years.
In fact, I took advantage of the drop below $10 to add to my bullish position on the company.
Disclosure: I am/we are long PSO.
I wrote this article myself, and it expresses my own opinions. I am not receiving compensation for it (other than from Seeking Alpha). I have no business relationship with any company whose stock is mentioned in this article.