Hopefully, this article will help you grow your assets.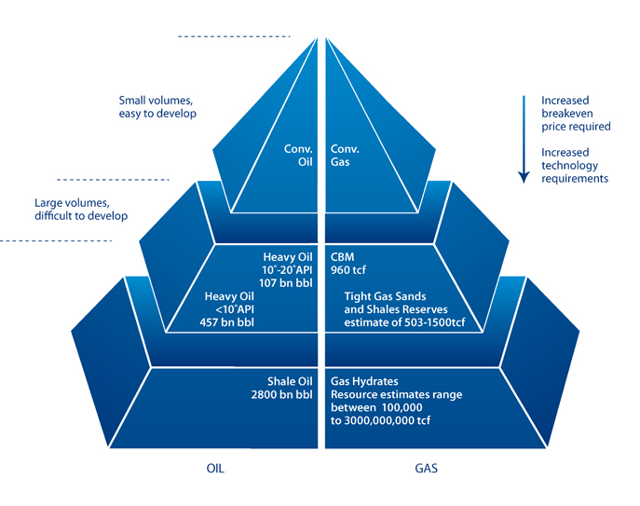 Chesapeake Energy Corp. (NYSE:CHK) is an oil & natural gas exploration and production company. It is one of the larger unconventional oil & natural gas drillers in the US, with 8,171,000 net acres of prolific oil & natural gas fields as of December 31, 2015. 4,128,000 net acres of the above 8,171,000 net acres are "developed" net acres. In other words, the leases are held by production.
In its latest Analysts' Day, CHK claimed to have whopping 11.3 BBoe in recoverable resources. That is after the resource totals have been chopped considerably over the last couple of years due to the dramatic fall in the price of oil. One might guesstimate that the longer term total might be at least twice that. CHK's stated Locations numbers tend to support this hypothesis. There are approximately 17,500 total locations with about 10,500 above 20% ROR and 5,600 above 40% ROR. CHK currently has 17 prospects adding value to the current HBP (held by production) positions. It has 15 growth opportunities in CHK-operated basins. It has 11 new basin entry plays. The above figures are at $60/barrel WTI oil and $3/mcf natural gas. Still more resources will be added due to increases in the price of oil and natural gas over time. Some more will be added due to further exploration activities. Some more will be added due to new drilling and completion techniques.
On top of all of the above, CHK could see the 11.3 BBoe estimated double (or more), then double (or more) again when CHK begins to add in secondary and tertiary recovery techniques. It seems unlikely the company will do this last until after the price of oil rises to above $80/barrel. In 2015 both the IEA and OPEC estimated that oil would take until 2020 to reach $80/barrel again. At least one expert speculates that oil prices could reach $120/barrel as soon as 2018. With oil prices, no one can ever say for sure. However, the long term direction does appear to be upward; and that should be good for CHK's future profitability.
The chart below gives the current EIA forecast for WTI oil prices through 2017.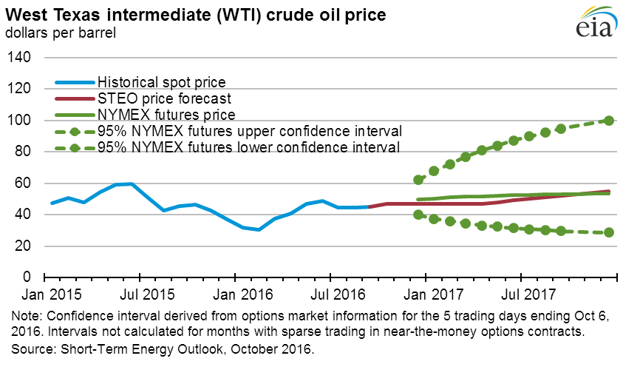 Clearly the EIA thinks there is a large degree of uncertainty. However, the trend toward $55/barrel for WTI by the end of 2017 is heartening for CHK's investors.
The chart below gives the current EIA forecast for Henry Hub natural gas prices.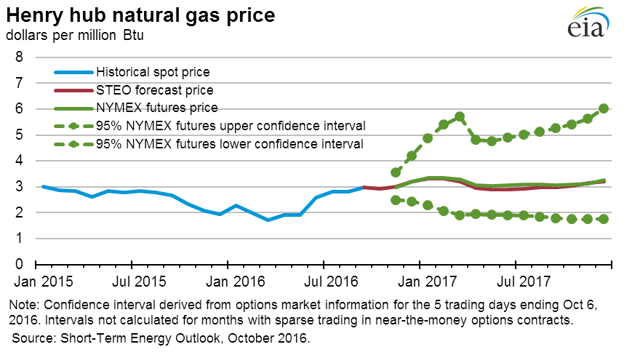 Some readers may not believe US natural gas prices will go higher. However, they should consider that the US exports to Mexico via pipelines and exports elsewhere via a growing number of US liquefied natural gas export plants are expected to put upward pressure on US natural gas prices. The US is expected to use more natural gas to power electricity generating power plants in years to come. Plus there are numerous other uses that should add to the total. Short term US natural gas consumption by itself is expected to rise roughly 1 Bcf/day in 2017.
After CHK's Analysts' Day on October 20, 2016, numerous analysts heaped upgrades on CHK.
Nomura raised its rating to Neutral from Reduce. It raised its price target from $4 to $7.50.
Bank of America / Merrill Lynch raised its rating from Underperform to Neutral. It increased its price target from $6 to $10.
UBS raised its price target on CHK from $4.25 to $6.00.
Wunderlich upgraded CHK from a Hold to a Buy. It raised its price target from $6 to $10 (September 2016).
Sun Trust increased its 12-month price target from $8 to $11 (September 2016).
There may have been some other recent upgrades that I did not find. However, the five recent ones above seem likely to give CHK's stock price a boost. The above five raised their average price target by an average of +$3.25/share to an average of $8.90 per share. CHK's closing price on October 21, 2016 was $6.68 per share. That gives CHK an upside of $2.22 per share as an average 1-year stock price target (approximately +33%) based on the above recent ratings changes. That is a good to great one year gain for most investors.
CHK has been performing as a well managed company should. It has been improving its efficiency in virtually ever aspect of its operations. It has been reducing its debt load (from about $21.8B in 2012 to just $10.9B currently). It plans to reduce its debt by another $2B-$3B. It plans to achieve free cash flow neutrality.
For the charts below, the price assumptions are $2.50/mcf - $3.50/mcf for natural gas and $50/barrel - $70/barrel for oil.
CHK plans to reduce leverage to 2X's Net Debt/EBITDA (see chart below).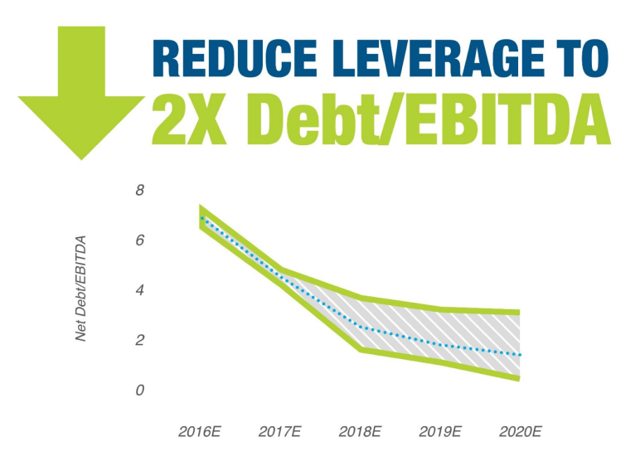 CHK is targeting 5%-15% production growth through 2020. This will translate into a requisite growth in Capex (see charts below).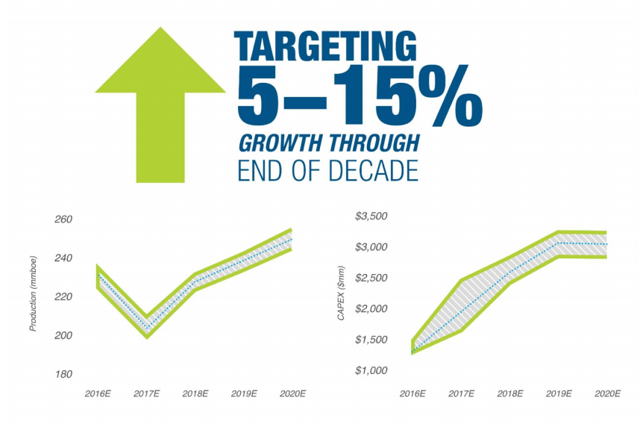 CHK is expecting to triple its margins through all means by 2020E (see charts below).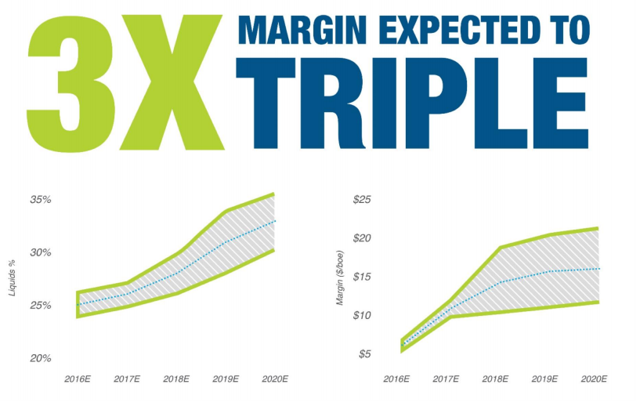 CHK is expecting EBITDA growth to almost double by 2018 (see chart below). This should make CHK solidly profitable by 2018.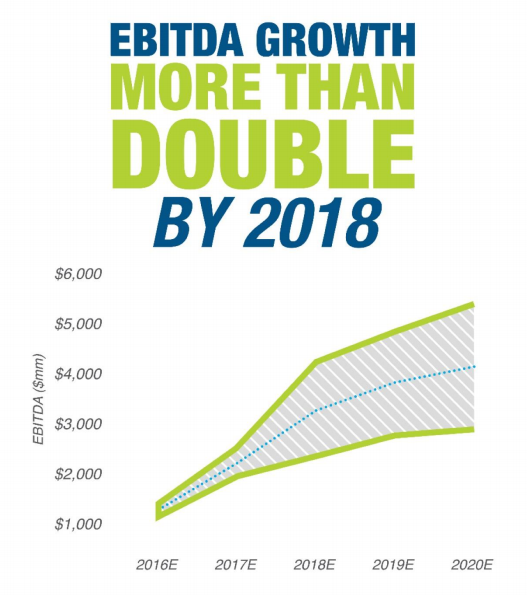 Some of CHK's impressive play statistics are below:
In the Haynesville CHK has a $2.35/mcf PV10 break even point for natural gas with 18.9 Tcf of recoverable natural gas.
In the Marcellus CHK has a $2.00/mcf PV10 break even point for natural gas with 11.2 Tcf of recoverable natural gas.
In the Utica CHK sees a $2.15/mcf break even point for natural gas and a $37/barrel break even point for oil with 1.6 BBoe in recoverable resources.
In the Powder River Basin CHK sees a $35-$45 per barrel break even point for 1.7 BBoe in recoverable resources.
For the Oswego in the Mid-Continent, CHK sees 170% ROR for 1.0 BBoe at a break even point below $40/barrel.
In South Texas CHK sees a break even point of less than $39/barrel with recoverable resources of 2.0 BBoe.
I am sure I have still left a lot out in the above summary. However, readers should be able to see that CHK is well positioned to make money at relatively low prices for both oil and natural gas over the next several years. The above is a good part of what excited the analysts on CHK's Analysts' Day. It should excite you too. The Nymex price of natural gas closed on October 21, 2016 at $2.99/mmBtu (about per mcf); and the Nymex WTI oil price closed at $50.85/barrel. These prices indicate that CHK may logically be able to execute on its stated plan. It will be interesting to see the Q3 2016 data when CHK reports on November 3, 2016.
The two year chart of CHK provides some technical direction for a trade/investment.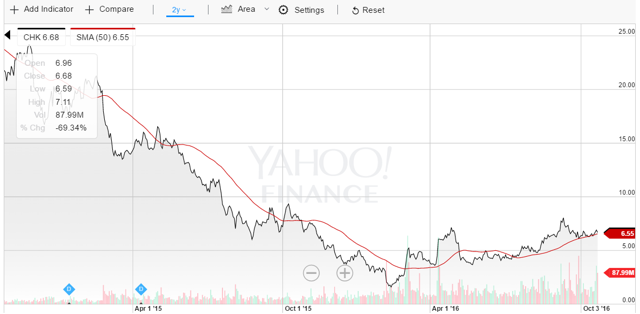 The chart above shows that CHK has found a good technical bottom. The stock price appears to have started a slow, but strong, uptrend. This should cheer CHK investors. The recent Nymex WTI oil prices and Nymex natural gas prices (see above) should also cheer investors. CHK does have swaps at $46.84/barrel for 75% of production for the rest of 2016. These may limit profits; but they increase safety. Plus the oil swaps go to an average of $49.68/barrel with only 52% coverage in 2017. For natural gas 66% of the swaps remaining in 2016 are for an average of $2.85/mcf (72% coverage from all natural gas hedges). This rises to $3.07/mcf in 2017 with 60% coverage in swaps (63% coverage from all natural gas hedges).
In all CHK is set up for improving results from the end of 2016 through 2017. This should make investors happy. I would probably recommend a Buy based on the picture described above. However, there is a good possibility of a recession in 2017. Therefore I will give CHK only a low buy rating at this time. However, I was very much encouraged along with analysts by the Analysts' Day presentations. The recent news from CHK's propaggedon success (a fracking well completion with a massive 25,000 tons of sand that increased well output by 70%) was just another example of CHK's promise for the future. Even the numbers cited above could look much rosier if an overall 70% increase in average well output could be achieved.
If investors see strong signs of a US recession, they may want to sell at least temporarily. Oil and natural gas prices normally go down during a recession. Plus both the EU and the Chinese economies are troubled at this time. A US recession would almost certainly mean a lot more trouble for both. It could bring on the Chinese credit crisis that has been threatening for years. The federal government with fiscal stimulus and the FOMC with monetary stimulus might do virtually anything they can to avoid such an eventuality. Therefore it is far from a certainty.
NOTE: Some of the fundamental fiscal information above is from Yahoo Finance.
Good Luck Trading/Investing.
Disclosure: I/we have no positions in any stocks mentioned, but may initiate a long position in CHK over the next 72 hours.
I wrote this article myself, and it expresses my own opinions. I am not receiving compensation for it (other than from Seeking Alpha). I have no business relationship with any company whose stock is mentioned in this article.