The Christmas holiday season is a joyous time where friends and family get together and collectively diminish their bank accounts to buy gifts for one another. The average spending per person in 2015 was over $800, and with sales expected to increase by 3.6%, that number should remain the same for this year as well. To help counteract this hit to our bank accounts, I've decided to pick some holiday themed investments, specifically some top companies that deal in electronics and tech retail. In this day and age of technology, it should come as no real surprise that electronics has repeatedly outperformed other sectors (e.g., health and personal care, clothing) during the holiday season. However, just because these are some holiday themed picks, don't just assume that they won't still be viable after the holiday season.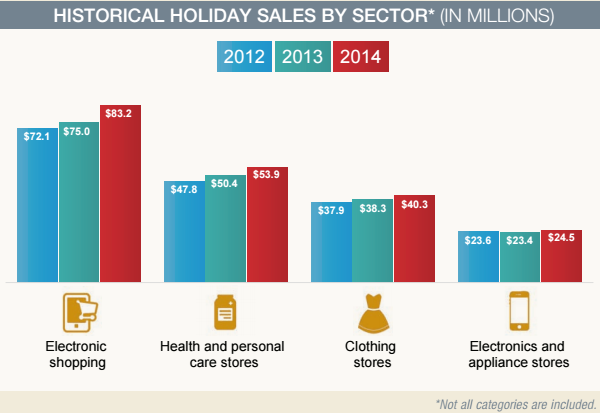 (Source: National Retail Federation 2015 Report)
Best Buy Co., Inc. - (NYSE:BBY)
Best Buy Co., Inc. is a retailer of technological products (consumer electronics, computers and mobile phones, entertainment products and appliances) and also offers services for said products, such as delivery, installation and tech support. During 2015, Best Buy had a rough time after losing 22% and because of that, a lot of investors wrote it off. With a competitor like Amazon.com, which can compete competitively on price with any rival, it's no wonder that Best Buy is no longer the only giant. However, things are looking better for Best Buy after starting January of this year at $27.93 and as of 20 October at $39.48, gaining 41.35%. Along with this growth rate and relatively low price point (compared to other retailers), it has a good dividend yield at 2.85% and consistent growth in dividend returns over the past few years. Although it's hard to tell if Best Buy will be a good long-term investment, it seems that the potential for short-term gain is there.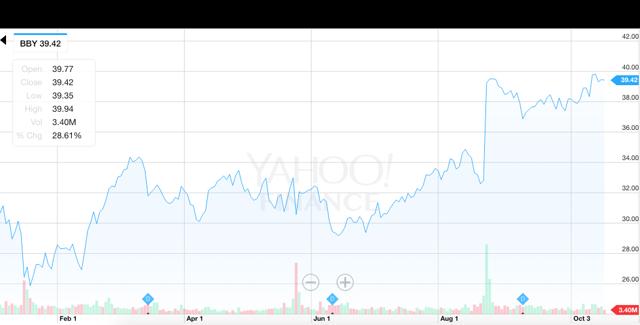 (Source: Yahoo Finance)
Apple Inc. - (NASDAQ:AAPL)
Apple Inc. designs and manufactures mobile and media devices, personal computers and portable music devices to a wide variety of consumers. It also sells related software, accessories for its devices and third-party applications and digital content. Currently, Apple Inc. is roughly at its highest price point at $117.47 ($.16 lower than the actual high) and things continue to look promising. Even though there was a lot of fluctuation during the first two quarters, there has been a 22.5% gain since July 1st. There was also speculation about sales with the new iPhone 7 because of the lack of headphone jack; however, that did not affect sales. During pre-orders, the 7 Plus sold out even before release and the black/jet black colors were so highly demanded that delivery dates had to be pushed back for some customers. Also, with the whole Note 7 "situation" (minor defect of catching fire), investors are jumping into Apple even more heavily with the hopes that consumers are going to switch vendors. Overall, Apple Inc.'s net income has increased 6.7% from 2013-14 and 26% from 2014-15, there's been consistent growth in dividend returns over the past few years and it has a good dividend yield at 1.94%. Short or long term, Apple Inc. seems to be a good investment with its continued success and steady growth.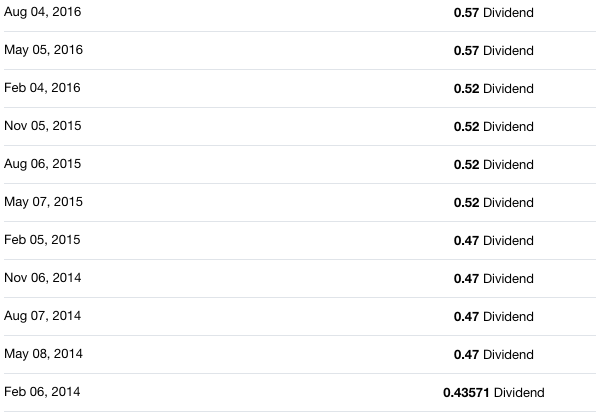 (Source:Yahoo Finance)
Amazon.com, Inc. - (NASDAQ:AMZN)
Amazon.com, Inc. is a domestic and international online retailer that sells merchandise from vendors and third-party sellers, as well as now selling its own brand of merchandise. Although there may be some concerns from an investing point of view, such as no dividends issued yet and relatively stagnant income percentage, these can both be attributed to long-term goals. Amazon's gross profit grows every year, increasing about $6 billion in 2014 and $9 billion in 2015, but so do its expenses and reinvestment is continuous (hence no dividends). Other than expanding into new areas of business, however, Amazon is really pushing its Prime membership service, with the numbers being very promising so far. Studies show that in the US (beginning of 2016), there were about 54 million Prime members, which is an increase of 44 million members from three years prior. Aside from the obvious bonus of the income from membership fees, even more importantly the study shows that members spend an average of $1,100 vs. $600 from non-members annually. Clearly, investors are also eventually expecting to see larger net income percentage increases from Amazon, since its price has steadily gone up from $217.32 five years ago to yesterday's close (20 October) of $810.32, which is a 272.9% increase. In the short term, Amazon clearly isn't a quick money-maker but as a long-term investment, I'd expect to see continuing steady growth and eventually larger net income percentage increases.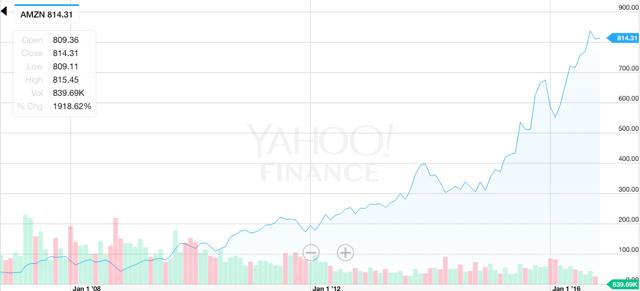 (Source: Yahoo Finance)
Whether you're looking for a short-term or long-term investment or dividend returns from your stocks, at least one of these companies should suit you well. Even though Best Buy didn't have the best performance last year in 2015, it has maintained steady growth so far this year to pick it back up and for a relatively cheap price. Apple had some uncertainty to start off this year, but once the iPhone 7 came out, it proved to still be a giant in the tech world. Lastly, despite Amazon.com not offering dividends or seeing as big of growth (percentage wise) in net income like the other two companies, it continues to successfully invest and grow its business more with each passing year. I expect to continue to see good things with these companies and the investments put into them.
Disclosure: I/we have no positions in any stocks mentioned, and no plans to initiate any positions within the next 72 hours.
I wrote this article myself, and it expresses my own opinions. I am not receiving compensation for it. I have no business relationship with any company whose stock is mentioned in this article.