Microsoft (NASDAQ:MSFT) reported strong growth in cloud and business services for its fiscal 2017 Q1, and this was warmly received by investors. However, revenue from phones continued to implode as Microsoft pulls back from the sheer cliff that was Nokia. Microsoft may well have a good strategy for mobile devices going forward, but it's not really being articulated for investors.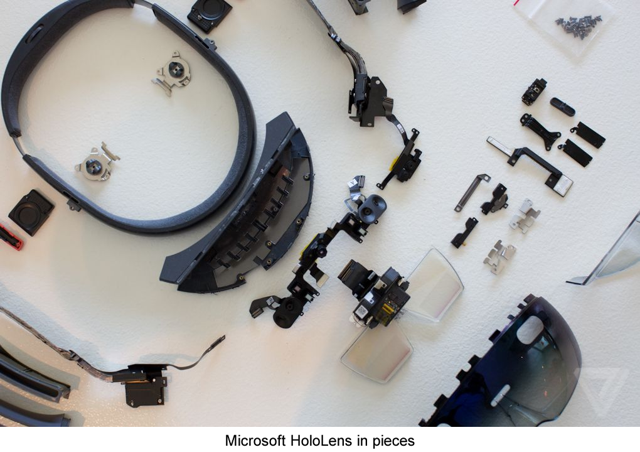 (Source: The Verge)
Tangible Relief
During the conference calls for the past couple of quarters, analysts and Microsoft management alike have tended to tread lightly on the subject of Windows Phone, and the call on October 20 was no exception. In CEO Nedella's prepared remarks, there was no mention whatsoever of Windows Phone. Instead, he talked about investment in new device categories:
Surface continues to drive category growth and more commercial customers are choosing to deploy Surface...

The Windows Holographic Platform and Microsoft HoloLens are opening up new, differentiated opportunities on Windows. This quarter we made Microsoft HoloLens Development Edition available to all developers and business customers in the U.S. and Canada, and last week we expanded our presence to six additional markets...

And coming in 2017, we will enable our hardware partners to deliver entirely new mixed reality experiences with Windows Holographic on Windows 10.
If we take this literally, Microsoft's mobile strategy is simple: Surface tablets and convertibles for mobile Windows 10 computing, and HoloLens and other as yet unspecified Windows Holographic device. And that's it. Not a smartphone in sight.
It took a while for it to sink in. Could it really be this simple? Well no, I don't think so either.
Let me back up at this point and just acknowledge that a big part of the new mobile device strategy is what Microsoft is already doing to become a device-agnostic cloud and business services provider. As Microsoft has moved to a software subscription model for its business software, it has also diversified the platforms it supports, including Apple (NASDAQ:AAPL) iOS and Google (GOOG, GOOGL) Android. Microsoft has also adopted much the same strategy for its commercial cloud services.
Productivity and Business Processes revenue grew 6% y/y, while Intelligent Cloud revenue grew 8%. More Personal Computing (MPC) revenue declined 2% y/y to $9.294 billion, and the $799 million decline in phone revenue (72% y/y) probably had something to do with that.
Although curtailing the Nokia experiment has left a sizable hole, one senses mostly relief from Microsoft's management. And that relief has a tangible component in the money saved. Despite the drop in revenue, operating income for MPC was up 26% y/y.
Strategic Imperative
OK, so Microsoft could simply give up on mobile devices and become a cloud services company. That would work, but I doubt that's the strategy. There are a variety of reasons for this.
Mostly it has to do with the size of the dominant mobile device ecosystems, iOS and Android, and the tendency of both Apple and Google to captivate (as in to make captive) their users with their own set of cloud services and free apps. Microsoft has to compete for the attention of these captive users.
It makes cloud services all the more competitive, which may in part explain the 14% drop in operating income for Intelligent Cloud. Microsoft still needs to tap into its own base of Windows 10 users, which continues to grow and now stands at 400 million. As Windows PC users retire their older machines, and as enterprises upgrade from Windows 7, the number of Windows 10 users can be expected to increase.
The company has done a good job of designing its powerful Surface devices, and many other Windows OEMs offer similar devices. However, Microsoft has already acknowledged it will not achieve 1 billion Windows 10 users by 2018, and I'm not convinced it will ever get there. Two things are impeding this: Windows 10 itself and the lack of a Windows Phone business.
I recently pointed out that Microsoft will need a much better "Windows 11" to help it get to its goal. And I'm not convinced that Windows Phone is dead. Microsoft created a fairly compelling usage case for Windows Phone with its Continuum feature that allows the phone to be used conveniently in desktop mode.
Apple and Google also have moved in the direction of making their smartphone platforms usable on the desktop, and I expect we'll eventually get to the point where this is common. So one scenario that I consider still plausible is that Microsoft brings out a "Surface Phone" equipped with a shiny new Intel (NASDAQ:INTC) processor fabricated on the 10nm process that is expected in 2017. The hallmark of the phone is that it would provide a truly seamless Windows experience.
I'm still hoping such a phone is in the works. It's a phone that Microsoft really needs and that many consumers want.
Is HoloLens the Mobile Future?
If Microsoft has plans for future phones, it's keeping them tightly wrapped. But we keep hearing about HoloLens, and clearly, Microsoft is serious about it. But as a smartphone replacement?
I think there could be some technological trends that work in HoloLens' favor. First and foremost, smartphone processors are becoming so powerful that they really can stand in as a PC replacement. Their major shortcoming in this regard is screen size.
VR/AR can be thought of as a way to mitigate that screen size limitation in a way that is still fairly portable. I'm convinced that it will be possible to reduce the size of HoloLens over time. Achieving the "holographic" effect may require that all processing be self-contained, but for simple display purposes, this type of head mounted display could connect wirelessly to a smartphone. Offloading the processing to a smartphone would allow the glasses to be even lighter and more compact.
So there are a variety of scenarios where the HoloLens display technology can be applied, going from the full-up "holographic" version to a simpler display adjunct for smartphones. I believe that Microsoft is emphasizing HoloLens because it's a form of mobile computing device that is differentiated from its competitors. Nadella's statement quoted above suggests that the company will license its display technology to partners for a variety of mobile applications.
Investor Takeaway
I don't think Microsoft is done with mobile. It's too important strategically. Having been burned by the Nokia purchase, Microsoft will avoid frontal assaults on the existing mobile empires of iOS and Android. I believe the company's mobile strategy can be summed up in three words: infiltrate, augment and convert.
Microsoft will infiltrate the existing mobile ecosystems through its cloud services and subscription software (already underway). It will augment existing mobile devices through HoloLens-like display devices as well as providing its own augmented reality vision in HoloLens. And finally, Microsoft will convert many current Windows users to tablets, convertibles and, yes, probably future Windows Phones.
I'm optimistic that Microsoft can make progress on all fronts in 2017 and rate it a Buy.
Disclosure: I am/we are long AAPL.
I wrote this article myself, and it expresses my own opinions. I am not receiving compensation for it (other than from Seeking Alpha). I have no business relationship with any company whose stock is mentioned in this article.