For periods of time, the yield on cost ("YOC") has been used as one of the favorite metrics in the Dividend sections of Seeking Alpha. However, it can be misleading.
How do you use the yield on cost metric?
A common usage of yield on cost is to illustrate how a quality company has consistently increased its dividend over time. I acknowledge that the YOC is great for showcasing that.
Amgen example
If you invested in Amgen (NASDAQ:AMGN) five years ago, you would have started with a yield of almost 2% and would be sitting on a yield on cost of nearly 7%. Your total rate of return would be 203%, equating an annualized gain of 25%. Not too shabby at all!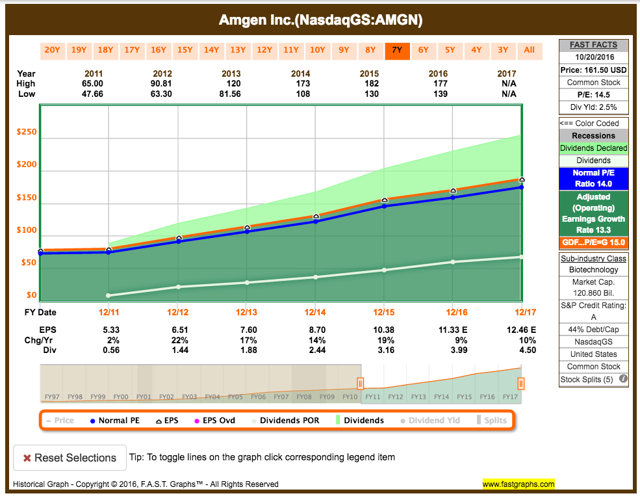 Amgen's consistent earnings growth leads to consistent dividend growth
From the fiscal years 2011 to 2015, Amgen compounded its earnings per share by 18.1% per year and its dividend by 54.1% due to growing its earnings and expanding its payout ratio from 11% to 30%.
Toronto-Dominion Bank example
If you were Canadian, and you invested in Toronto-Dominion Bank [TSX:TD](NYSE:TD) in 2000, you would have started with a yield of about 2.7% and would be sitting on a yield on cost of about 10.5%.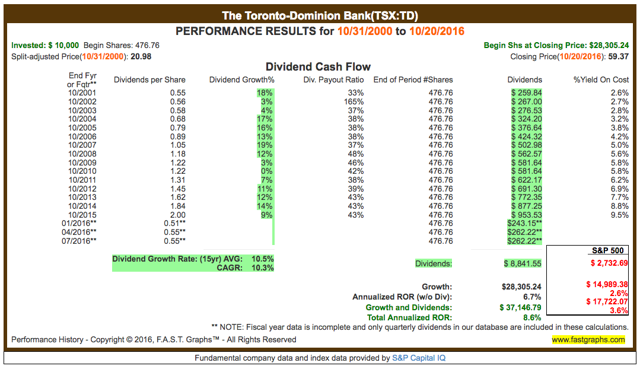 Your total rate of return would be 273%, equating an annualized gain of 8.6%. This doesn't seem outstanding compared to what an investment in Amgen have achieved in five years, but the returns still more than doubled that of the S&P 500 returns in that period.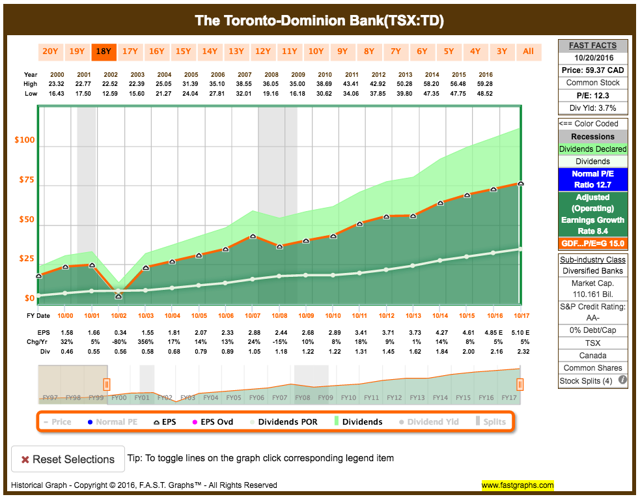 TD Bank's earnings growth and dividend growth over time
Just like Amgen, Toronto-Dominion Bank's growing earnings over time has allowed its dividend to grow.
The earlier you invest in a quality dividend-growth company, the higher your yield on cost will be over time.
It's certainly impressive to tell others that you're sitting on a yield on cost of 50% (or any other big percentage) for an investment.
Coca-Cola example
For instance, if you bought Coca-Cola (NYSE:KO) at a split-adjusted price of $2.80 per share back in 1987, you would be sitting on a yield on cost of 50%. Crazy, I know!
However, most investors don't just invest a lumpsum and then forget about it. Chances are that they're in the accumulation phase and buying more shares over time.
So, if you had invested $1,000 in good ol' Coke in 1987 and bought $4,000 more worth of shares in 2008 when it was fairly priced, your yield on cost would suddenly be 15.5%.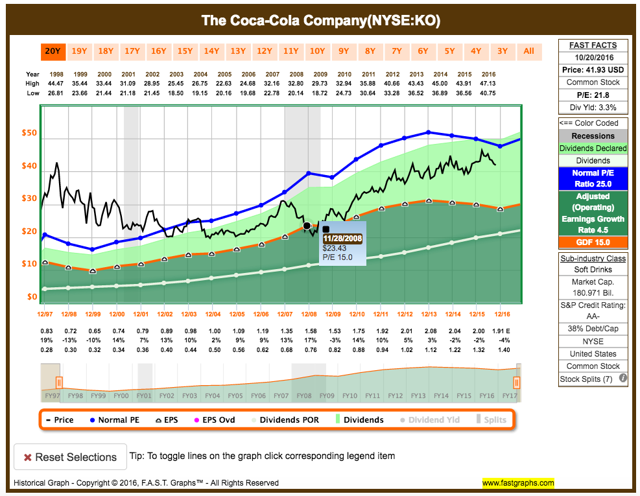 Of course, a yield on cost of 15.5% is still nice. But I hope you see that following the YOC and seeing it grow is only something to feel good about.
As you make purchases throughout your life, the yield on cost will experience drag downs.
It's more important to focus on the fundamentals that lead to dividend growth (and growth in the yield on cost).

Growing earnings (or cash flows), a healthy payout ratio, and management's willingness to hike dividends allow for dividend growth.
Why not try to boost the initial yield?
By starting with a higher yield, you're jumpstarting your yield on cost.
The best way to boost your intial yield is to buy companies at the right valuations. (At least, don't overpay for them.)
The lower the quality a company is, the greater margin of safety investors should wait for before buying.
For example, you might be willing to pay a small premium for Johnson & Johnson (NYSE:JNJ) shares because of its stability and rock-solid balance sheet.
(It's one of the very few companies awarded an S&P credit rating of AAA.) So, you might be willing to pay a P/E of a little over 17 for a safe, growing yield of 2.8%.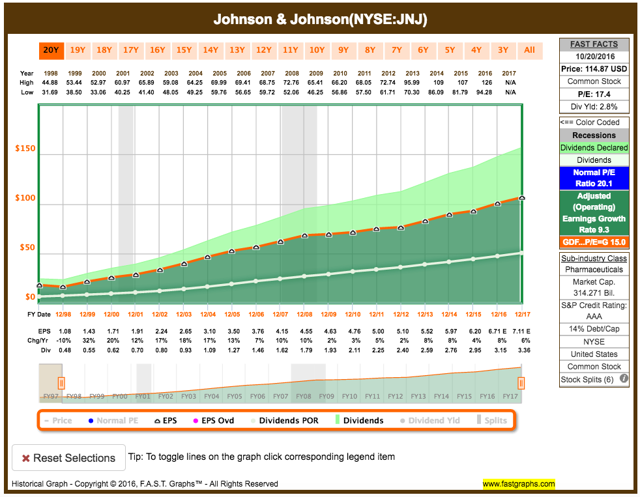 Similarly, for a quality Healthcare REIT such as Welltower (HCN), investors may be willing to pay a multiple that's close enough to a fair valuation for a 4.9% yield.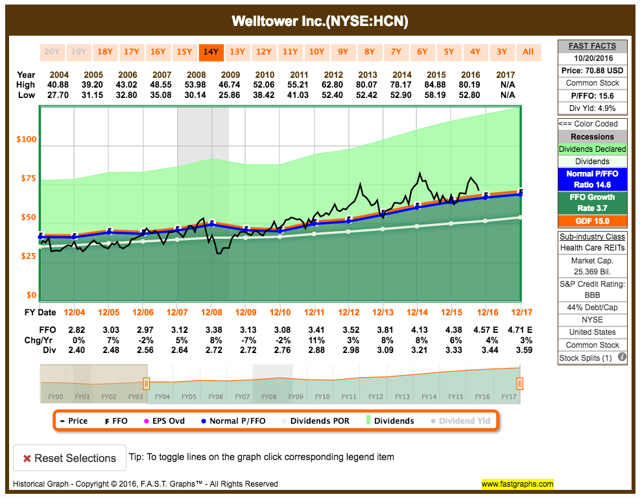 However, for a lower-quality Healthcare REIT such as Omega Healthcare (NYSE:OHI), investors would likely require a larger margin of safety before buying.
The current valuation gives a margin of safety of about 20% and offers a higher yield of 7.4% to compensate investors for taking a higher risk.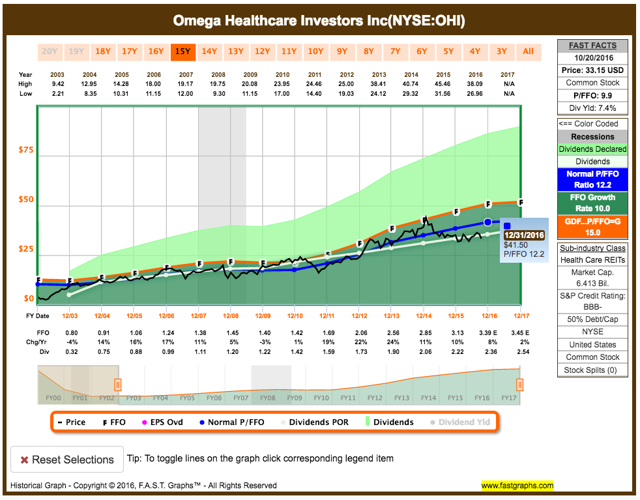 It follows that the quality of the dividend should be of more concern. Imagine you own Welltower and Omega Healthcare. Which one would you rather have a 10% yield on cost on?
Foreign stocks
Some investors avoid foreign stocks due to the added foreign exchange volatility, so I thought it'd be interesting to include one in this discussion.
Novo Nordisk A/S (NYSE:NVO) is a Denmark company with a leading position in the global insulin market.
Its website shows that it has increased its dividend per share every year from 2005 to 2015. In the DKK currency, its 1-, 3-, 5-, and 10-year dividend growth rates were 28%, 21.1%, 26.2%, and 26.7%, respectively, compounded annually.
However, translated into the USD currency, there would be added volatility to the effective dividend US investors would receive due to the foreign exchange.
Yet, in the USD, Novo Nordisk's 1-, 3-, 5-, and 10-year dividend growth were 14.8%, 13.9%, 20.9%, and 25%, respectively, which were still better than many dividend-growth companies I've come across.
Over the last 15-, 10-, and 5-year periods, Novo Nordisk beat the market. (Though it was a close call in the 5-year period.) This outperformance was in terms of both total returns and total income received.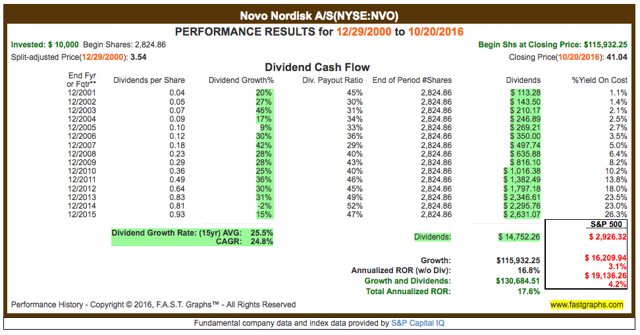 Novo Nordisk 15-year performance vs. the S&P 500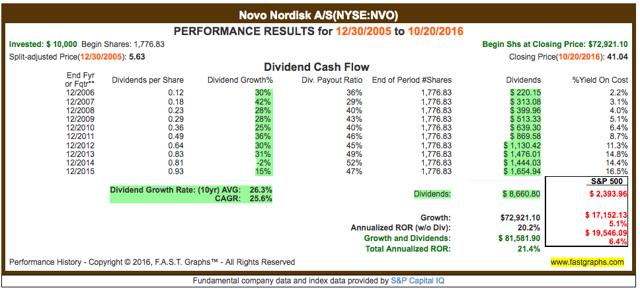 Novo Nordisk 10-year performance vs. the S&P 500

Novo Nordisk 5-year performance vs. the S&P 500
Despite the added uncertainty from the foreign currency, Novo Nordisk still managed to beat the market over the long-term and deliver above-average dividends and dividend growth.
Conclusion
So, fellow dividend investors, other than rooting for a higher yield on cost from dividend growth, it's far more important to buy companies at the right valuations to jump start the yield (and yield on cost).
At the same time, look for companies that tend to generate stable, growing earnings (and or cash flows) over time to increase the safety of your dividends. Also, determine what's a good dividend payout ratio for the companies you own.
Share your thoughts in the comments below
Do you track the yield on cost? (Don't be shy to admit it. I do.)
Which metrics do you think are most important to ensure the safety of the dividends you receive from a company?
If you like what you've just read, you can also follow me. Simply click on the "Follow" link at the top of the page to receive an email notification when I publish a new article.
I also run a premium service for my subscribers who get priority attention and gain access to my real-time buys and sales. Feel free to try the service for free for two weeks.
Disclaimer: This article consists of my opinions, are for general information and educational purposes only and doesn't constitute as financial advice. Please do your own research and due diligence and consult a financial advisor and or tax professional if necessary before making any investment decisions.
Disclosure: I am/we are long AMGN, NVO, OHI, TD. I wrote this article myself, and it expresses my own opinions. I am not receiving compensation for it (other than from Seeking Alpha). I have no business relationship with any company whose stock is mentioned in this article.