Recommendation: Long Chipotle Mexican Grill (NYSE:CMG) equity
Current Stock Price: $393.96 (October 18, 2016)
Target Stock Price: $600 (52.3% return)
Timing: 12-24 months
Catalyst: Store sales recovery, improved profitability, new store growth

Situation Overview
History has shown that the best investment opportunities present themselves when a high-quality business runs into short-term trouble. The opportunity at Chipotle today is just that. Since the company's IPO in 2006, it has compounded value for shareholders at an astounding rate. However, in 2015, widely reported health safety issues led to steep traffic declines at Chipotle's restaurants, which have persisted.
In 2016, the company has seen its comparable restaurant sales fall ~20% and operating margins fall from the high teens to a low-single digit level. The stock market has responded by cutting CMG stock price in half from $757 to $393.
While caution is certainly warranted, the market is pricing in a worst-case scenario where Chipotle never fully recovers its historical economics and has muted growth prospects. This is simply too pessimistic. The reality is that it has seen its once clean brand image temporarily impaired, but 10 months after the last health incident, Chipotle is poised to begin rebuilding its image and win back customers.
I am confident in management's ability to execute on Chipotle's proven model. The restaurant chain has fantastic store unit economics and plenty of runway to grow over the coming decades.
Why am I cautiously optimistic?
Valuation is still elevated, and the stock price will be extremely sensitive to quarterly financial results over the foreseeable future until investors regain confidence in the story. There may still be opportunities to purchase CMG stock at lower prices; however, taking a longer-term view, it's clear that as long as Chipotle continues to execute, equity value will continue to compound and the gap between price and value should eventually close.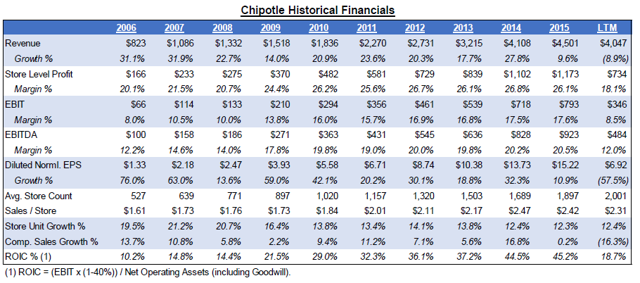 Chipotle Has Fully Addressed Its Health Safety Issues
It is important for investors to have a high degree of comfort that Chipotle has fully addressed the health safety issues. The possibility of further health safety issues is the most significant risk to owning the stock. If I am wrong in my view that the company has not systemically fixed its supply chain and safety procedures, then my thesis is totally off-base and the stock is not worth owning at these levels.
That in mind, I took meticulous care in researching the health safety issues and have spoken to industry experts familiar with Chipotle's supply chain. I firmly believe that not only has the company addressed the relevant issues, but that it has likely gone way overboard in instituting systematic changes to ensure the risk of future contaminations is virtually nonexistent.
To review what happened, there were 5 separate incidents:
July 2015, 5 people were sickened by E. coli in Seattle
August 2015, 234 people were sickened by norovirus in Simi Valley, CA
September 2015, 64 people were sickened by Salmonella in Minnesota
October 2015, 52 people were sickened by E. coli in 9 different states
December 2015, 136 people were sickened in Boston by norovirus
The first thing to point out is that norovirus is caused by a sick employee coming to work and serving food. This is not related to systematic supply chain issues and can be prevented by more rigorous in-store safety procedures. Chipotle has created a new health safety captain job in each location. All employees are required to report to the safety captain to assert they are in good health. The company is providing paid sick leave for all employees to incentivize sick employees to stay home.
While Chipotle was never able to determine the source of the E. coli and salmonella outbreaks, the company has taken extreme measures to prevent future outbreaks. These include:
More rigorous supplier requirements - Suppliers are now required to implement preventative systems, including validated hazard analysis and critical control point processes. Chipotle has proactively partnered with its suppliers to design these more robust systems and has implemented regular microbial testing of supplier ingredients that come into restaurants.
Ingredient tracking system - The company has invested in a robust scanning system where every ingredient in each store can be tracked at every leg of the supply chain back to the farm.
Preventative steps taken in food preparation - All food ingredients are subjected to high pressure processing, which inactivates harmful bacteria without damaging food quality. Steak is slow cooked before it is grilled, which effectively destroys E. coli. Chicken is now only marinated after store hours to prevent raw meat contamination. All vegetables are dipped in boiling water for a few seconds as a final kill step before being soaked in lemon juice and thoroughly washed.
Investments in staff education - All staff must participate in an extended health safety class and be certified before they are allowed to work on the food line.
Dedicated food safety staff - Every restaurant has a dedicated food safety employee responsible for making sure all safety procedures are followed and that every employee is appropriately healthy to work. Chipotle has also created a new Executive Director of Food Safety position in its corporate office and has created a food safety advisory council to work on continuously improving safety procedures over time.
Restaurant safety audits - Every restaurant is now subject to a bi-weekly food safety audit by CMG corporate as well as a third-party safety consultant.
The above measures give me a great deal of comfort that Chipotle has not only addressed any potential systemic safety issues, but that the chain will likely be viewed as a food safety leader by industry experts.
I also strongly appreciate management's general attitude towards prioritizing safety over profits in the near term. When it became clear that 8 restaurants in the Pacific North West had contaminations, the company took an abundance of caution by closing 43 restaurants in Oregon and Washington State and proceeded to deeply sanitize the stores and replace all of the equipment. In March 2016, Chipotle closed a Boston location when a sick employee came to work, again out of an abundance of caution - no employees or customers were made sick. Since the health incidents began, management has stated many times in interviews and during presentations that they will continue to sacrifice shorter-term margins to make sure safety is the first priority.
Many bears believe that because Chipotle is unique in its exclusive use of fresh ingredients and unprocessed foods, it is systemically unable to ensure food safety on a large scale. This is just plain wrong. Going back to the founding of the chain 23 years ago, there have been no other major food incidents. I view the food incidents in 2015 as an extremely unlikely black swan type of event that is unlikely to repeat itself, particularly after the overhaul of CMG's safety procedures described above. There have been no additional health incidents since the safety overhaul was implemented in January 2016.
Finally, there is an ongoing federal investigation over how Chipotle handled the food safety incidents. The investigation primarily aims to determine if Chipotle knew about the food contamination issues before it took action to close stores and protect consumers. While bears believe there is the potential for large fines and criminal indictments for executives, I do not think the investigation will materialize into much. Based on the company's track record of being an extremely responsible and socially conscious brand, and the strong response to the health safety issues, I doubt there will be much to uncover. That being said, if something inappropriate does materialize from the investigation, it will likely be an isolated incident that will lead to a nominal fine. Similar investigations in the past led to fines ranging from $1.5 million to $11 million. Optimistically, I believe that once the investigation is concluded and any fines are paid, uncertainty will be lifted from the stock.
Customers Will Come Back And Unit Economics Will Eventually Be Restored
Whether it was the food safety scandal with KFC in China or the many incidents at Taco Bell in the US, history shows that customers come back. In the case of a national food scandal, it typically takes 4-6 quarters for a restaurant chain to fully recover. When crisis strikes, heavy advertising helps, but it is just human nature for customers to forgive and forget once enough time has passed.
The most extreme example is the E. coli outbreak at Jack In The Box (NASDAQ:JACK) in 1993. Hundreds of customers were sickened across four states, and four children died. Sales at JACK declined by 22% in the quarter following the incident, and the chain experienced lower comparable store sales for a total of four quarters before customers returned.
Today at Chipotle, three quarters have passed since the incidents were reported, and the company is about to report the fourth quarter on October 25th. Comparable store sales bottomed in January 2016, and its results improved every month since. Once CMG fully anniversaries the safety incidents in Q1 2017, it will have extremely low bar in terms of comparable sales metrics year over year.
The company is also engaging in its largest promotional efforts ever. Over the summer, CMG launched its first ever loyalty program, which was focused on bringing customers back to stores more frequently to win free entrees. The loyalty program was temporary, but Chipotle will likely replace it soon with a permanent loyalty program which may utilize its mobile app. Last year, the company hired a CIO from Starbucks, where he held the same position. Starbucks has had great success driving increased traffic with its mobile app-based loyalty program.
I believe Chipotle has a great deal of untapped marketing potential. Historically, it did not advertise very much, spending less than 1.5% of sales on advertising versus over 3% for most QSRs. The company's core customer has been health-conscious millennials who made purchases multiple times a month as part of a "Chipotle habit". While this low advertising model based on high frequencies from a core customer has worked great for CMG in the past, it leaves out a lot of potential customers. For example, while I knew Chipotle was a socially conscious company, I had no idea that the restaurant was 100% free of GMOs and antibiotics, nor did anyone I asked.
As illustrated earlier, the company has historically had great store-level economics. Before the food safety scandal occurred, the average Chipotle store did over $2.5 million in sales and generated 28% in store-level operating margins. An additional 8% in corporate overhead left ~20% in overall EBIT margin.
Today, average store unit volumes are at $2.0 million and store-level margins at 15%. The 13% lower margin consists of ~3% in one-time costs, ~2% permanently lost from investments in labor and supply chain, and ~8% from volume deleverage. This means that if the current stores were returned to $2.5 million average unit volumes (AUV), store-level margins would be ~26%. Of course, Chipotle may not achieve $2.5 million in AUVs again for several years, creating a multi-year margin headwind. Corporate overhead will likely remain at a similar percent of sales, which means fully normalized EBIT margins will be ~18%.
These margin figures assume no price increases, which is quite conservative. I believe Chipotle has the ability to increase price above the rate of inflation. In 2014, it posted full-year comparable sales growth of 16.1%, half of which was driven by a price increase. Outside of a few markets like New York and Chicago, where CMG's burritos cost $10 to offset higher wages, an average Chipotle burrito costs ~$7. Management believes it could easily raise the price without losing many customers. Right now, the company is focused on increasing store traffic, but once traffic figures recover, Chipotle will likely opt to raise prices in 2018 and beyond.
Bears criticize the idea that Chipotle will restore its historical store economics with a variant of the "this time is different" argument. They note that the company was scrutinized on the national stage by the media for 6 months. In the age of social media, it will be much harder for consumers to forget about the health safety scandal, and a segment of Chipotle's core customer may be forever lost.
While the bears make interesting arguments and are probably right that Chipotle has permanently lost some of its die-hard fans, I simply don't buy the argument that society has fundamentally changed. I believe human nature is such that most consumers will either forget about these incidents within a couple of years or be able to forgive the company after enough time has passed. KFC China was able to fully recover its lost sales within 2 years despite its scandal occurring in 2014 (and China is quite social media literate). In the investment world, whenever the argument that "this time is different" is made without substantive evidence to back up the claim, it usually turns out to have been a poorly conceived investment thesis.
The Long-Term Growth Story Is Still Attractive
Aside from the prospect of recapturing historical economics at existing stores, Chipotle has the opportunity to double its store count over the next 10 years in the US as well to as grow in Europe and scale up one of its test brands. Today, the chain operates 2,078 US stores, 14 stores in Canada, 13 stores in Europe, 15 ShopHouse Southeast Asian Kitchen restaurants, and 4 Pizzeria Locale restaurants. While the opportunity to expand Chipotle internationally and scale up a new concept could create significant value, I have chosen to view these opportunities as secondary to filling out the company's market potential in the US. Any growth outside of US Chipotle stores is pure upside to my valuation estimates for the stock.
CFO Jack Hartung made the following comment regarding CMG's long-term market potential in the US:
"At the time of the IPO, we had calculated that if we just penetrated the top 75 DMAs, we could build about 3,000 restaurants in Chipotle. Let's go to the next group of about 150 to 200 DMAs and then had densities similar to our most dense market at that time that was years ago, that would get you up to 4,000. Well, our densities in those dense markets are greater today than they were back then and we've entered different opportunities today. In the last several years of that, we didn't have that then. For example malls, we are starting to enter malls. We've got a couple dozen malls that are doing exceptionally well neither like food court malls where it's very, very small space, a thousand square feet or so. And we're doing phenomenally well. The financials are terrific. We've entered small town, which we had not entered eight years ago.

So we don't think about the pace of how fast we will get there. We know that our potential is at least that 4,000, but it's likely greater. And we know if we're very discerning about the sites that we pick, we pick only great real estate, that we have great managers ready to run those restaurants, we know that the potential whatever that number is, it's going to continue to grow and then the pace of growth is less important than making sure that we have that ultimate tremendous potential."
I believe the company's belief that it can double its US presence is supported by the fact that more than a dozen QSR chains in the US already have over 3,000 locations. Notably, McDonald's (NYSE:MCD) has over 14,000 locations with an AUV of $2.5 million.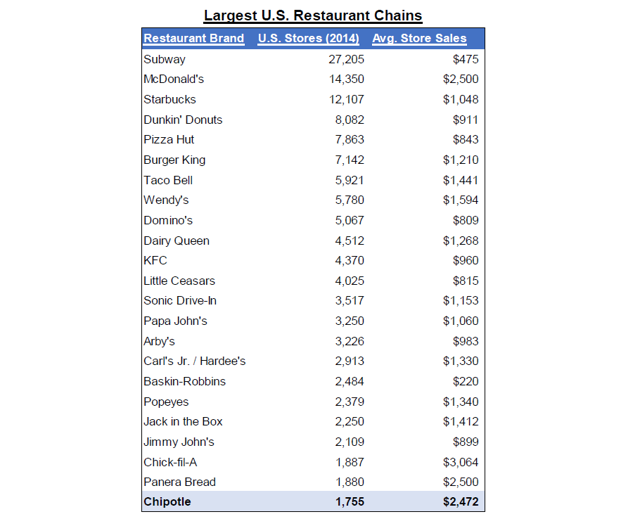 Over the past 10 years, the company has grown its store count at a double-digit rate every year. I believe CMG will be able to expand by at least 200 stores per year over the next 10 years, which would translate to roughly 2,600 by 2018 and 3,000 stores by 2020.
Why is this growth attractive for Chipotle?
Growth creates significant value for the company because of the chain's high return on invested capital. Return on investment above the cost of capital is value-accretive. Given the current low interest rates, the cost of capital for a public company like Chipotle is easily below 20% and likely below 10%.
It costs the company ~$800k to open a new restaurant. New Chipotle stores have been able to generate year 1 sales between $1.6 million and $1.9 million and have been able to grow to a mature level of store sales ($2.2 million+) within 2 years. Therefore, if Chipotle opens a new store and it generates $1.7 million in sales year 1 and a measly 15% operating margin, the store generates $153k in after-tax profit. Dividing $153k by the initial outlay of $800k yields a return on capital of 19%. In year 2, if the new store generates a 20% margin on $2.2 million in sales, the return on capital jumps to 33%. Over time, very little investment is needed to maintain a store (less than $50k per year), which helps drive sustainably high returns on capital for years to come.
Bears have critiqued the growth thesis by noting that Chipotle has already penetrated the highest return market, and that the next 2,000 stores will likely have lower returns on capital and will be unlikely to support the same level of AUVs. Bears further note that a plethora of new competition in the form of Chipotle copy cats and other health-conscious QSR concepts have emerged over recent years, which will make it tougher for the company to grow.
Besides the fact that chains like McDonald's, Chick-fil-A, and Panera (NASDAQ:PNRA) have continued to grow at Chipotle-level AUVs, Chipotle has continued to increase its AUVs every year despite its store base growing at a double-digit rate. This suggests that the company has still not come anywhere close to reaching market saturation. Aside from anecdotal evidence or blanket statements such as "the law of diminishing returns", the bears again have no substantive evidence backing up their criticisms.
A Strong Management Team That Is Well Aligned With Shareholders
An important part of my investment process is to identify the truly great management teams with strong execution track records and the proper economic incentives in place to fight for the shareholders. I believe Chipotle's management team scores highly on all of these metrics.
Steve Ells founded the first Chipotle in 1993 after graduating from the Culinary Institute of America. Ells expanded the chain to 15 locations, before selling a majority stake to McDonald's in 1998. McDonald's provided the capital and expertise to scale up to the national level. In 2006, Chipotle had over 500 locations upon its IPO. In the 10 years following the IPO, the company has quadrupled its store base and has continuously improved its profitability, AUVs, and ROIC nearly every year.
The remaining key executives also have played a critical role in growing Chipotle. Co-CEO Monty Moran is a trained lawyer and was hired as COO in 2005. Over the years, Steve Ells began to rely much more on Monty for day-to-day operations and eventually appointed him as co-CEO in 2009. CFO Jack Hartung was appointed to the post in 2002, and prior to that, spent 18 years at McDonald's. CMO Mark Crumpacker was appointed CMO in 2009, and prior to that, owned a marketing agency.
Aside from the health safety missteps in 2015, execution by Chipotle's long-tenured management team has been exceptional.
Importantly, the executive team remains economically incentivized to continue executing. Despite the management team owning only 3.5% of CMG stock, their current holdings in Chipotle represent the majority of their net worth. This is particularly true for Moran, Hartung, and Crumpacker. Steve Ells was able to sell roughly $60 million worth of CMG stock in the years following the IPO, but his current shares are worth ~$80 million. If the stock re-priced to its former highs of $757, Ells' current stock would be worth over $150 million.
The executive compensation structure is also quite shareholder-friendly. Executive compensation consists of 3 buckets: base salary (~10%), cash bonus (~10%), and equity incentives (~80%). Incentive compensation is equally based on growing sales, net income, and total shareholder returns. For 2016, the Board of Directors decided to base incentive comp solely on total shareholder return over the next three years. Management will receive no equity incentive pay for 2016 if Chipotle stock price does not trade above $700 in the next three years.
In 2015, executives saw significant pay cuts as a result of the food safety incident and its impact on the company's financials. No cash bonuses were paid, and executives received 50% less equity incentive awards. This is despite overall sales rising 10% in 2015 and flat margins.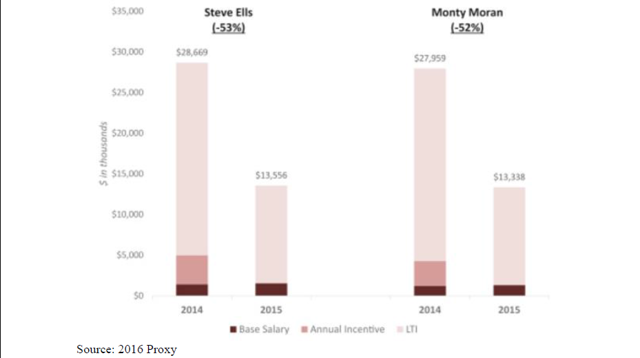 Recent Financial Performance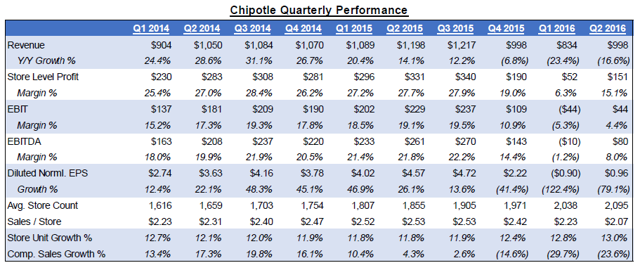 As shown above, Chipotle was hitting on all cylinders before the food contaminations in Q4 2015. In 2015, it was able to post comp sales growth on top of high-teens growth from the prior year. The company was able to improve margins nearly every quarter, all while maintaining new store growth above 10%. These impressive results led to CMG share price peaking to all-time highs in 2015 above $750 per share.
Starting in Q4 2015, the chain experienced double-digit declines in comp sales. Margins cratered as a result of cost deleveraging and one-time expenses tied to upgrading the supply chain. However, the company is still opening new stores at a double-digit clip. The continuation of its growth plans demonstrates management's continued conviction that the brand will recover.
Comp store growth bottomed in Q1 2016 at -29.7% and improved to -23.6% in Q2 2016. Wall Street expects comp store growth to moderate to -18% in Q3 and be roughly flat in Q4. If this plays out, Chipotle comp sales would be down ~20% for the year. Starting in 2017, Wall Street expects the company to grow comp sales at a high-single digit rate for several years, with a full recovery of AUVs occurring sometime around 2019. Because of the structural margin headwinds due to increased costs and labor inflation, Chipotle will likely not fully recover margins until around 2020. These estimates may prove to be too conservative if the company has a strong comeback in 2017 and opts to raise price as it did in 2014.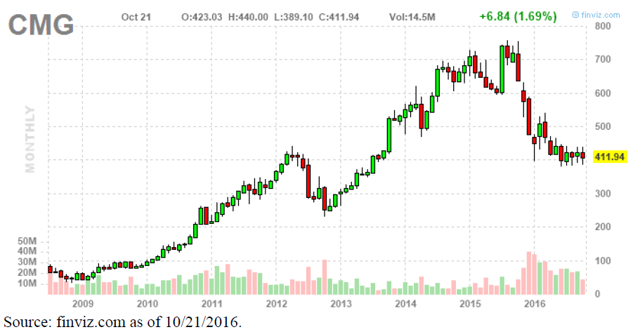 Valuation

The above table compares Chipotle to other "fast casual" restaurants. These relative valuations are not very helpful because there is significant variation in revenue growth, margins, and return on capital. It is more useful to analyze the company versus its own historical multiples and current forward financial outlook.

The above table shows that today Chipotle trades in line with its historical forward multiples. On an absolute basis, these appear to be nosebleed valuation levels; however, these multiples are based on depressed earnings numbers. If you normalized NTM earnings, the P/E multiple would actually be 20x. This normalized multiple of 20x is supported by double-digit earnings growth. Comparing the normalized earnings number to historical earnings levels actually shows that Chipotle is trading at a relative discount to its historical trading levels.
The best way to value Chipotle is to project forward cash earnings over the next several years and assign reasonable multiples to those figures. I have a back-of-the-envelope earnings projection below, but a more detailed line by line model is included at the end of this write-up.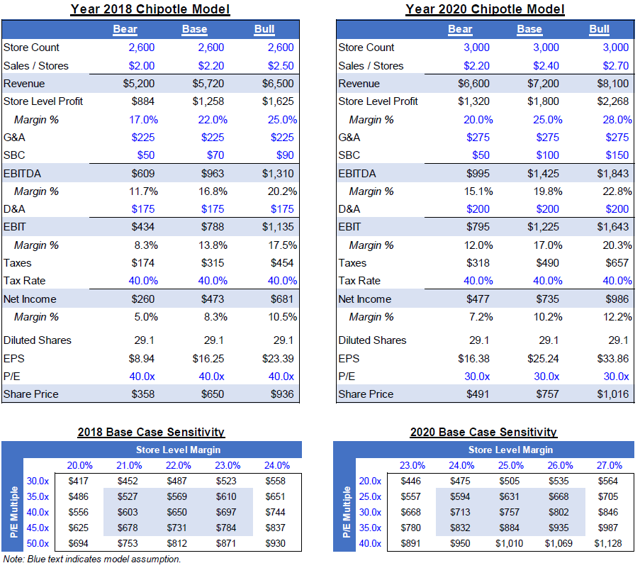 Starting with 2018, I believe Chipotle can achieve EPS of $16.25 (assuming no buybacks). My assumption is that the company can build 200 new stores per year, and that by 2018, the store-level economics are midway to recapturing historical store-level economics. Given that EPS isn't fully normalized, I believe a 40x P/E multiple could be justified. This P/E multiple would be supported by EPS growth in excess of 30%. It gives me comfort that in the 2018 base-case sensitivity analysis, the share price is higher in every scenario, even when assuming much lower margins and valuation multiple.
By 2020, I believe store traffic will have completely recovered and margins will reach their normalized level (~2% below historical levels). However, because Chipotle will still be growing earnings at a rate over 20%, I believe a 30x P/E multiple could be justified. Again this is assuming no buybacks, which is extremely conservative, because significant cash flow will accumulate.
While the valuation today looks elevated even several years into the future, I believe investors today are simply paying up for quality. Given the significant opportunity for the company to grow over the next 10 years, I believe buying the stock at $400 will have looked exceedingly cheap in a few years, when Chipotle is a much larger and more profitable company.
Conclusion
Chipotle today represents the opportunity to purchase a high-quality company with significant growth potential at an attractive price. If management continues to execute, I believe the stock could be worth $600 within 2 years and as much as $750 within 4 years.
At current prices, investors are implying that Chipotle never wins back its customers and that profitability will be permanently impaired. I believe the bears are wrong to bet against a high-quality company with significant tailwinds.
In my opinion, the biggest risks to investing in Chipotle today are: 1) being too early, and 2) the valuation multiple compressing more than expected. The stock price is going to be sensitive to the next few quarters of results. If the recovery progresses slower than expected, the stock will likely fall a bit further. Also, if marketwide valuation multiples compress, my price targets may prove too optimistic. However, if Chipotle continues to see its stock price fall without a major change in the fundamental story, I would view the stock as even more attractive and may consider purchasing more shares.
Base-Case Model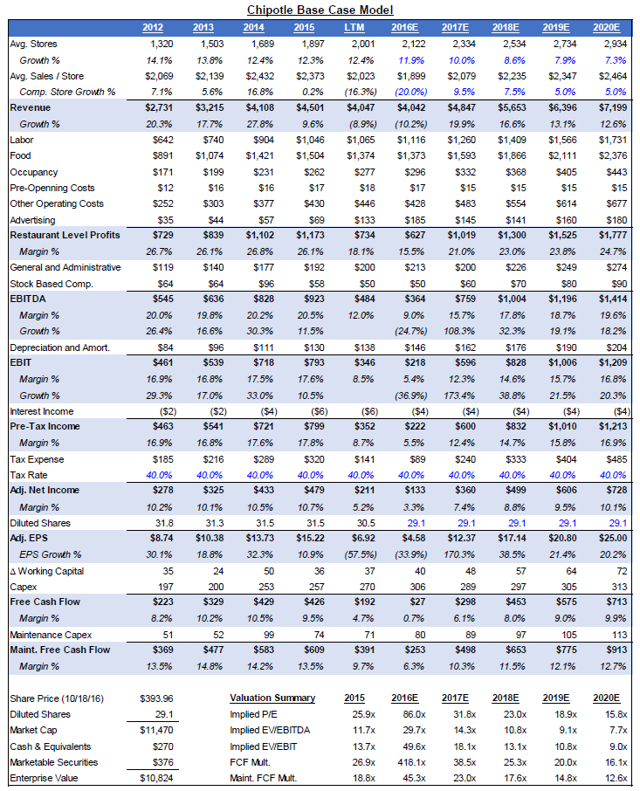 Disclosure: I am/we are long CMG.
I wrote this article myself, and it expresses my own opinions. I am not receiving compensation for it (other than from Seeking Alpha). I have no business relationship with any company whose stock is mentioned in this article.