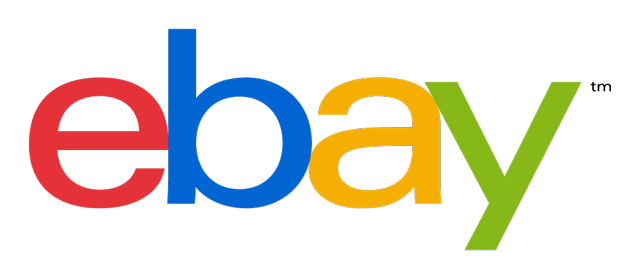 A lot has been said about the recent earnings release and guidance by eBay Inc. (NASDAQ:EBAY). In case you've missed it, here's a short recap. Bottom line is that investors' hope for a swift progress in eBay's transformation process was shot down. We all saw the consequences by the sharp 10%+ drop in its share price. But investors shouldn't be too quick in giving up on the stock. There are a couple of good reasons to remain patient.
1. Effects of transformation process may finally be looming
Back in June 2015, eBay entered the transformation process, called the structured data initiative. That's quite a while ago, and although CEO Devin Wenig repeatedly said that it will be a "long, steady march," investors are desperately waiting for the results of this process. Reporting in-line earnings and a somewhat cautious guidance for Q4 gives the impression that eBay is far from there, or even that the initiative is less rewarding than initially thought.
That's a premature conclusion. As analysts at Deutsche Bank (NYSE:DB) noted, online companies that underwent a drastic transformation needed over 18-24 months before a turnaround really started to kick in. MercadoLibre (NASDAQ:MELI) and Expedia (NASDAQ:EXPE) are used as examples, and if we compare the durations, it becomes clear that there isn't an indication that eBay is off track. On the contrary, the online retailer should be very close to the moment that the effects of the transformation become visible. That is, in the next few quarters, eBay should deliver a meaningful pick-up in growth rates.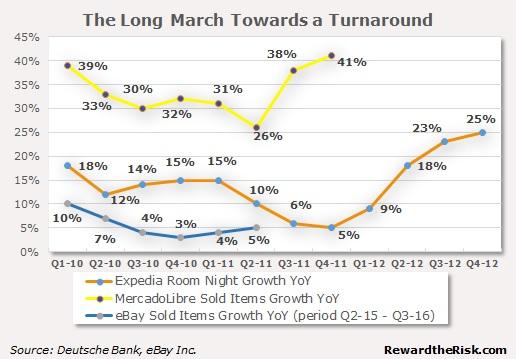 Truth be told, eBay has a long way to go in the transformation process. As at the end of Q3, structured data listings stood at 48% of relevant live listings. And although the expected range of 2-5% revenue growth for 2016 has increased to 6-7%, this is still well behind growth rates for rival Amazon (NASDAQ:AMZN). In fact, analysts don't seem to believe eBay is able to achieve much higher growth rates, as the table below shows.

Having said that, the recent sell-off offers an opportunity for investors who do believe eBay can achieve much higher growth rates once the structured data initiative is completed. After all, the transformation process is initiated to drastically improve its business in multiple fields. The user experience should improve, especially by means of better on-site navigation. Transforming the business with machine-readable code means much more possibilities for data processing. That leads to better recommendations and a more sophisticated user experience. It should offer more and better data analysis options for sellers. Also, traffic from organic searches will improve. Currently, eBay listings are often on the second or third page. I tried finding a golf trolley and found an eBay listing no sooner than at the top of the third page. On the other end, eBay is often the top 3-listing when searching for used products.
On the topic of improving user experience, eBay struggled in the past with its mobile app. Version 4.0 of late 2015 killed a lot of growth. Version 5.0, released in May was much better received and mobile growth picked up in Q2, but unfortunately the company didn't provide numbers for Q3. A few percent less than 50% of total GMV (gross merchandise value) comes from mobile, so a well appreciated mobile app is key in driving GMV higher.
In my opinion, the user experience when browsing eBay on a desktop has much improved. I've always avoided eBay due to its outdated look, but the recent more product-centric approach feels much more comfortable when shopping. I shop regularly on Amazon, but for long-tail goods, eBay still seems (or better said: is again) the best option. The addition of eBay Collective, that brings a selection of unique furniture, décor and art, underlines this aspect. Although the concept rivals with Wayfair (NYSE:W), it seems a natural category for eBay. However, I personally experienced problems finding Collective through the eBay search (but not via Google Search), indicating that eBay has plenty of issues to solve…
2. Great value for money
An optimist would say: issues to solve means that there's potential left. Certainly after the recent drop in share price, one could be tempted to refresh the risk/reward profile. Well, even without vast amounts of potential, at current prices eBay looks good value for money. A couple of days ago, contributor Nigel Kelly wrote a great article pointing to the steady cash flows. This should ensure that eBay is able to return money to its shareholders. The company said that it continues to buy back $500m more in Q4 (same as in Q3). eBay sits on $10.2bn cash and management commented that it will not rush to spend vast amounts. Thus, it's not looking for acquisitions for the near term, but bring its business in better shape first.
Next to great cash flows, with a 2017e price/earnings ratio of 13.9, eBay is by no means expensive. Compared to peers, it holds the lowest valuation.

True, without PayPal (NASDAQ:PYPL) it misses a 'second' trick as Amazon with AWS, but compared to peers MercadoLibre and Wayfair, eBay is trading at a hefty discount. This holds as well for a comparison based on price to cash flow.

Conclusion
Investors may have been a bit too premature in writing off eBay's structured data efforts. Comparable transformations at peers took a bit longer and were exceptionally rewarding. If eBay is able to deliver a bit better growth rates in the next quarters, it could beat most expectations. Therefore, its current share price offers great value for money.
Disclosure: I/we have no positions in any stocks mentioned, and no plans to initiate any positions within the next 72 hours.
I wrote this article myself, and it expresses my own opinions. I am not receiving compensation for it (other than from Seeking Alpha). I have no business relationship with any company whose stock is mentioned in this article.