As a leading indicator of future crude oil production, the Baker-Hughes rig count has been commanding a lot of attention from oil traders. In a recent article, I explained how I modeled the U.S. rig count to explain 99.2% of the monthly deviation in rigs.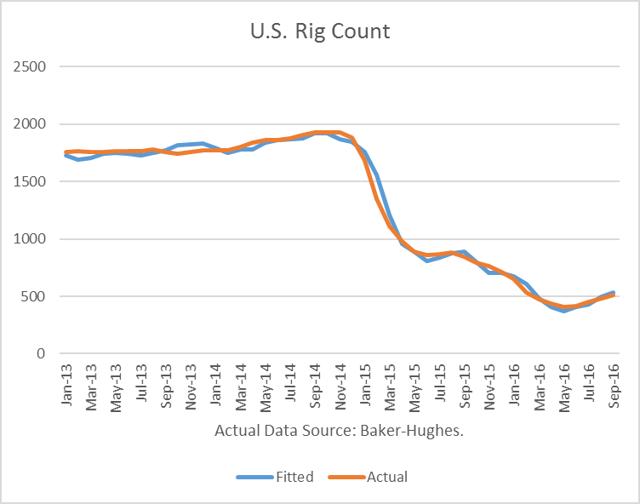 I then used the regression equation and the current NYMEX crude futures prices to project future monthly rig levels. The result is a 52% increase in rig activity from September 2016 to the end of 2017.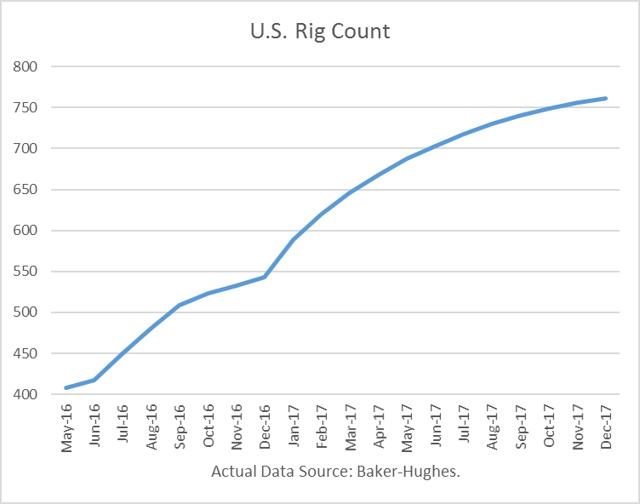 The Energy Information Administration (NYSEMKT:EIA) has recently forecast in its latest Short Term Energy Outlook (STEO) that U.S. crude oil production bottomed in September. It projects that crude production will rise to 8.9 million barrels per day (mmbd) by December 2017.
I developed a regression model to project U.S. production for the lower-48 states (excluding Alaska and Gulf of Mexico). Changes in lower-48 production is highly related to shale oil production, whereas Alaskan production and GOM output are subject to different economics and production schedules.
I used the U.S. Baker-Hughes rig count to predict new production. And I combined that output level with "legacy" production (subject to a decline rate) to obtain a "fitted" value.
Beginning with January 2013 through July 2016 (the last month with actual monthly data), I obtained an adjusted r-squared of 99.3%. The t-ratios are highly significant.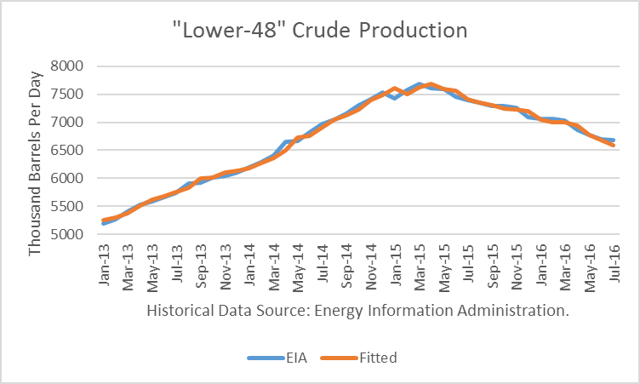 I used my rigs forecast (as indicated above) and this regression equation to forecast lower-48 crude production through December 2017. I added the EIA's forecast for Alaskan and GOM production. My forecast is higher through year-end (2016) than the EIA's but lower throughout 2017.
The low point of my forecast (September 2017) is 7.865 mmbd, about 600,000 b/d lower than the EIA's. The only reason both forecast rise in the latter part of 2017 is due to the increase in production expected from the GOM.
I performed a sensitivity analysis to determine how much crude prices would have to rise to increase rig activity sufficiently to bring on enough new production to stabilize production in the lower-48. The answer, based on the regression equations, is that the current NYMEX strip would have to rise $12 per barrel.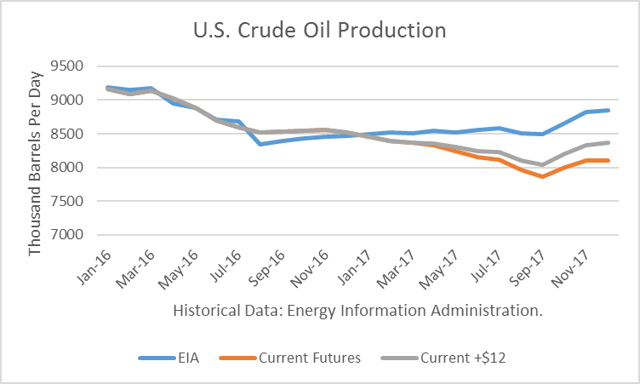 Conclusions
The U.S. rig rate has rebounded from its low in May, and drillers expect better times ahead. My modeling confirms that outlook.
However, the bottom-line question is how much crude will be produced in the U.S. moving forward. The EIA forecasts rising production, mainly due to increases in the GOM.
My projections, based on regressions, show a continued decline in lower-48 output, given the current level of NYMEX crude futures prices.
The difference in the forecasts out one year is sizable, about 600,000 b/d. However, that may be larger or small, depending on how crude futures prices are lower or higher.
The uncertainties in production in other countries is much higher. Libya, Nigeria, Iran and Iraq are all trying to increase production. Saudi Arabia may cut production to enable OPEC to live with its 32.5-33 mmbd target range it believes will rebalance supply and demand in 2017.
Disclosure: I/we have no positions in any stocks mentioned, and no plans to initiate any positions within the next 72 hours.
I wrote this article myself, and it expresses my own opinions. I am not receiving compensation for it (other than from Seeking Alpha). I have no business relationship with any company whose stock is mentioned in this article.