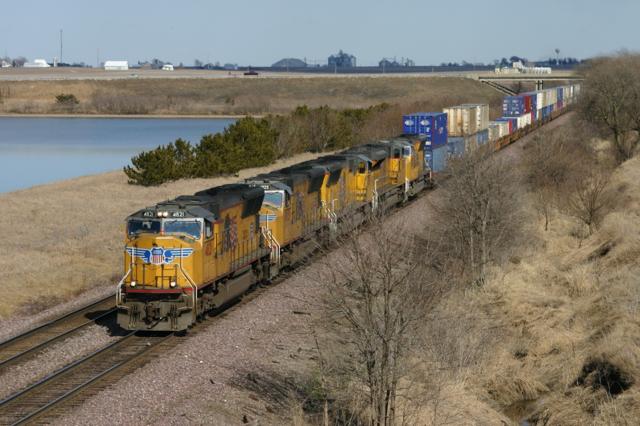 Source: Google Images
Union Pacific (NYSE:UNP) (UP) missed revenue and earnings estimates by $10 million and $0.03 per share. For the year, revenues were down 11 percent to $14.8 billion, and diluted earnings per share, EPS, were down 12.5 percent to $3.68. But of note was the fact that revenues and diluted EPS improved strongly on a sequential basis, as the overall rate of decline improved during the third quarter and for the year.
This type of performance was consistent across UP's franchise of businesses for revenues, carloads and revenue per carload. All revenue segments witnessed positive sequential growth with the only exception being the automotive segment, which was down 0.6 percent to $1.5 billion.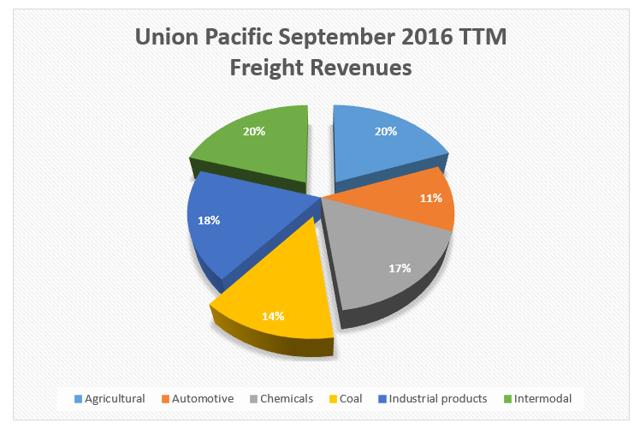 Source: Company financials and personal database
Sequential revenue growth was strongest for coal, agricultural and intermodal services. Through September 2016, however, all major revenue segments remained down strongly with the exception being agricultural, which was down only 0.8 percent to $2.7 billion.
A core focus for the rail industry has been on traffic performance. While much has been written regarding the negative situation, the outlook moving forward for the fourth quarter and into 2017 should be viewed with cautious optimism. This is predicated on the fact that some Class Is have already begun to witness positive traffic growth, while others will likely follow suit.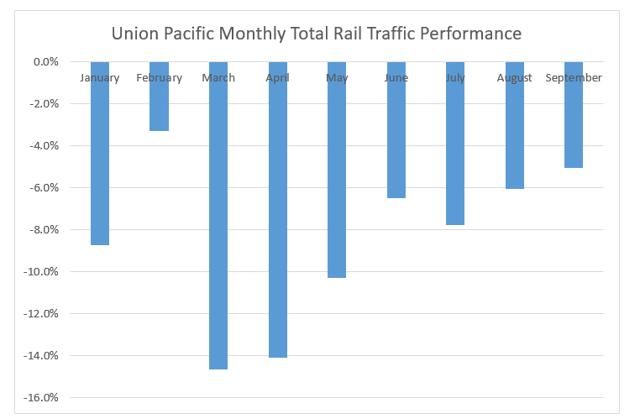 Source: Union Pacific weekly carload and intermodal traffic and personal database
For UP, similar trends have been prevalent. Total rail traffic witnessed its toughest times during March and April; for UP, total rail traffic was down at or above 14 percent versus 2015. Since then, improvement has mostly remained on a positive trend, with June being the exception. Through the first half of October, this trend of improvement has continued.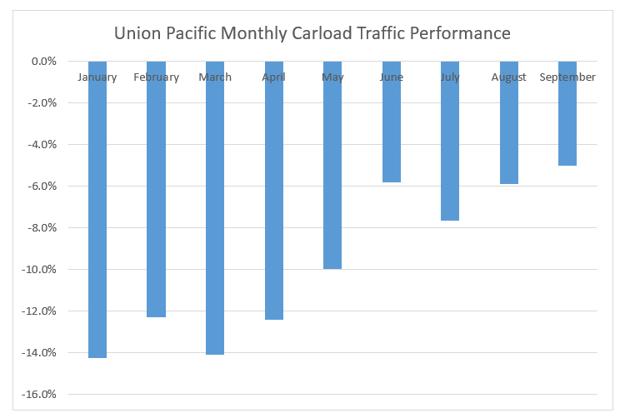 Source: Union Pacific weekly carload traffic and personal database
Carload traffic for UP was extremely rough through May, as for each month traffic was at or above negative 10 percent versus 2015. As of the first two-week performance of October, carload traffic was down just over four percent from 2015, improving from September.
Key drivers for positive improvement of late have included grain and chemicals excluding petroleum products. Investors should recognize that there is substantial value in toggling between UP's quarterly breakdown of commodities versus weekly carload and intermodal traffic. For instance, UP's quarterly chemicals segment includes plastics, fertilizer, crude oil, petroleum and LP gas, soda ash and industrial chemicals.
For weekly carload traffic, these same commodities are included in only chemicals and petroleum products categories. For chemicals, this excludes both crude oil and petroleum and LP gas. Using third-quarter weekly carload traffic as an example, petroleum products were down just over 13 percent. But when looking at UP's third-quarter report, crude oil was down nearly 48 percent and petroleum and LP gas was up 5.5 percent. Since petroleum and LP gas reflected nearly 80 percent of total traffic, this makes perfect sense when checked against the weekly carload traffic.
For weekly chemicals carload traffic, when reviewing UP's third-quarter report we can see that the primary driver for growth has been industrial chemicals, which reflected 35 percent of total traffic. Plastics has been the laggard, while fertilizer and soda ash were marginally lower.
Grain as a commodity is one-to-one whether looking at UP's quarterly information or weekly carload traffic. Performance has been strong, up near 28 percent for the third quarter and up over 24 percent through the first half of October. Grain ranked fifth behind coal, chemicals, motor vehicles and equipment and crushed stone, gravel and sand as a percentage of carload traffic at 7.6 percent through the year.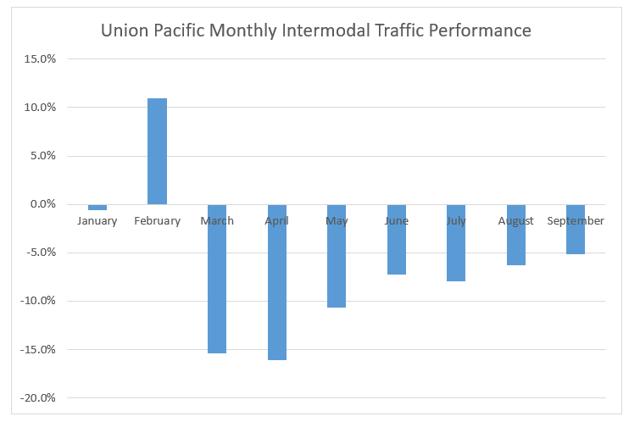 Source: Union Pacific weekly intermodal traffic and personal database
The trend for intermodal traffic may appear odd to some with positive performance through February, but one must remember the union labor issues on the U.S. West Coast during late 2014 through February 2015. In early 2015, twenty-foot equivalent unit, TEU, traffic was severely depressed and created a very low baseline.
March and April were challenging for most Class Is, since then the trend has followed the same line as carload traffic. Through early October, performance has continued to improve approaching negative four percent. Toggling between UP's third-quarter report and the weekly intermodal traffic is similarly beneficial.
Weekly intermodal traffic includes container and trailer information, while UP's quarterly updates provide for domestic and international business service units. International services only include marine containers which are typically measured by TEUs. This means trailer information can be excluded entirely from this number of units, as it should be included in domestic services which include both intermodal and trailer units.
Through the third quarter, there were roughly 35,000 trailer units, reflecting a decline of 37 percent versus 2015. Investors should remember that Norfolk Southern (NYSE:NSC) restructured the Triple Crown service, which touched almost all Class Is. As part of this restructuring, much of the equipment used for customers either shifted to truck competition or to carload and/or other intermodal equipment. This has greatly impacted all Class I intermodal trailer traffic. In some cases, Triple Crown equipment was all that was utilized, Canadian National (NYSE:CNI) as an example.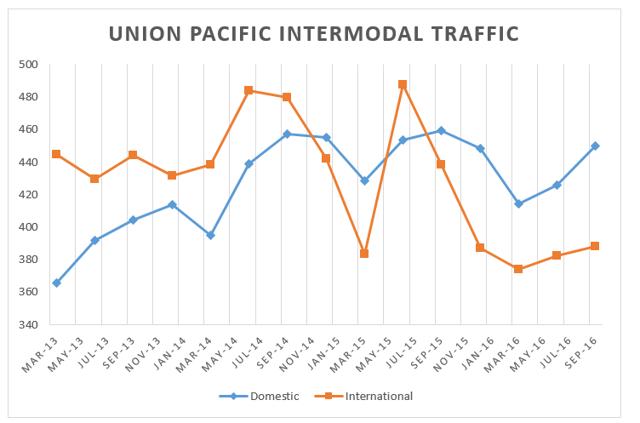 Source: Company financials and personal database
Putting the pieces together, the 450,000 domestic intermodal units reflected roughly 415,000 53-foot domestic containers during the third quarter. So, the bulk of UP's domestic business, predicated on intermodal containers, was up around 3 percent for the quarter excluding the negative impacts from the Triple Crown service changes.
For international container performance, there is no way to hide the fact that UP has lost out to BNSF (NYSE:BRK.A) (NYSE:BRK.B). Using similar estimated splits between units, BNSF witnessed a decline for international containers of 5 percent. This was not nearly as steep as UP's negative 11.5 percent results. At the same time, UP's domestic container business has outperformed BNSF's, which was down nearly three percent for the third quarter.
Moving forward, the question is where do UP's traffic levels need to be to return to growth for both carload and intermodal traffic. During the third quarter, carload and intermodal traffic averaged around 96,000 and 71,000 weekly traffic numbers, respectively.
Looking to the upcoming fourth quarter for 2016 and first quarter for 2017, carload traffic averaged 95,000 and 89,000 weekly traffic numbers, respectively, for baseline comps during 2015 and 2016. For intermodal, traffic averages were at 70,000 for the same period baseline comps.
If UP can sustain the current levels from the third quarter, collectively, the company has a chance to witness positive traffic performance over the next couple of quarters. Of course, we cannot be certain whether these levels will be maintained, but the potential is there. Therefore, management stated that they were optimistic about the business prospects.
The other side of the coin relates to fuel surcharges, freight mix and pricing. For domestic intermodal containers, pricing has spiked due to the recent Hanjin bankruptcy and the demand for laden exports being distributed via the Trans-Pacific trade lane through Los Angeles/Long Beach, Oakland and the Pacific Northwest. The near-term base will be much lower, but current levels will not likely remain. Still pricing for this service will potentially be higher over the next year.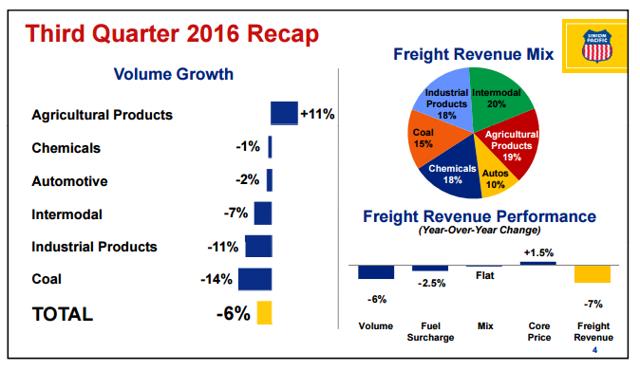 Source: Union Pacific October 20, 2016, Third Quarter Marketing and Sales Review
Total rail traffic has been the largest weight for the year. Fuel surcharge impacts will likely be going away in the near term. Based on the low growth and deflationary pressure facing many industries, freight mix will likely remain flat.
For the remaining commodities and based on improving traffic trends, core pricing will remain stable and/or potentially witness moderate improvement next year. The stock price has declined to the $90 per share level and currently trades with P/E and EV/EBITDA ratios at 18 and 9.5 times. If these levels are taken as close to fair value for UP's business and based upon current earnings estimates for 2017, UP is worth north of $100 per share over the next 12 months or so.
Today, that represents around a 15 percent discount when including the dividend. If traffic improves to being flat and/or moderately higher for 2017, UP could end up beating estimates if prospects continue to improve. Improvement for revenue performance could approach five percent in this type of scenario. Based on UP's past, revenue performance at or above five percent has yielded double-digit diluted EPS performance, and in many cases, earnings beats.
Disclosure: I am/we are long CNI.
I wrote this article myself, and it expresses my own opinions. I am not receiving compensation for it (other than from Seeking Alpha). I have no business relationship with any company whose stock is mentioned in this article.