Freeport-McMoRan (NYSE: FCX) is known as one of the top copper miners on the planet. The company has significant proven and probable reserves of copper, gold, molybdenum, cobalt, oil and natural gas, and is the world's largest publicly traded copper producer. FCX's portfolio of metal assets includes the Grasberg minerals district in Indonesia, one of the world's largest copper and gold deposits, as well as significant mining operations in the Americas, including the large-scale Morenci minerals district in North America and the Cerro Verde operation in South America.
After the stock climbed from about $8 a share at the depths of the credit crises to $60 a share at the end of 2010, the stock has been in a tailspin, falling to below $4 a share earlier this year while bouncing back to about $10 a share now. The main driver behind this fall in the stock price is the copper price. As you can see, the price per pound of copper has nearly halved over the past 5 years.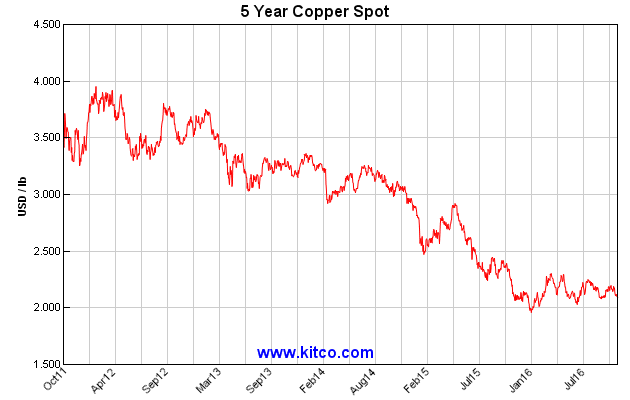 Inventory levels have fallen from their highs in 2013, which was a 10-year high.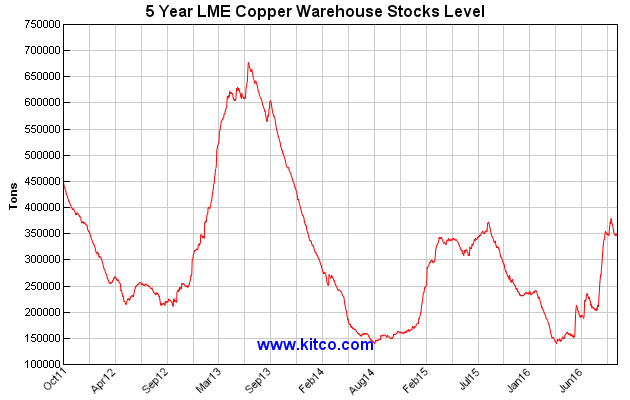 The outlook on copper also does not look optimistic. Goldman Sachs, just earlier this month, said that "over the next three to six months we believe that copper will continue to underperform zinc, with copper about to hit a wall of supply..." The firm further added that "in copper, we expect the main catalyst for the downside will be accelerating oversupply, but we are also conscious that we are entering a weak seasonal period for demand during which period inventories tend to build and prices often come under pressure."
With the price of copper falling significantly, companies have been forced to take a look at their investment plans and projects have been delayed, which is good news for supply. Earlier this month, Chile's Codelco, the world's top miner, made drastic changes to its ambitious five-year investment plan, as falling copper prices continue to dry up the company's earnings. The state-owned miner, which faces what its chief executive Nelson Pizarro recently called its "worst crisis ever" since created in 1976, has decided to reduce its investment budget by $2.25 billion, local news site El Pulso reported.
Taking a closer look at Freeport, that company obviously is struggling on the revenue side as for FY15, revenues fell 26% to just under $16 billion. The company has continued to focus on debt reduction and asset sales amid the slump in copper with multiple different asset sales announced this year. But I am on the side of too little too late crowd because if you are starting asset sales when the market is already depressed, you may be out of luck if copper hits just a minor speed bump. We have already seen this with coal companies who have filed for bankruptcy in mass recently.
In addition to asset sales, the company is diluting shareholders to help save the company. During the quarter, FCX terminated contracts for Freeport-McMoRan Oil & Gas LLC's deepwater drillships, and settled aggregate commitments totaling $1.1 billion for $755 million, of which $540 million was funded with shares of FCX common stock. During 2016, FCX has retired $369 million of its senior notes through a series of privately negotiated exchanges for 28 million shares of its common stock (including $268 million during second-quarter 2016, which resulted in a $39 million gain on early extinguishment of debt). FCX said that it will continue to evaluate opportunities for transactions, which may include open-market purchases of its debt, debt for debt exchanges, and privately negotiated exchanges of its debt for equity or equity-linked securities.
Clearly, we are in the avoid-bankruptcy-at-all-costs mode, and I would be making the same exact transactions. However, the time to invest in FCX is not now with the market conditions so unfavorable. The expansion into oil and gas, and the additional debt the company took on, has put the company in a precarious situation. FCX's best option here is for demand from China to pickup, so copper prices rise, and the company gets back on its feet, but the outlook for China doesn't look good either.
Recently, analysts at Commerzbank said demand could come under further pressure from curbs on Chinese real-estate activity.
"The risk of overheating on the real estate market following sharp price rises - particularly in the country's major cities - has increased significantly again," Commerzbank said. "More and more cities are therefore attempting to reduce this risk. However, this could result in lower demand for metals. In addition, there are considerable overcapacities in many industries - if these were reduced this would no doubt also have a dampening effect on demand for metals," they added.
Further news from Chile's Codelco also doesn't help for market sentiment. The company slashed its 2017 physical copper premium to European buyers to the $80 to $85 per tonne range and is offering Chinese buyers a premium of around $70. That would represent a deep cut from last year, underlining continued oversupply and demand weakness in the global copper market.
Disclosure: I/we have no positions in any stocks mentioned, and no plans to initiate any positions within the next 72 hours.
I wrote this article myself, and it expresses my own opinions. I am not receiving compensation for it (other than from Seeking Alpha). I have no business relationship with any company whose stock is mentioned in this article.