Ford (NYSE:F) has seen its sales performance in China fluctuate enough to puzzle analysts who are confused as to what prediction shall they give about the future of Ford in China. For instance, the first quarter of this year passed with highly volatile sales numbers of the Blue Oval in China. But, over the next six months, Ford's progress in China has been mostly in one direction, and the good news is that the direction is positive.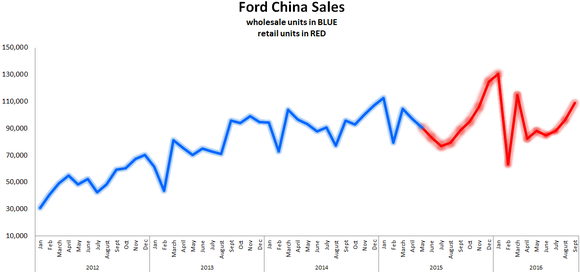 Moving in the right area
Ford's sales in China have definitely improved sequentially over the past few months. The company sold a total of 879,559 units in China in the first nine months of 2016, marking an increase of 11% as compared to the same nine-month period last year.
What's important to note here is that the company's most recent performance was even better. Ford sold a total of more than 109,000 vehicles in the month of September, which improved the company's China sales by 24% as compared to the same month of the last year. Similarly, the company's August sales number was 22% better than the number for August 2015. So after a not so successful September at home, Ford can take some relief from its consistent performance in China.
Hence, a marked improvement has been observed in Ford's sales performance in China. The good part is that the improvement has been steady for a while now, which means we can make up our minds about Ford in China by taking cues from the numbers discussed above.
Key segments
The segments that have improved Ford's performance in China are the SUV and the Lincoln brands, which sell luxury vehicles.
Of late, Ford has really worked on expanding its SUV line up in China. Sales of the Kuga (Escape), EcoSport, Everest, Edge, and Explorer, and Lincoln's MKC, MKX, and Navigator marked a solid 18% jump over last year's September to record combined sales of almost 230,000 units. Ford has exploited the growth of this segment extremely well all over the world.
"Ford has been building momentum month after month, winning new customers with the most exciting and appealing line up we have ever offered in China. We will continue to listen to customers and meet their needs with great new cars, SUVs and commercial vehicles." said Peter Fleet, vice president, Marketing, Sales and Service, Ford Asia Pacific.
Its latest SUV launch in China was the new Kuga SUV and later this year, the new flagship Lincoln Continental will hit the market.
A smaller but fast-growing category of vehicles in China is the luxury segment. Ford's luxury brand, Lincoln, is now the fastest-growing luxury auto brand in China with nearly 21,000 vehicles sold in the first three quarters of 2016. That was a jump of 191% as compared to last year. In the month of September, all four Lincoln models selling in China -- the MKZ, MKC, MKX, and the Navigator -- sold a record number of cars.
Further, the arrival of the Lincoln Continental is expected to take place toward the end of this year itself. This would just make sure that Lincoln is going to keep going strong through at least the initial half of the upcoming year.
Competition
As local competition went aggressive in China recently, Ford was caught unawares and found itself off-balance to start the year with. The locals have improved their quality enough to threaten the market share of global automakers like Ford. Also, their costs have remained low enough to offer their products at low prices and force the global players to follow.
For example, Ford was cruising along with the success of the Kuga and the EcoSport compact SUV at one point. But, local competition caught up soon and Kuga's sale was down 18% in the first half of the year. That meant a big loss to Ford China's bottom line as well.
But then, Ford took some aggressive actions like cost reduction, price adjustments, and targeting the right segments for growth which helped it make a strong comeback. Ford announced last year that it will invest $1.8 billion for R&D in China over the next five years. This R&D will be mostly related to know consumer preferences and imbibing them into the company's offerings in the most appealing manner.
Ford is set to bring in more of the new and revamped models down the line. It has been observed in the recent past that revamps, like the refreshed Focus in August, are capable of causing a jump in sales. So, if Ford continues to follow this strategy of frequent model introduction in China, it will also continue to regain much of the ground it had lost to the competition.
Conclusion
Ford has had a mixed year to date in China. It saw a disturbed first quarter, then it saw a so-so second quarter, and then it has just finished a great third quarter in the largest automobile market in the world.
Therefore, Ford's strategy and the aggressive actions it took to deal with the increased competition seem to be working and are worth applauding. Also, with more new and revamped models in store for this region, Ford seems all set to ride the new momentum that it has recently gained of late.
Disclosure: I/we have no positions in any stocks mentioned, and no plans to initiate any positions within the next 72 hours.
I wrote this article myself, and it expresses my own opinions. I am not receiving compensation for it (other than from Seeking Alpha). I have no business relationship with any company whose stock is mentioned in this article.