Halliburton (NYSE:HAL) has done impressively on the market so far this year, rising more than 41%. This rise in Halliburton shares can be attributed to the company's impressive cost management efforts, which have allowed it to keep its earnings in decent shape despite the downturn in the oilfield services industry.
What's working for Halliburton
In fact, as a result of its focus on aggressive cost management, Halliburton surprised analysts on Wednesday last week by posting a profit of $0.01 per share. More specifically, the company overwhelmed Wall Street's expectation of a loss of $0.07 per share. What's more, Halliburton's earnings were significantly up as compared to a loss of $0.14 per share in the second quarter of 2016. This growth in its earnings was despite the company reporting a 0.3% decline in revenue on a sequential basis.
Thus, it is evident that Halliburton's focus on reducing costs has worked well for it. As a result of its structural cost reduction efforts, Halliburton has achieved more than $1 billion of cost savings so far this year. In fact, these cost containment actions are expected to generate $1 billion of cost savings on an annual basis going forward.
In my opinion, given the sluggishness in the activity levels in the oilfield services industry, Halliburton's focus on keeping costs low is a good move. However, investors should not ignore the fact that apart from its focus on cost reductions, there are two more factors that could lead to an improvement in Halliburton's performance going forward. Let's take a look.
Looking past the cost reductions
Though cost reductions have worked well for Halliburton so far, the company can't expect to reduce costs forever. As such, Halliburton needs to witness an improvement in the end-market if it is to keep improving its financial performance. The good news is that there seems to be a turnaround taking place in the end-market of late, and this could prove to be a tailwind for Halliburton going forward.
I'm saying this because the rig count is steadily improving in the U.S. In a span of two months, the North American rig count has increased nearly 20% to 704 rigs. Moreover, the improvement in the rig count has accelerated in the last couple of weeks. For instance, the rig count in North America for the week ending October 14 was 704 rigs, representing an increase of 15 rigs in from the previous week. This is shown in the table below.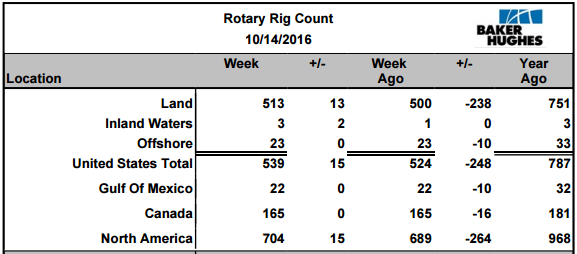 Source: Baker Hughes
As a result of this increase in the rig count, activity levels are gradually getting better in North America. This has resulted in an improvement in the utilization rates of oilfield services companies such as Halliburton as the company is looking to make the most of the emerging end-market activity.
For instance, Halliburton has sped up equipment utilization to take advantage of this improvement in the rig count in North America. As such, its revenue in North America increased by 9% to $1.7 billion on a sequential basis, while operating profit improved by over $58 million. In fact, improved activity levels enabled Halliburton to deliver operating cash flow of more than $1 billion for the third quarter of 2016.
Thus, it is apparent that Halliburton is benefiting from an improvement in the end-market scenario in North America. More importantly, since the company will focus on enhancing its equipment utilization levels at the current oil price of $50 a barrel, it should witness further growth in its financials. More importantly, Halliburton's focus on delivering new technology in order to lower the cost profile of its clients will allow it to gain more traction as the oil price improves. Let's see why.
Smart technologies will help the business gain more traction
Halliburton is deploying new technologies that will allow its clients to reduce costs. For instance, its CALIBR Engineered Flowback service has helped one of the operators in the Permian region to minimize the completion damage during well flowback substantially, which has led to an improvement in overall recovery.
More specifically, the use of this technology assisted the well operator to prevent damage and achieve a 15% improvement in cumulative production when compared to a nearby well that was deployed without the technology. In my opinion, such technology deployments from Halliburton will favor the company's growth since oil and gas companies are looking to enhance their production and keep costs low at the same time.
For instance, the productivity of oil wells in the U.S. has improved impressively of late, with cost per well declining in the range of 25%-30% in the past four years. This is the reason why the demand for Halliburton's production enhancing techniques will grow as it will be able to improve production and lower costs at the same time.
Additionally, Halliburton's surgi-squeeze techniques are allowing its clients to stimulate wells quickly, and that too in a cost effective manner. In fact, this solution has enabled Halliburton's clients to reduce the pumping time by over 40%, which has led to a reduction in lifting costs.
Driven by these new technologies, Halliburton saw its completion and production revenue increase by 3%, or $62 million, to $2.2 billion on a sequential basis. Also, the operating income of this segment improved by $56 million on a sequential basis due to increased pumping activity in the North America.
Conclusion
Hence, apart from cost savings, there is more to Halliburton that investors should not ignore. The company is making smart moves to tap markets where a recovery is being witnessed, while focusing on cost savings at the same time. So, in my opinion, it will be a good idea to stay long Halliburton since the company is moving in the right direction and should be able to sustain its momentum going forward.
Disclosure: I/we have no positions in any stocks mentioned, and no plans to initiate any positions within the next 72 hours.
I wrote this article myself, and it expresses my own opinions. I am not receiving compensation for it (other than from Seeking Alpha). I have no business relationship with any company whose stock is mentioned in this article.